hollywoodsecrets
Regular price
Rs. 300.00
Sale price
Rs. 160.00
Unit price
per
Deal of the Day
Sold out
Benefits Brown Henna Powder:

Hair coloring: One of the primary uses of brown henna powder is as a natural hair dye. It can provide a rich, reddish-brown color to the hair, making it an alternative to chemical hair dyes. The color may vary depending on the natural hair color and the duration of application.
Hair conditioning: Henna has conditioning properties that can help improve the overall health and appearance of the hair. It can make the hair softer, smoother, and more manageable. Regular use of henna on the hair can also promote shine and reduce frizz.
Scalp health: Brown henna powder has a cooling and soothing effect on the scalp. It may help alleviate itchiness, dandruff, and other scalp conditions. Henna is also believed to strengthen the hair follicles and reduce hair fall, although scientific evidence supporting these claims is limited.
Skin decoration: Henna is commonly used to create intricate temporary tattoos, especially during cultural and festive occasions. The application of henna paste on the skin can produce beautiful brown designs that fade away naturally over time, typically lasting for one to three weeks.
Cooling properties: Henna has a natural cooling effect, which is why it is often used in hot climates or during the summer season. Applying henna on the skin can provide a refreshing sensation and help cool down the body.
Why Us

Customization: Our DIY cosmetic brand empowers you to personalize your beauty products according to your preferences.
Quality Control: By choosing a DIY cosmetic brand, you have complete control over the quality of the ingredients used in your beauty products.
Creativity and Expression: Our DIY cosmetic brand encourages your creativity and allows you to express your unique style.
Sustainable and Eco-friendly: Many mass-produced cosmetic brands generate significant amounts of waste and contribute to environmental pollution. By choosing a DIY cosmetic brand, you can actively reduce your ecological footprint.
Education and Empowerment: Our DIY cosmetic brand aims to educate and empower individuals about the ingredients, formulation techniques, and the science behind cosmetic products.
Cost-effective: Creating your own cosmetics can be a cost-effective alternative to buying high-end branded products.
Features of the product

Premium product. 
100% original & quality assured.
Non-contaminated & non-mixed.
Non-Gmo.
Doctor & dermatologist approved.
No preservatives.
Easy to use.
Payment Method

Payment India: 

Credit card: Available

Debit card: Available

Razorpay (Cards, UPI, Net Banking, Wallets): Available

Cash on Delivery (COD): Available

We accept all forms of payment.

Payment United States: 

Credit card: Available
Shipping

Prepaid & COD order: Both available.

Standard Shipping: 1-7 days (Free)

Expediated: 1-3 days ( Rs. 90)

Ultra high speed delivery using our selected couriers.
Processing Time

Product ordered before 11am: Shipped on the same day

Product ordered after 11am: Shipped on the next day
Return Policy

1-7 days. Call our customer care for returns.
Contact us

WhatsApp & Call : +91-9921645094

Email: info@hollywoodsecrets.in
Share
View full details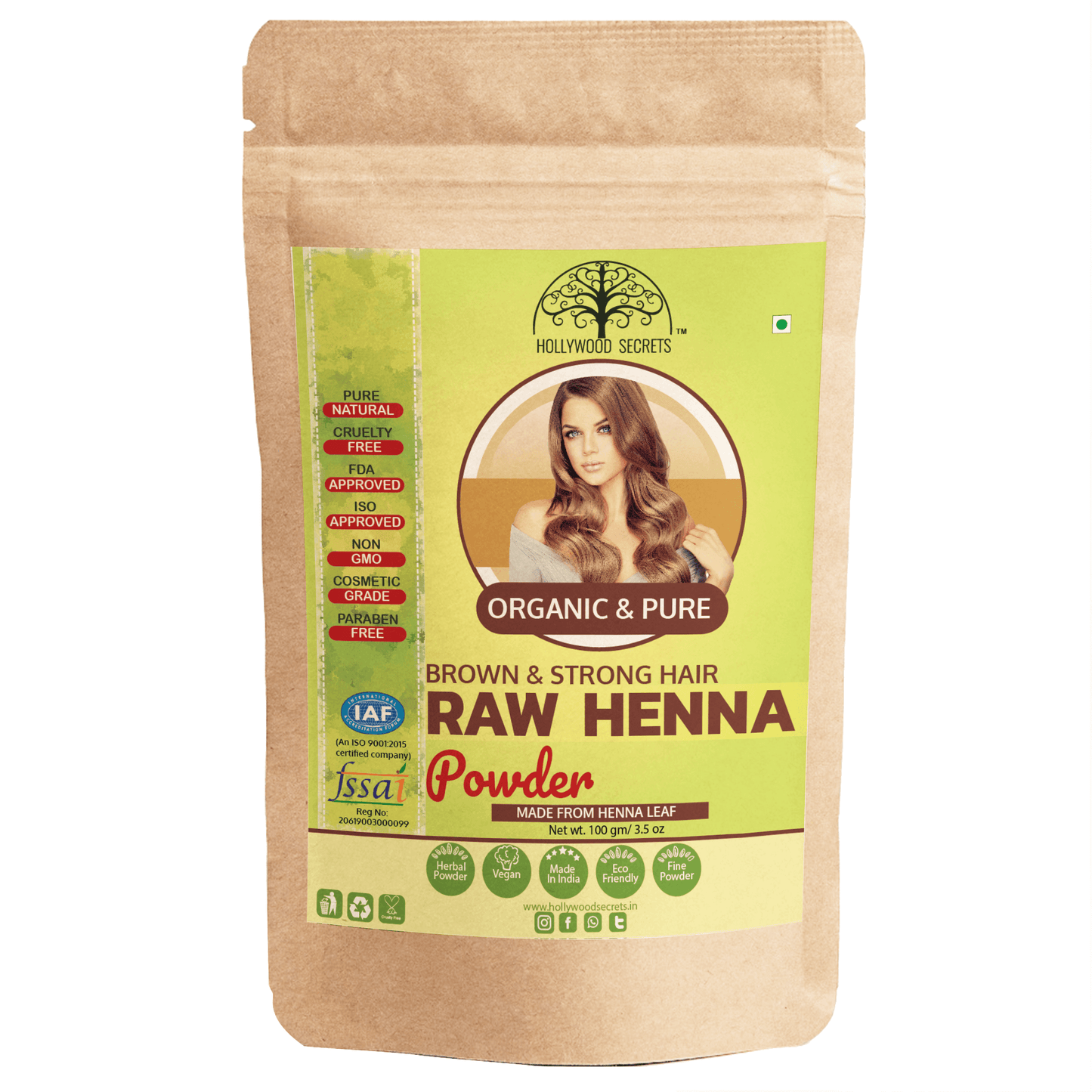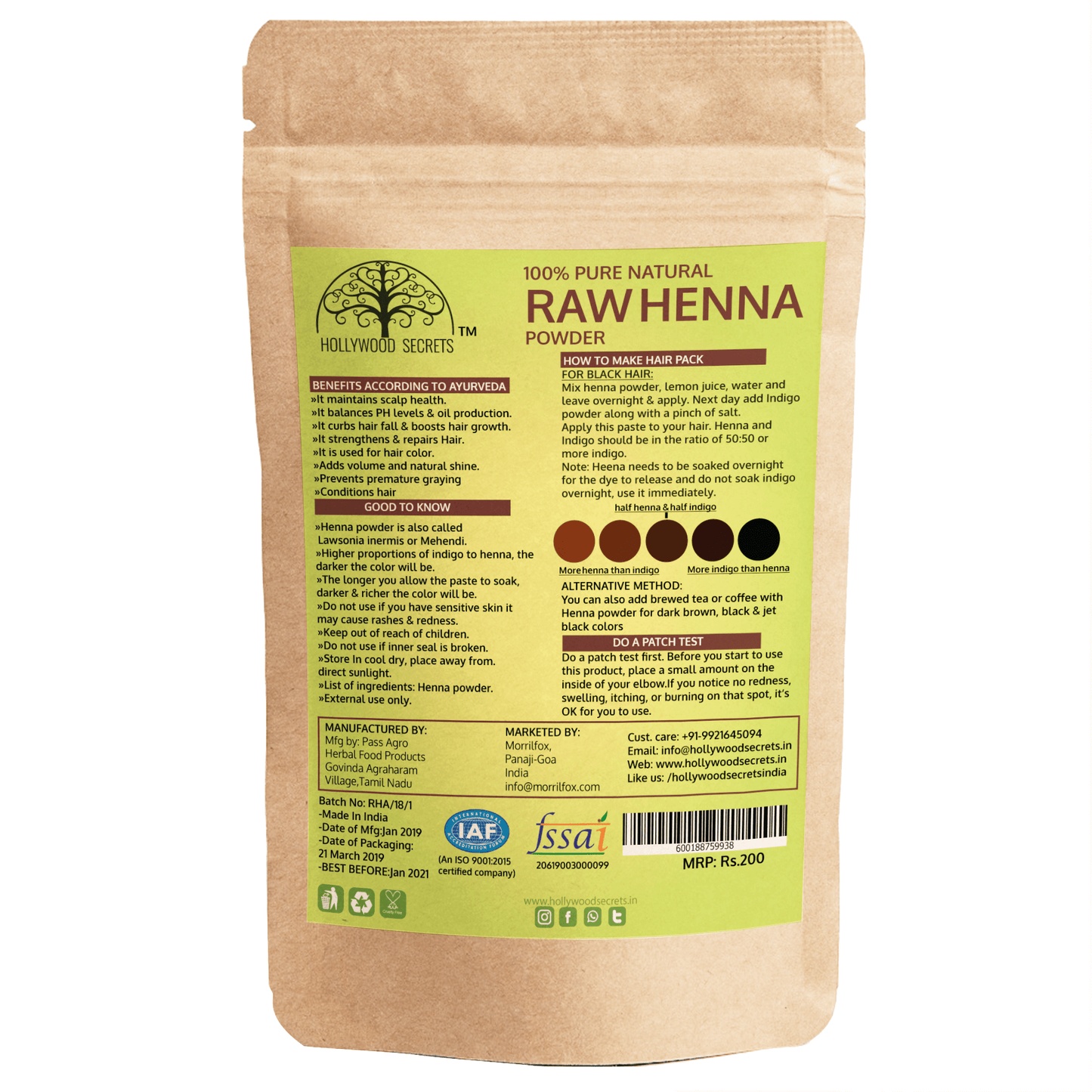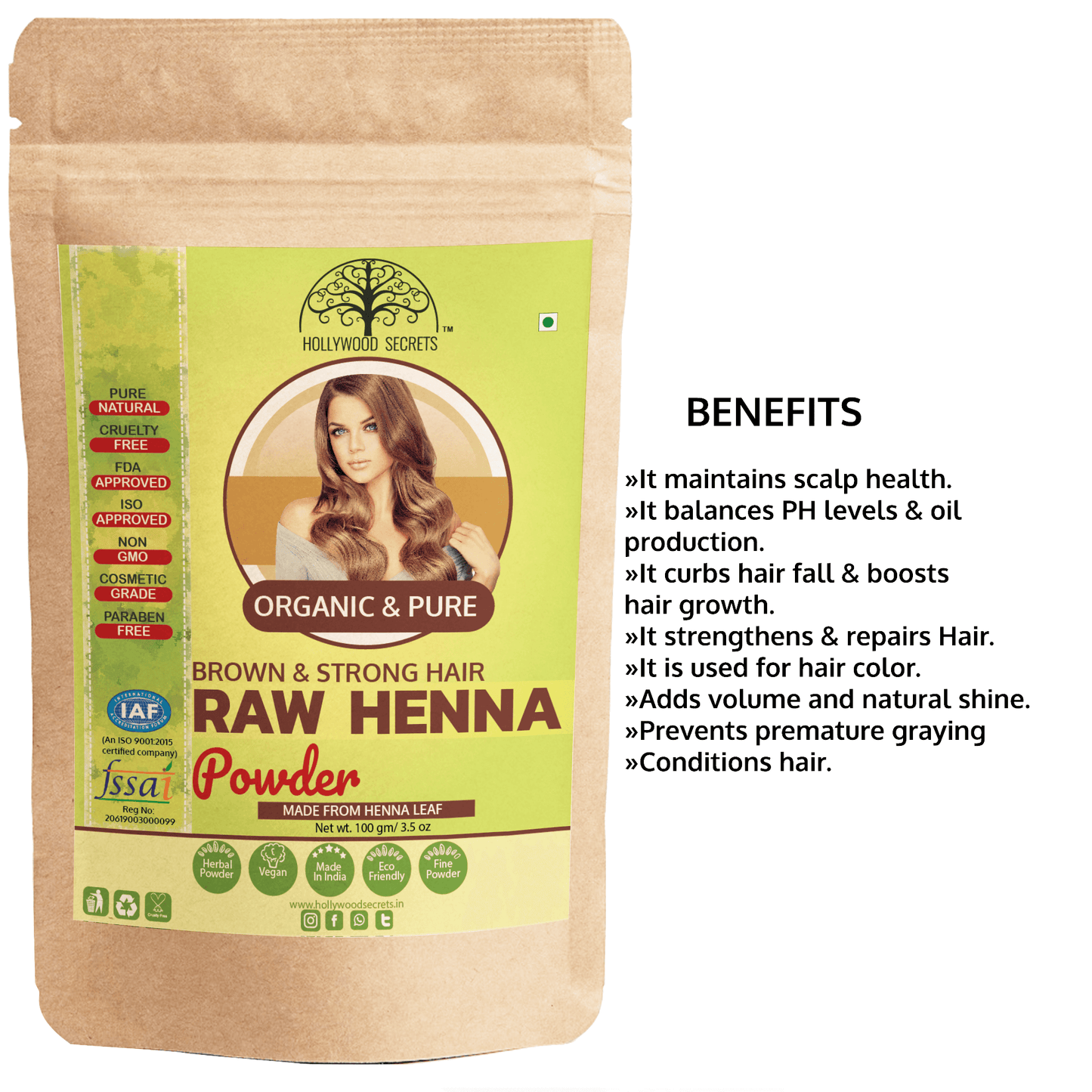 PRODUCT DETAILS
Product Details

Natural Source: Brown henna is derived from the Lawsonia inermis plant, commonly known as the henna plant or henna tree. The leaves of this plant are dried and ground into a fine powder, which is then used to create the henna paste.

1.Color Properties: Brown henna typically imparts a reddish-brown color to the hair or skin. The intensity of the color may vary depending on factors such as the original color of the hair or the duration of application.

2.Safe and Natural: Brown henna is considered a safe and natural alternative to chemical hair dyes. It does not contain harsh chemicals like ammonia or peroxide, which are commonly found in synthetic hair dyes. However, it's important to note that henna may cause allergic reactions in some individuals, so a patch test is recommended before applying it to a larger area.

3.Conditioning Properties: Apart from coloring, brown henna also has conditioning properties. It helps to nourish and strengthen the hair, leaving it soft and shiny.

4.Application Process: Brown henna is typically applied as a paste to the hair or skin. The paste is made by mixing the henna powder with liquid, such as water or lemon juice, to form a thick consistency. The paste is then applied to the desired area and left on for a specific period of time, usually ranging from one to four hours, depending on the desired intensity of color.

5.Natural Dye Release: Brown henna requires a dye release process before application. After mixing the henna powder with the liquid, the paste needs to be left aside for a few hours to allow the natural dye molecules in the henna to release and become more potent. This process is called "dye release" and ensures better color results.

6.Longevity: The color produced by brown henna is semi-permanent. It gradually fades over time as the hair grows or with repeated washing. The duration of color retention can vary from a few weeks to a couple of months, depending on factors such as hair type, care routine, and exposure to sunlight.

7.Variations and Additives: Brown henna can be customized by adding other natural ingredients to achieve different shades or enhance specific properties. For example, adding indigo powder to henna can create a darker brown or black color. Other additives such as coffee, tea, or certain herbs may be used to modify the shade or add additional benefits.
How to use (Formulation Guide)