Hollywood Secrets
Regular price
Rs. 300.00
Sale price
Rs. 160.00
Unit price
per
Deal of the Day
Sold out
Benefits Senna Powder:

Laxative properties: Senna powder is primarily known for its laxative effects. It contains compounds called anthraquinones, such as sennosides, which stimulate the muscles in the intestines, promoting bowel movements and relieving constipation. It is often used for short-term treatment of occasional constipation.
Bowel regularity: By stimulating the colon, Senna powder can help establish regular bowel movements. It may be used by people who have difficulty with regular bowel movements or suffer from conditions such as irritable bowel syndrome (IBS) or hemorrhoids.
Colon cleansing: Senna powder is sometimes used as part of colon cleansing or detoxification regimens. It is believed to help remove waste and toxins from the colon, promoting overall digestive health.
Weight loss: Senna powder is occasionally used as a component of weight loss programs due to its laxative properties. However, it is important to note that any weight loss achieved through the use of laxatives is typically temporary and primarily involves water weight loss rather than fat loss.
Traditional uses: Senna has a long history of traditional use in various cultures. It has been employed for its potential benefits in treating skin conditions, liver problems, and fevers. However, it's important to consult with a healthcare professional before using Senna powder for any specific health condition.
Why Us

Customization: Our DIY cosmetic brand empowers you to personalize your beauty products according to your preferences.
Quality Control: By choosing a DIY cosmetic brand, you have complete control over the quality of the ingredients used in your beauty products.
Creativity and Expression: Our DIY cosmetic brand encourages your creativity and allows you to express your unique style.
Sustainable and Eco-friendly: Many mass-produced cosmetic brands generate significant amounts of waste and contribute to environmental pollution. By choosing a DIY cosmetic brand, you can actively reduce your ecological footprint.
Education and Empowerment: Our DIY cosmetic brand aims to educate and empower individuals about the ingredients, formulation techniques, and the science behind cosmetic products.
Cost-effective: Creating your own cosmetics can be a cost-effective alternative to buying high-end branded products.
Features of the product

Premium product. 
100% original & quality assured.
Non-contaminated & non-mixed.
Non-Gmo.
Doctor & dermatologist approved.
No preservatives.
Easy to use.
Payment Method

Payment India: 

Credit card: Available

Debit card: Available

Razorpay (Cards, UPI, Net Banking, Wallets): Available

Cash on Delivery (COD): Available

We accept all forms of payment.

Payment United States: 

Credit card: Available
Shipping

Prepaid & COD order: Both available.

Standard Shipping: 1-7 days (Free)

Expediated: 1-3 days ( Rs. 90)

Ultra high speed delivery using our selected couriers.
Processing Time

Product ordered before 11am: Shipped on the same day

Product ordered after 11am: Shipped on the next day
Return Policy

1-7 days. Call our customer care for returns.
Contact us

WhatsApp & Call : +91-9921645094

Email: info@hollywoodsecrets.in
Share
View full details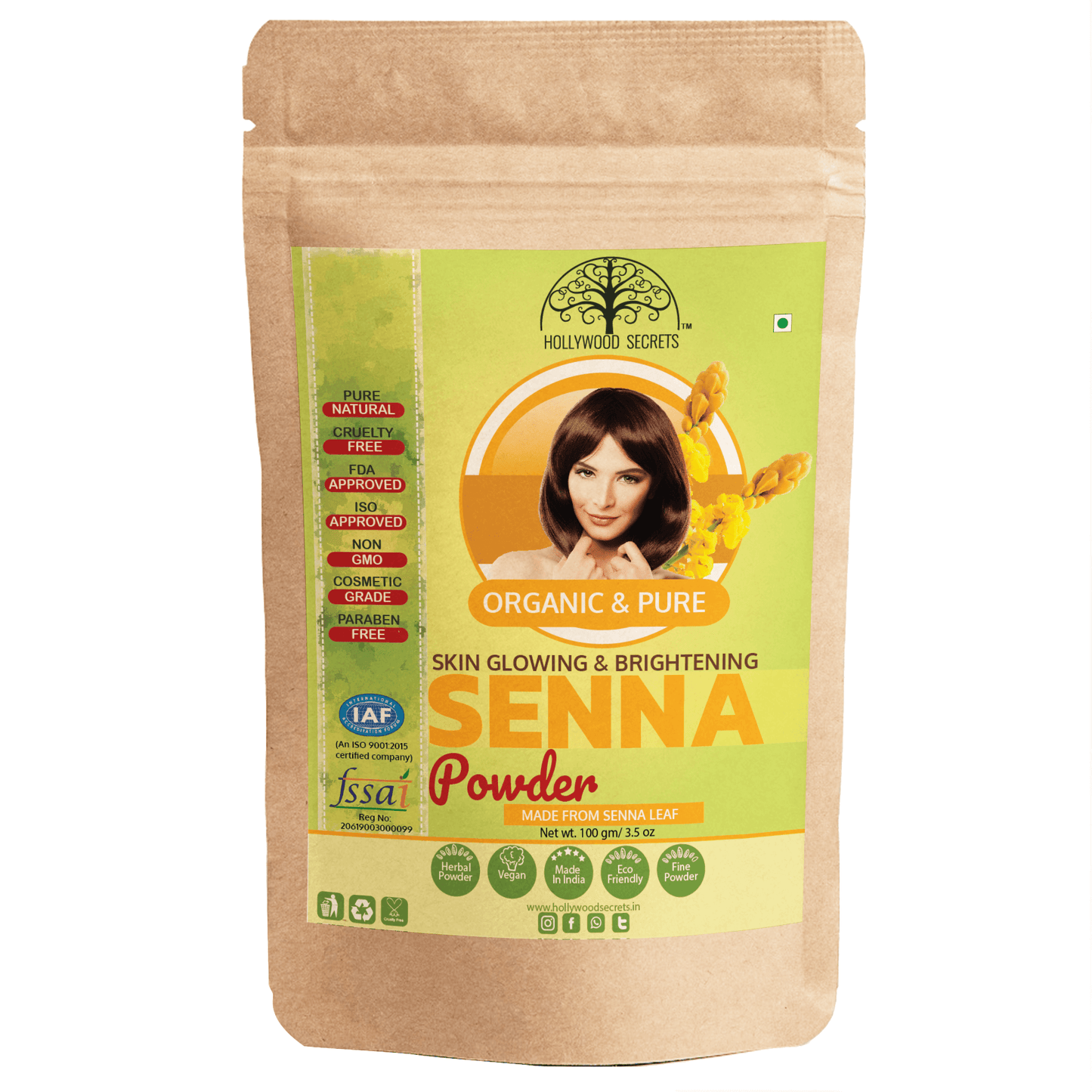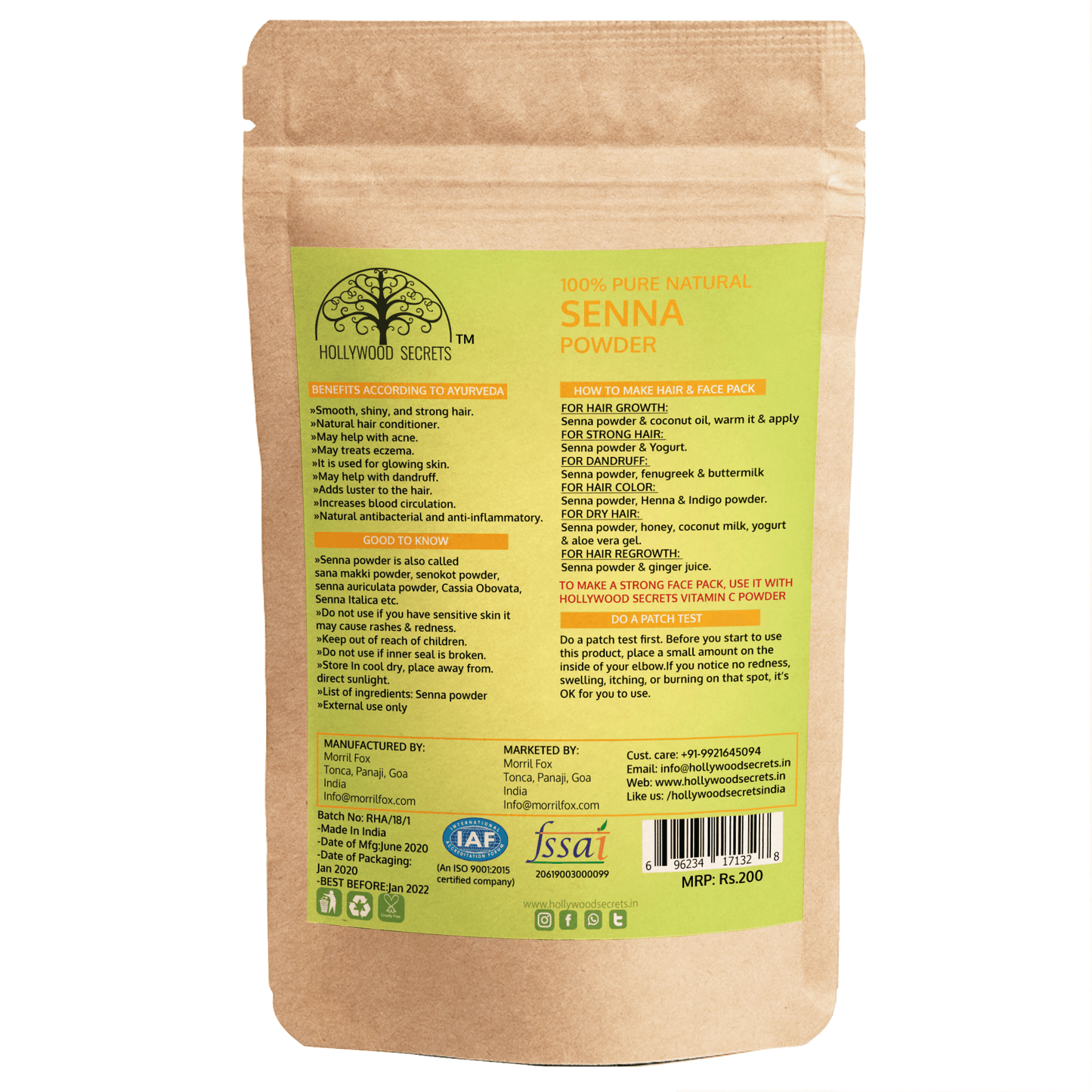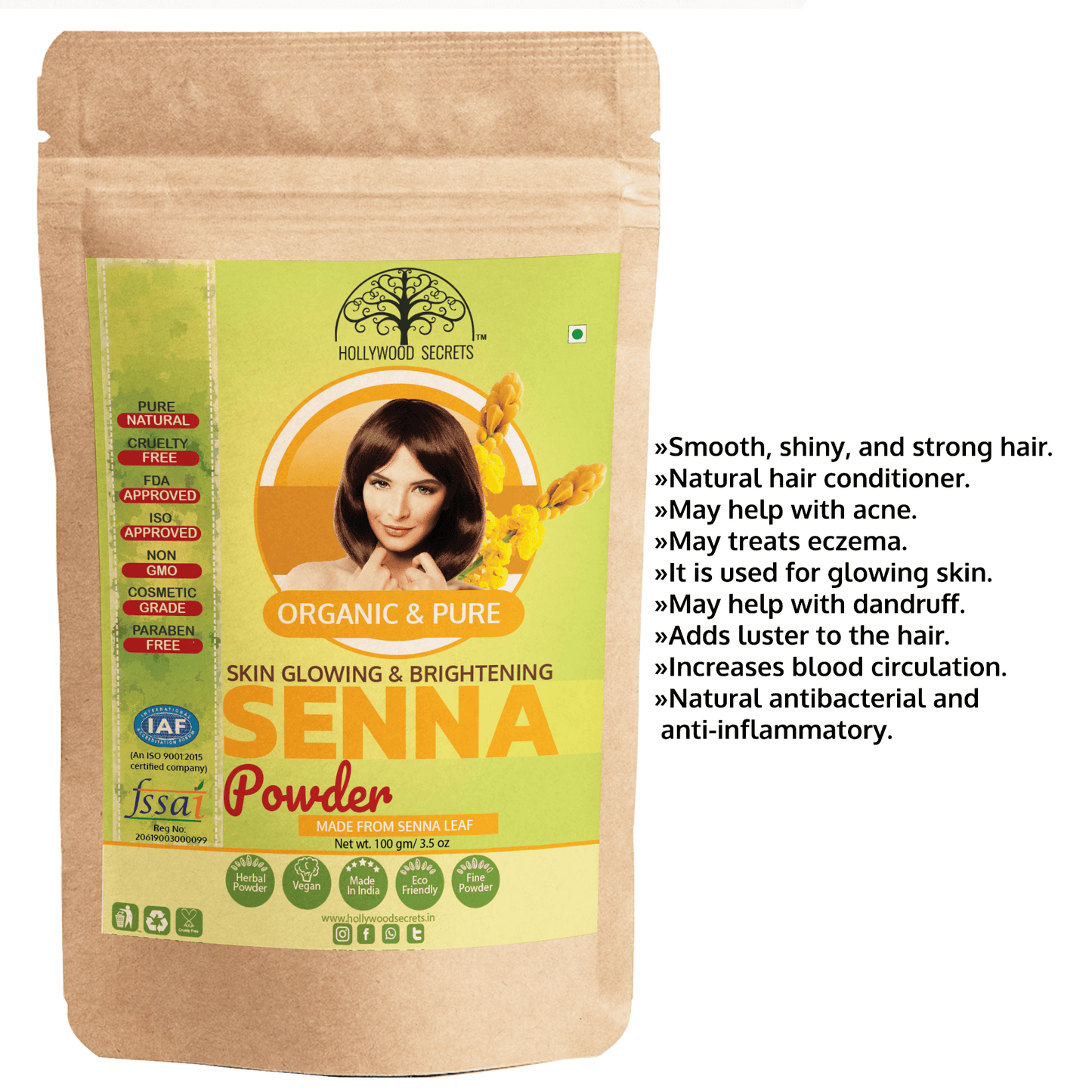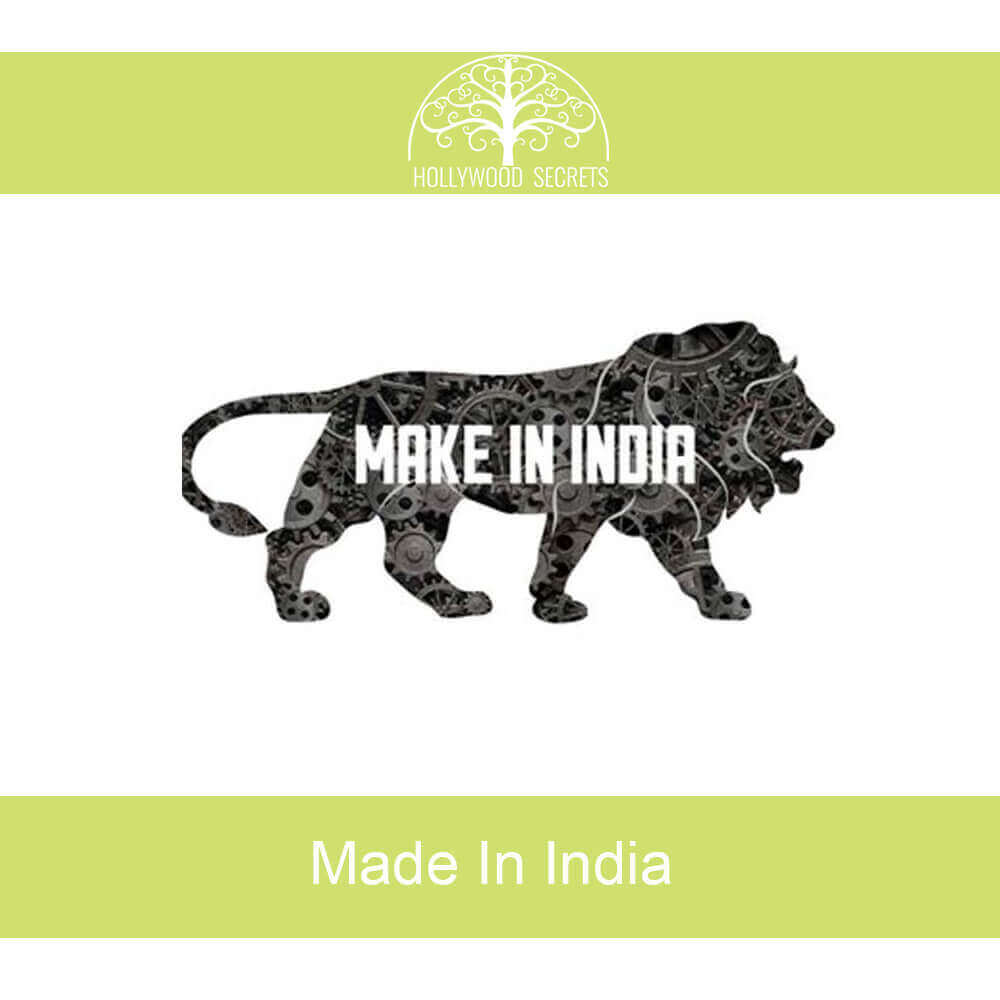 PRODUCT DETAILS
Product Details

Botanical Name: Senna powder is obtained from the Senna plant, which belongs to the Fabaceae family. The two primary species used for medicinal purposes are Senna alexandrina and Cassia angustifolia.

Appearance: Senna powder is typically a fine, greenish-brown powder. It has a characteristic odor and a slightly bitter taste.

1.Active Constituents: The primary active constituents in Senna powder are anthraquinone glycosides, such as sennosides A and B. These compounds stimulate the colon's smooth muscles, promoting bowel movements and relieving constipation.

2.Laxative Effect: Senna powder acts as a stimulant laxative, meaning it increases intestinal contractions and accelerates bowel movements. It is commonly used to treat occasional constipation or to clear the bowels before certain medical procedures.

3.Dosage: The appropriate dosage of Senna powder can vary depending on factors such as age, health condition, and the specific formulation. It is important to follow the instructions provided by healthcare professionals or product packaging.

4.Precautions and Side Effects: Senna powder should be used with caution, and long-term use or excessive doses may lead to dependence or electrolyte imbalances. Some common side effects may include abdominal cramps, diarrhea, electrolyte disturbances, and gastrointestinal discomfort. It is not recommended for use during pregnancy or breastfeeding without medical supervision.

5.Other Uses: Besides its laxative properties, Senna powder has been explored for its potential as an herbal remedy for other conditions such as hemorrhoids, anal fissures, and irritable bowel syndrome (IBS). However, more research is needed to establish its efficacy and safety for these applications.
How to use (Formulation Guide)