Hollywood Secrets
Regular price
Rs. 400.00
Sale price
Rs. 400.00
Unit price
per
Deal of the Day
Sold out
L Ascorbic Acid Benefits For Skin: 
Antioxidant Protection: L-ascorbic acid is an extremely potent antioxidant, protecting skin cells against damage caused by free radicals - unstable molecules which accelerate skin aging, leading to wrinkles, fine lines, and sunspots.
Collagen Production: Vitamin C is essential in producing collagen, an essential structural support protein for our skin. Topical applications of L-ascorbic acid are known to stimulate collagen synthesis, leading to reduced wrinkles/fine lines and improved skin elasticity.
Hyperpigmentation Reduction: L-ascorbic acid can help fade and reduce hyperpigmentation such as age spots, sunspots, post-inflammatory hyperpigmentation (PIH). It works by inhibiting production of melanin which produces skin coloration pigmentation.
Skin Brightening: Regular use of L-ascorbic acid can give you a brighter complexion by helping even out skin tone by decreasing redness, blotchiness, and discoloration.
Sun Damage Protection: L-ascorbic acid may supplement sunscreen by offering additional UV-related skin damage protection, mitigating sunburn effects and delaying UV-related aging of skin. It may even help mitigate effects from sunburn.
Hydration: Vitamin C can assist with improving skin hydration by strengthening its barrier function and decreasing transepidermal water loss (TEWL), which leads to dryness and discomfort for many individuals.
Wound Healing: L-ascorbic acid may speed wound healing by helping collagen formation and tissue repair, thus expediting wound closure more rapidly. Vitamin C's anti-inflammatory properties are highly beneficial, helping soothe sensitive or irritated skin and reducing redness.
Acne Management: Individuals suffering from acne-prone skin may benefit from L-ascorbic acid's anti-inflammatory properties and potential to reduce redness and post-acne discoloration.
Overall Skin Health: Utilizing L-ascorbic acid regularly can assist with maintaining overall skin health, helping to preserve its youthful and radiant look.

L Ascorbic Acid 
Supplement Facts 
Ingredients: Vitamin C (As Ascorbic acid) 
Formula: 1 gm contains 1000 mg of vitamin C.
Suitable for: Adults, Children, Vegetarians, during pregnancy & breastfeeding.
Cautions/Allergies: It's free from wheat, gluten, yeast, dairy, soya, nuts, shellfish.
Side effects: Taking vitamin C over 1000 mg may cause stomach discomfort.
Made in: Made in India.
Uses of Hollywood Secrets L ascorbic powder
DIY Cosmetics 
Food Preservative & Additive 
Pharma application 
IP, USP, Food grade
Why Us

Customization: Our DIY cosmetic brand empowers you to personalize your beauty products according to your preferences.
Quality Control: By choosing a DIY cosmetic brand, you have complete control over the quality of the ingredients used in your beauty products.
Creativity and Expression: Our DIY cosmetic brand encourages your creativity and allows you to express your unique style.
Sustainable and Eco-friendly: Many mass-produced cosmetic brands generate significant amounts of waste and contribute to environmental pollution. By choosing a DIY cosmetic brand, you can actively reduce your ecological footprint.
Education and Empowerment: Our DIY cosmetic brand aims to educate and empower individuals about the ingredients, formulation techniques, and the science behind cosmetic products.
Cost-effective: Creating your own cosmetics can be a cost-effective alternative to buying high-end branded products.
Features of the product

Premium product. 
100% original & quality assured.
Non-contaminated & non-mixed.
Non-Gmo.
Doctor & dermatologist approved.
No preservatives.
Easy to use.
Payment Method

Payment India: 

Credit card: Available

Debit card: Available

Razorpay (Cards, UPI, Net Banking, Wallets): Available

Cash on Delivery (COD): Available

We accept all forms of payment.

Payment United States: 

Credit card: Available
Shipping

Prepaid & COD order: Both available.

Standard Shipping: 1-7 days (Free)

Expediated: 1-3 days ( Rs. 90)

Ultra high speed delivery using our selected couriers.
Processing Time

Product ordered before 11am: Shipped on the same day

Product ordered after 11am: Shipped on the next day
Return Policy

1-7 days. Call our customer care for returns.
Contact us

WhatsApp & Call : +91-9921645094

Email: info@hollywoodsecrets.in
Share
View full details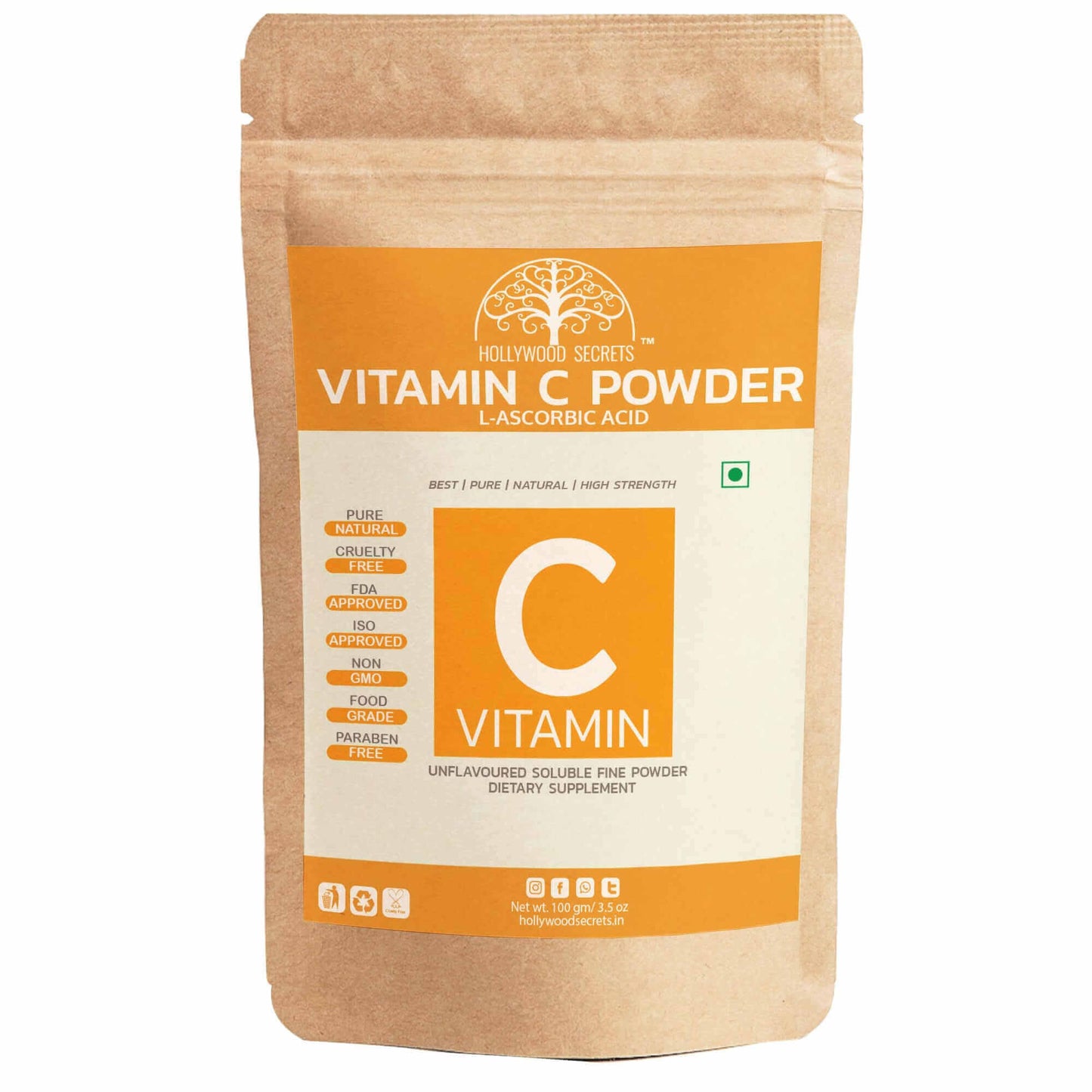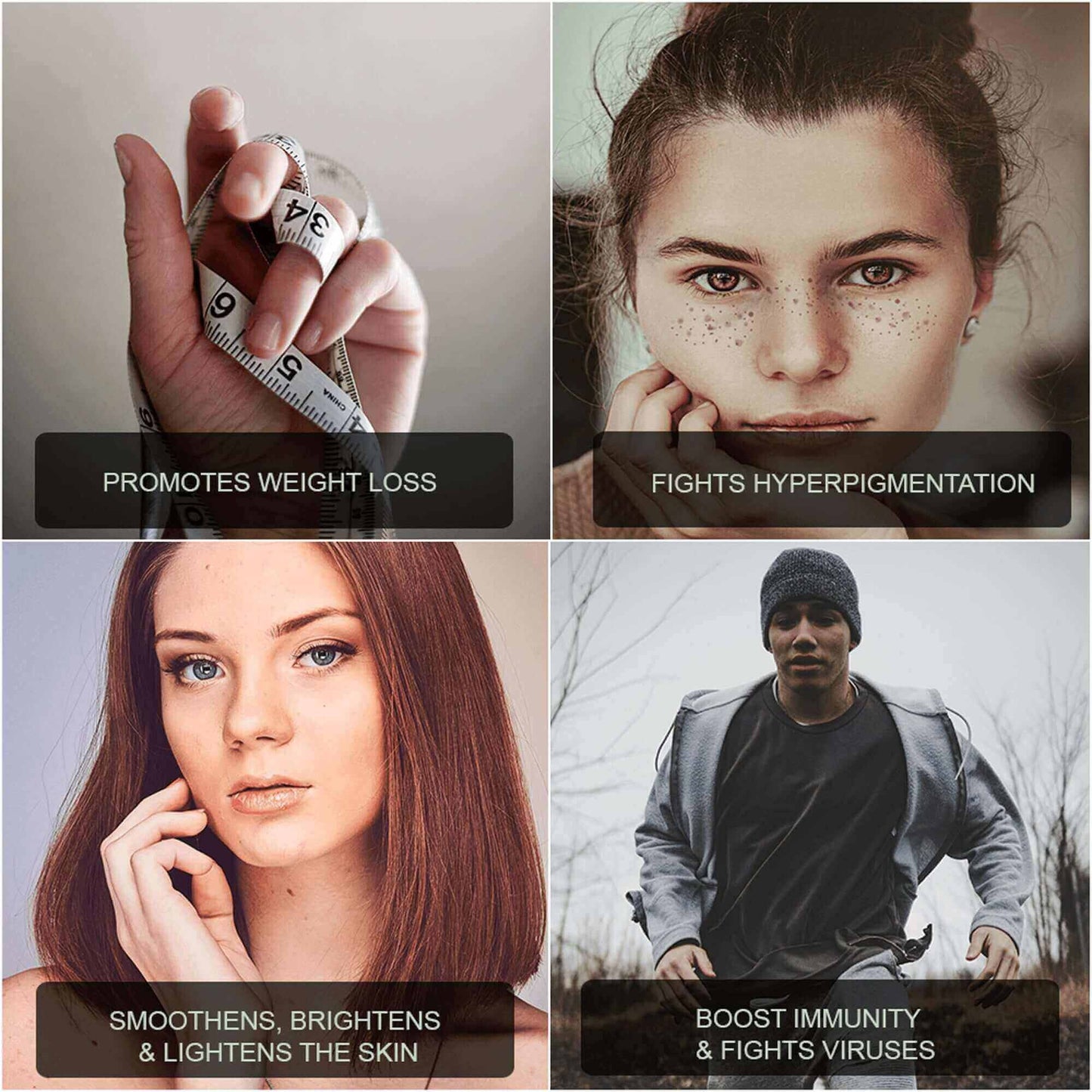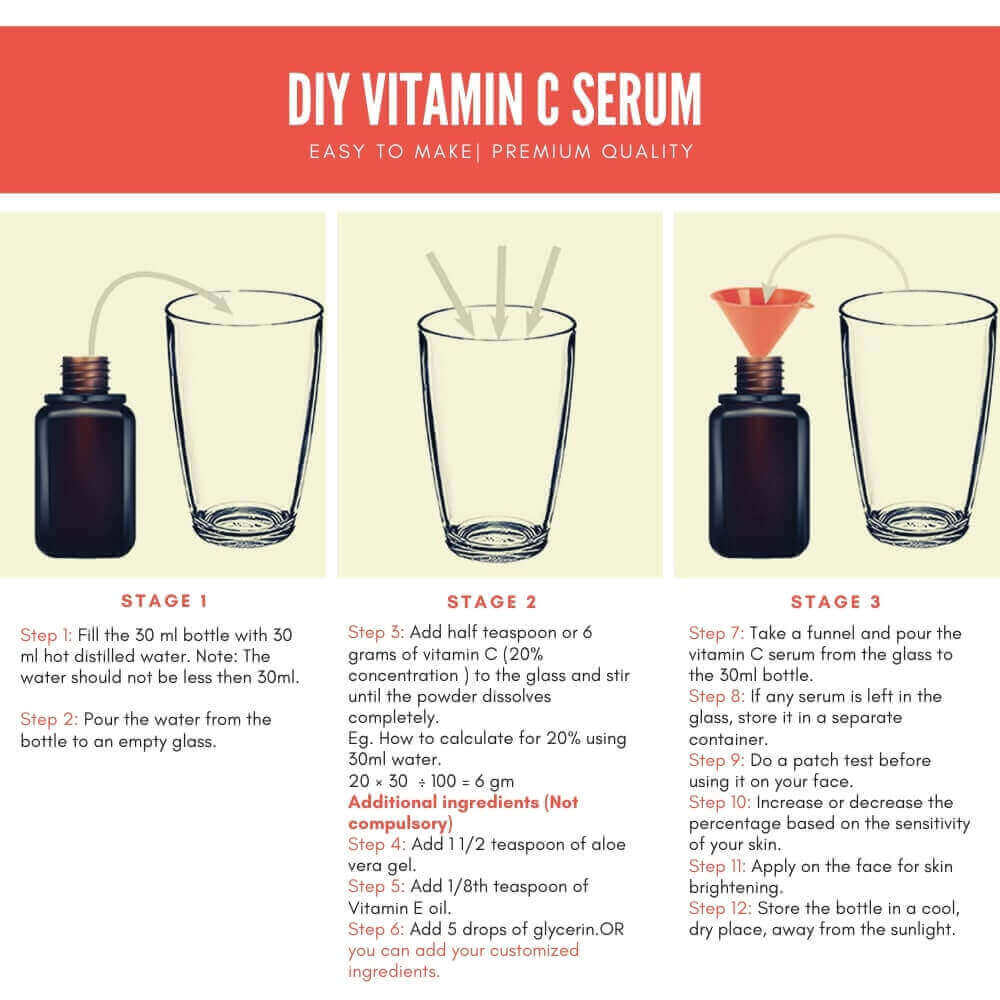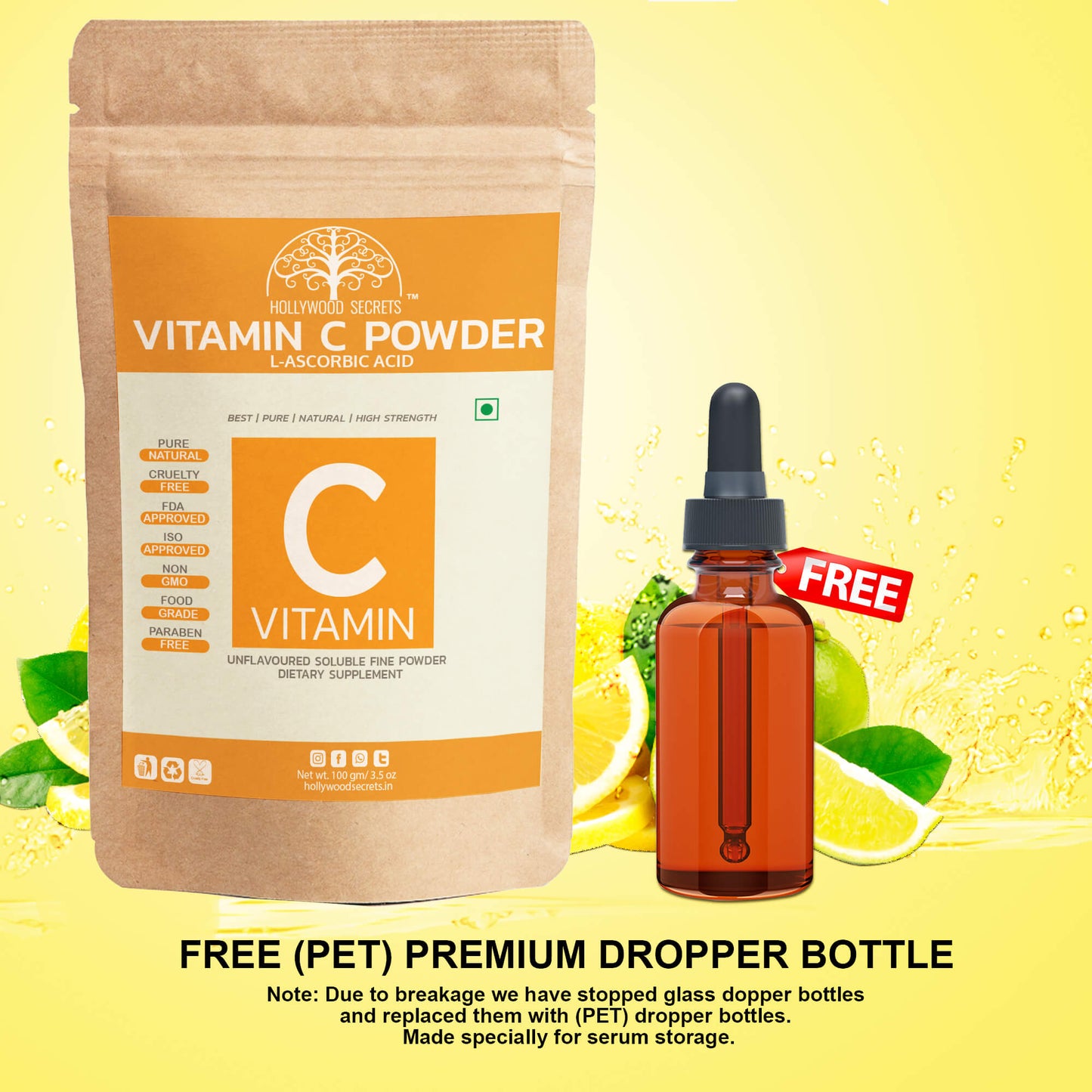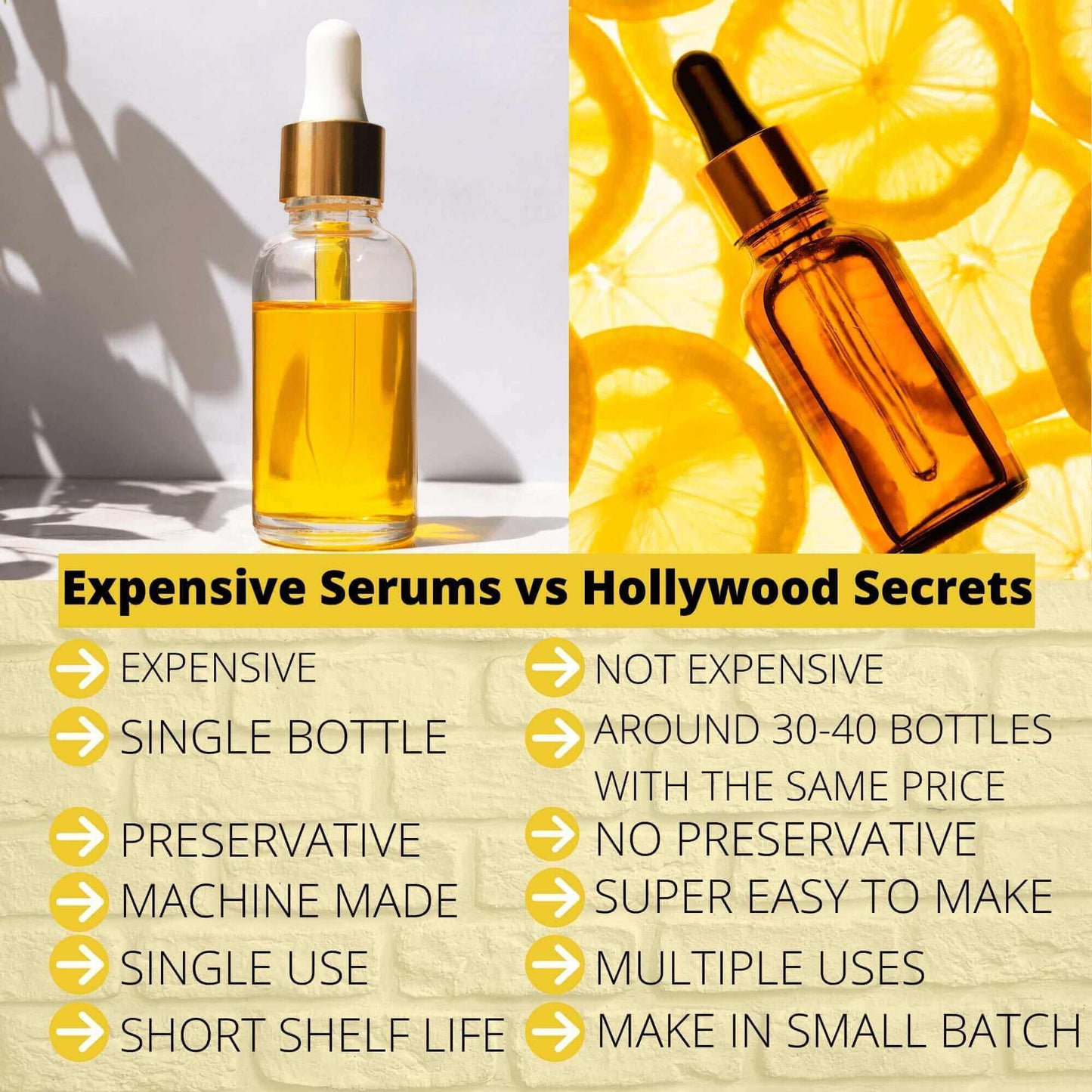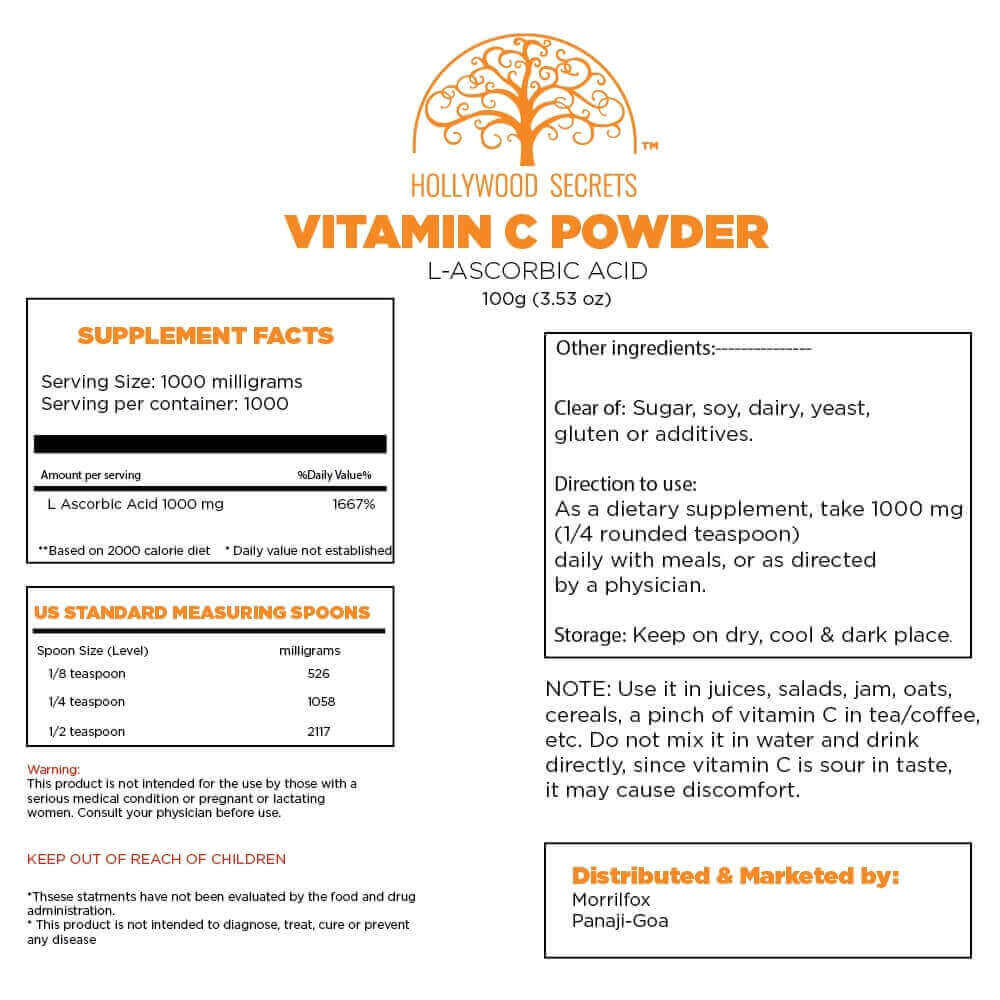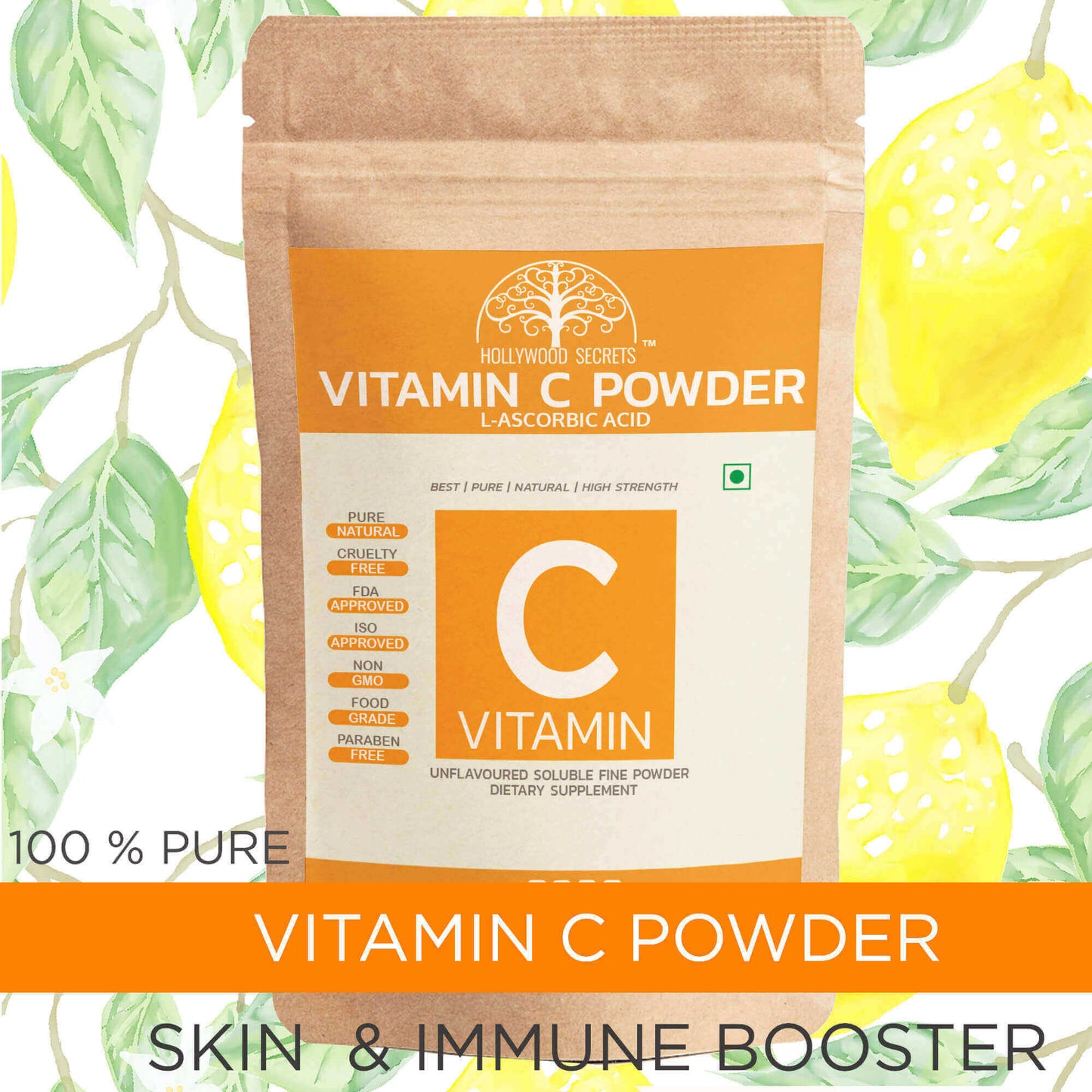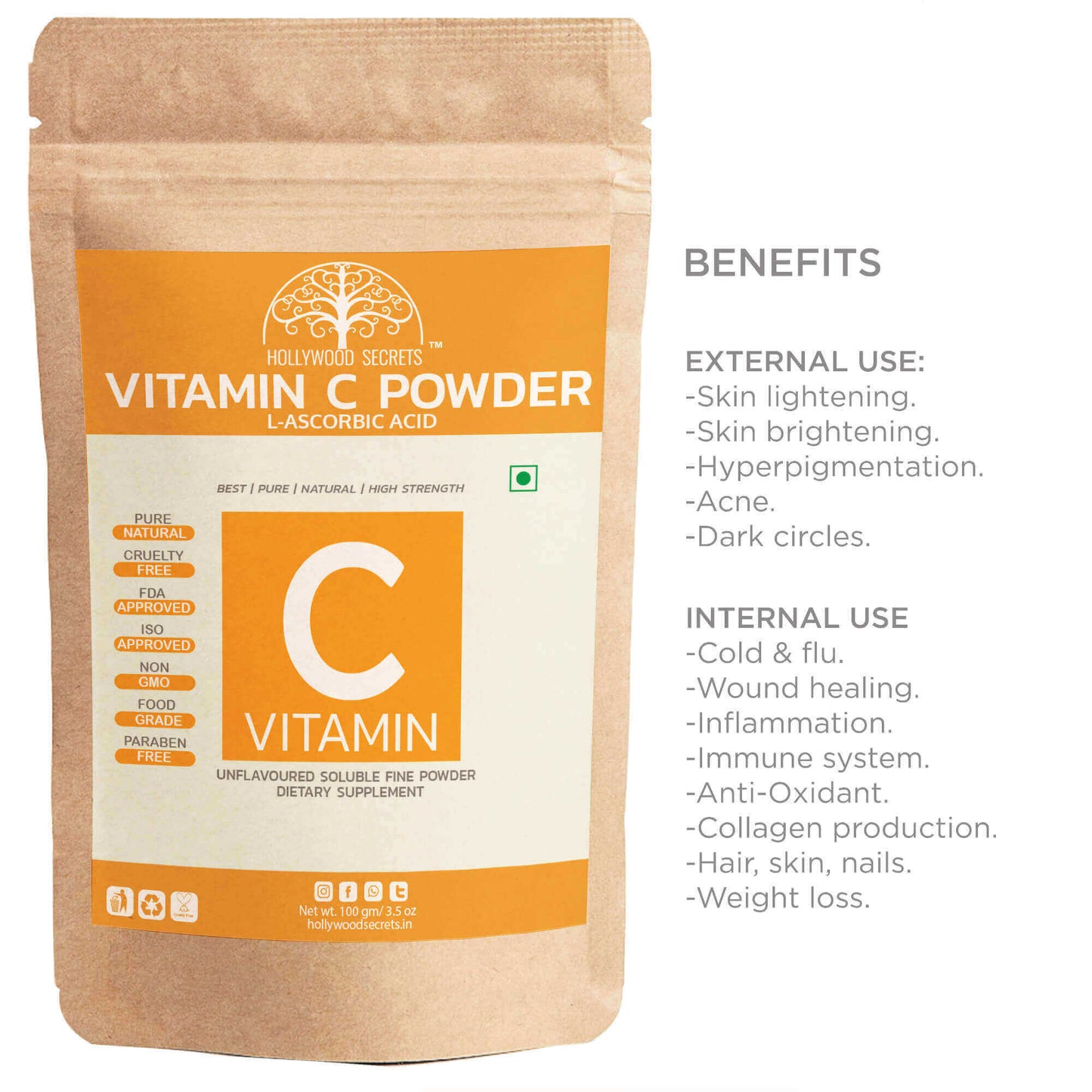 PRODUCT DETAILS
Product Details

CAS NO: 50-81-7
Formula: C₆H₈O₆
Appearance: White powder to crystal
Solubility in Water: almost transparency



Calculations

HOW TO CALCULATE FOR 10% 100ML Vitamin C SERUM:

CALCULATION FOR MANDELIC ACID: 10 × 100 ÷ 100 = 10 GM

CALCULATION FOR DISTILLED WATER: 100-10 = 90 ML
How to use (Formulation Guide)

How To Use L Ascorbic Acid Powder

-Materials you'll need:

1) L-ascorbic acid powder (vitamin C powder)
2) A small, clean glass or plastic container with a tight-sealing lid (preferably opaque or dark-colored to protect the vitamin C from light)
3) A clean, dry spoon or scoop
4) Distilled water or a water-based skincare product (e.g., toner, serum)
5) pH testing strips (optional but recommended)
Steps:
6) Preservatives (optional)

-Cleanliness is Key: Ensure that your hands, the container, and any utensils you use are clean and dry. Any contamination can affect the stability of the vitamin C.

-Measure the Powder: Start by measuring the desired amount of L-ascorbic acid powder. Take 10 gm of powder to create a 10% serum and 90 ml of water

-Mix with a Liquid: Add the measured L-ascorbic acid powder to your chosen liquid, such as distilled water or a water-based skincare product. It's crucial to maintain a suitable pH level to maximize stability and effectiveness. Aim for a pH level of around 3.5 for optimal absorption. You can use pH testing strips to check and adjust the pH if needed. If you have sensitive skin you can increase the ph by adding baking soda

-Stir and Dissolve: Use a clean, dry spoon or scoop to stir the mixture thoroughly until the L-ascorbic acid powder is fully dissolved. This may take a few minutes. Ensure that there are no visible crystals left.

-Transfer and Store: Pour the mixture into your clean, airtight container. Ensure that the container is sealed tightly to prevent air and light from degrading the vitamin C. Store it in a cool, dark place, away from direct sunlight and heat, to maintain its stability.

-Apply Topically: Incorporate the L-ascorbic acid serum into your skincare routine. Apply a small amount to your face, neck, or target areas once or twice a day, depending on your skin's tolerance. It's best to apply it after cleansing and before moisturizing. Follow with a broad-spectrum sunscreen during the daytime to protect your skin from UV damage.

-Monitor Sensitivity: Vitamin C can be potent, so monitor your skin's reaction. If you experience irritation, redness, or any adverse effects, consider reducing the frequency of use or diluting the serum further.

-Use it Fresh: L-ascorbic acid serums are best used fresh, as their potency can degrade over time. Try to use up the mixture within a few weeks to a month.

-Remember that L-ascorbic acid is sensitive to light, air, and temperature, so proper storage and handling are crucial. Additionally, start with a lower concentration and gradually increase it to avoid potential skin sensitivity. If you have any skin concerns or questions about using L-ascorbic acid, consult with a dermatologist or skincare professional for personalized guidance.