Hollywood Secrets
Regular price
Rs. 900.00
Sale price
Rs. 800.00
Unit price
per
Deal of the Day
Sold out
Benefits of Mandelic acid: 
Mandelic acid is an alpha hydroxy acid (AHA) that is derived from bitter almonds. It has several benefits for the skin, including:


Exfoliation: Mandelic acid has exfoliating properties that help remove dead skin cells and unclog pores. This can help improve the overall texture and tone of the skin.
Anti-aging: Mandelic acid has been shown to stimulate collagen production, which can help reduce the appearance of fine lines and wrinkles. It also has antioxidant properties that help protect the skin from free radical damage.
Acne treatment: Mandelic acid is a gentle yet effective treatment for acne. It helps unclog pores, reduce inflammation, and kill acne-causing bacteria.
Hyperpigmentation: Mandelic acid can help reduce the appearance of hyperpigmentation, such as age spots and sun spots. It works by inhibiting the production of melanin, which is responsible for skin pigmentation.
Safe for sensitive skin: Mandelic acid is less irritating than other AHAs, such as glycolic acid, making it a good option for people with sensitive skin.
Why Us

Customization: Our DIY cosmetic brand empowers you to personalize your beauty products according to your preferences.
Quality Control: By choosing a DIY cosmetic brand, you have complete control over the quality of the ingredients used in your beauty products.
Creativity and Expression: Our DIY cosmetic brand encourages your creativity and allows you to express your unique style.
Sustainable and Eco-friendly: Many mass-produced cosmetic brands generate significant amounts of waste and contribute to environmental pollution. By choosing a DIY cosmetic brand, you can actively reduce your ecological footprint.
Education and Empowerment: Our DIY cosmetic brand aims to educate and empower individuals about the ingredients, formulation techniques, and the science behind cosmetic products.
Cost-effective: Creating your own cosmetics can be a cost-effective alternative to buying high-end branded products.
Features of the product

Premium product. 
100% original & quality assured.
Non-contaminated & non-mixed.
Non-Gmo.
Doctor & dermatologist approved.
No preservatives.
Easy to use.
Payment Method

Payment India: 

Credit card: Available

Debit card: Available

Razorpay (Cards, UPI, Net Banking, Wallets): Available

Cash on Delivery (COD): Available

We accept all forms of payment.

Payment United States: 

Credit card: Available
Shipping

Prepaid & COD order: Both available.

Standard Shipping: 1-7 days (Free)

Expediated: 1-3 days ( Rs. 90)

Ultra high speed delivery using our selected couriers.
Processing Time

Product ordered before 11am: Shipped on the same day

Product ordered after 11am: Shipped on the next day
Return Policy

1-7 days. Call our customer care for returns.
Contact us

WhatsApp & Call : +91-9921645094

Email: info@hollywoodsecrets.in
Share
View full details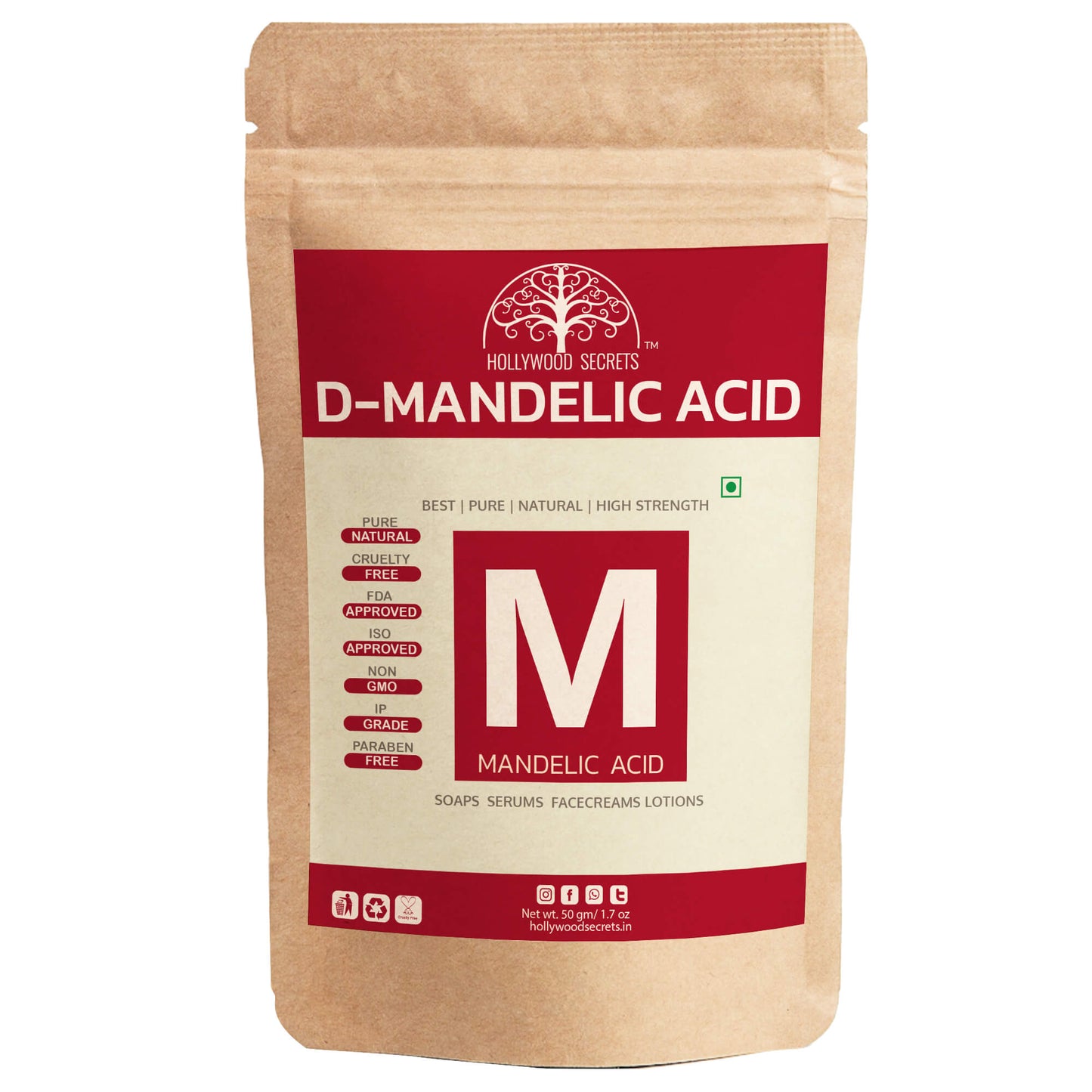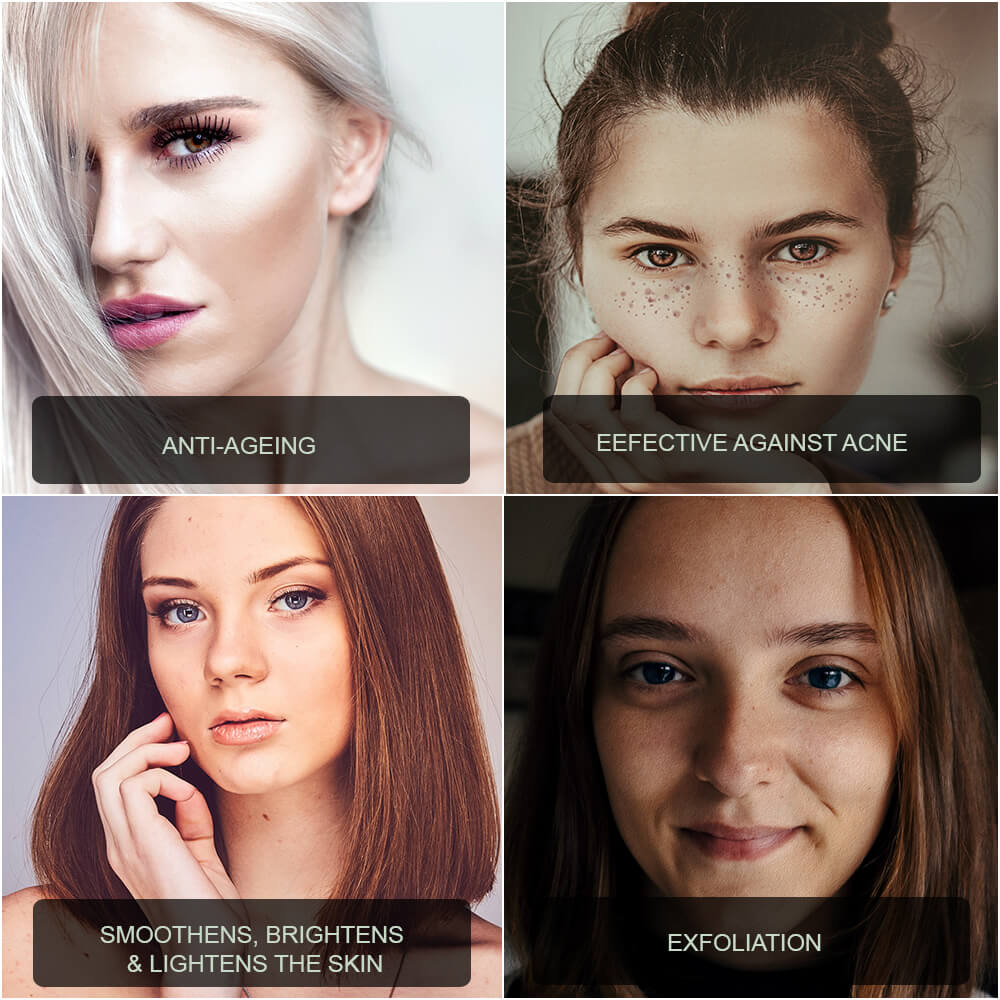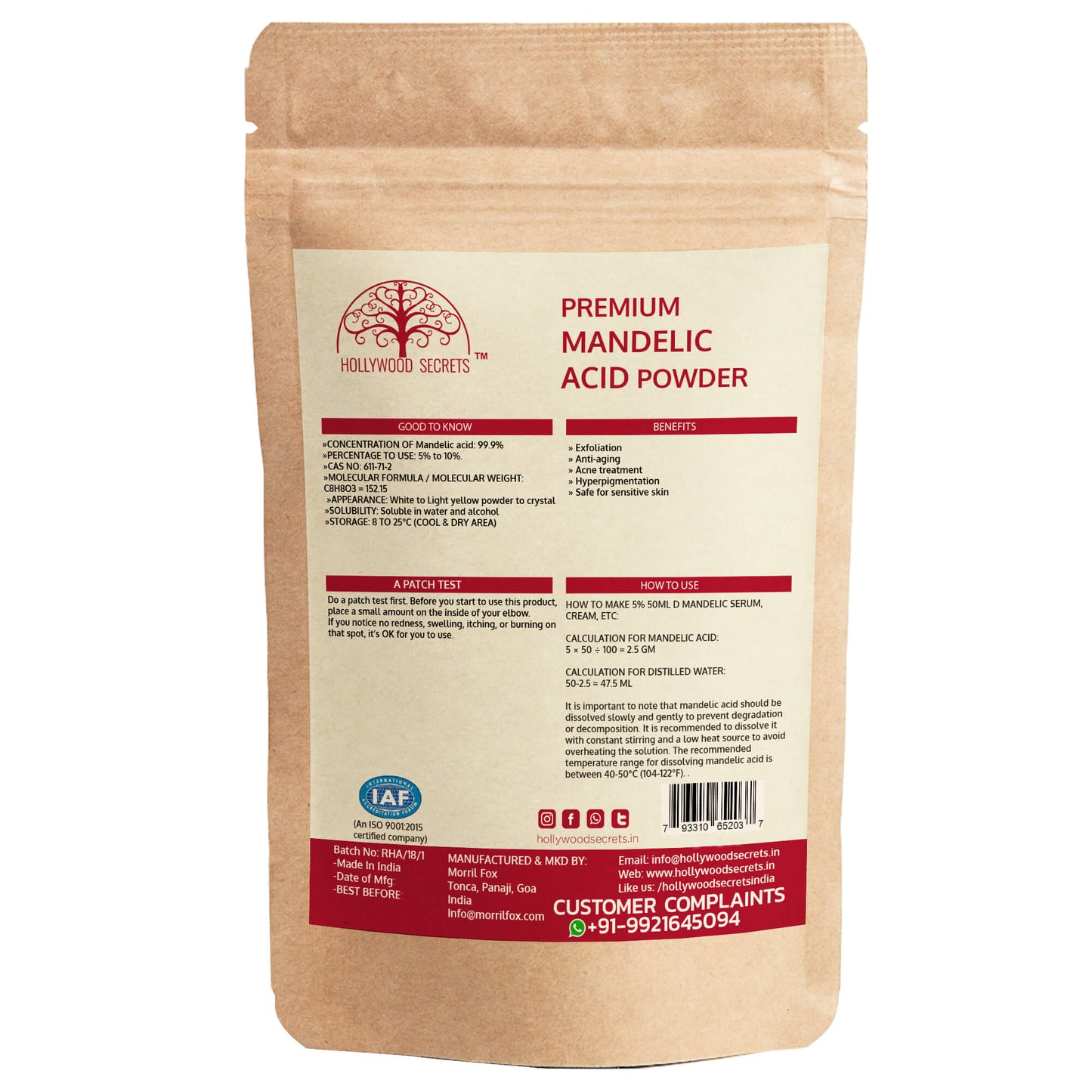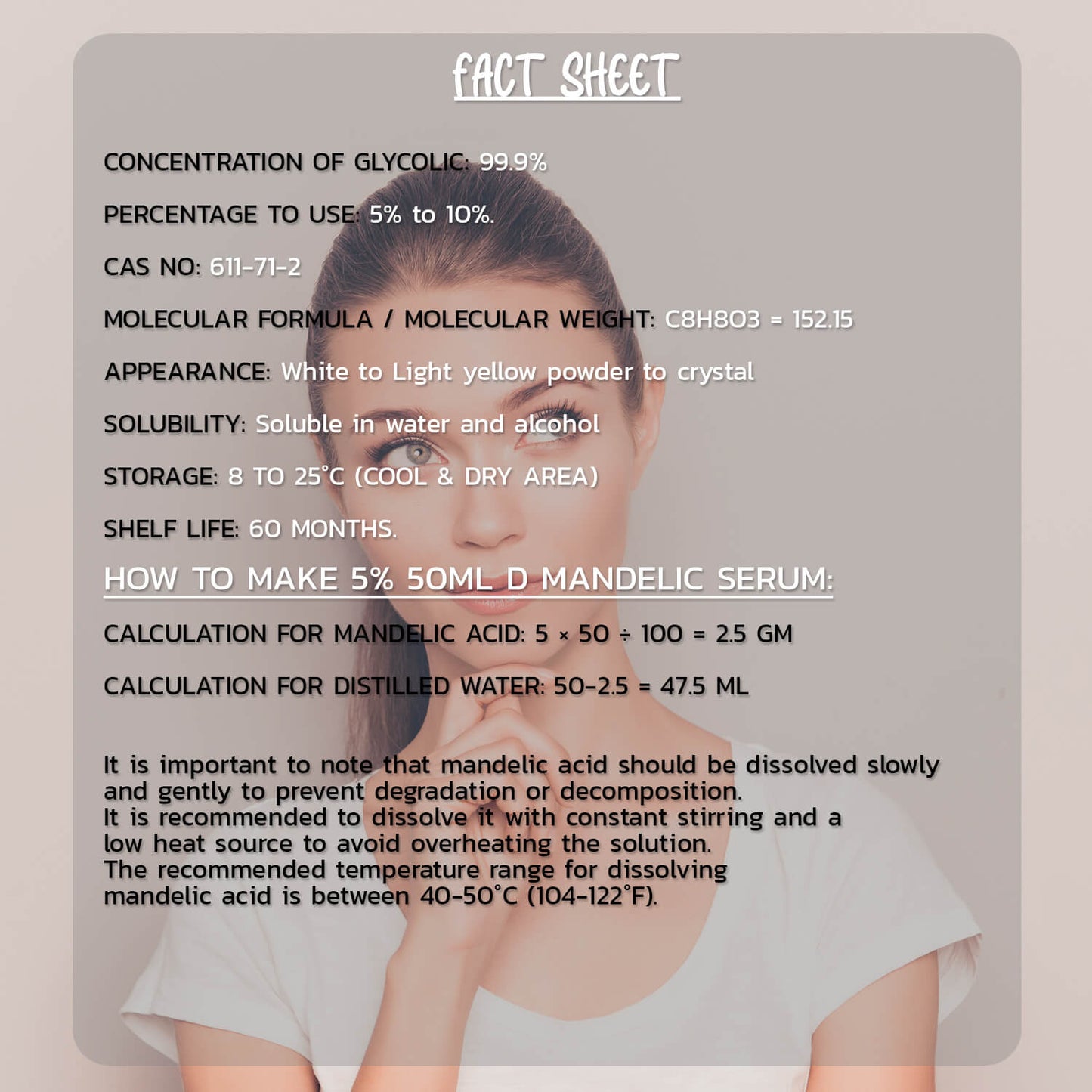 PRODUCT DETAILS
Product Details

Fact sheet: 
CONCENTRATION OF MANDELIC ACID: 99.9%

PERCENTAGE TO USE: 5% to 10%.

CAS NO: 611-71-2

MOLECULAR FORMULA / MOLECULAR WEIGHT: C8H8O3 = 152.15

APPEARANCE: White to Light yellow powder to crystal

SOLUBILITY: Soluble in water (15.87 g/100 mL OR 1gm/6.3 ml) and
freely soluble in isopropyl and ethyl alcohol.

STORAGE: 8 TO 25°C (COOL & DRY AREA)

SHELF LIFE: 60 MONTHS.

PKa: 3.37(at 25C)

OPTIMAL PH RANGE: Between 2.5 and 3.5. (However, if the pH is too low,
it can cause skin irritation )

TIME TO WORK: On average it will take 1-2 months of consistent topical use of Mandelic acid before you begin to see improvements.

RECOMMENDED TEMPERATURE FOR DISSOLVING MANDELIC ACID: The recommended temperature range for dissolving mandelic acid is between 40-50°C (104-122°F)
Calculations

HOW TO DISSOLVE FOR 5% 50ML D MANDELIC SERUM:
CALCULATION FOR MANDELIC ACID: 5 × 50 ÷ 100 = 2.5 GM

CALCULATION FOR DISTILLED WATER: 50-2.5 = 47.5 ML

It is important to note that mandelic acid should be dissolved slowly and gently to prevent degradation or decomposition. It is recommended to dissolve it with constant stirring and a low heat source to avoid overheating the solution. The recommended temperature range for dissolving mandelic acid is between 40-50°C (104-122°F).

NOTE: This dissolved solution can be added to lotions, creams, fluids, makeup products, serums, etc. 
How to use (Formulation Guide)

MANDELIC ACID FORMULAION GUIDE:
Simple formulation: 

Ingredients:

-2% Mandelic acid
-98% distilled water

Instructions:

-In a clean container, measure out 2% Mandelic acid and 98% distilled water.
-Mix the two ingredients together until they are fully combined.
-Transfer the solution into a spray bottle or toner bottle.
-To use, apply a small amount of the Mandelic acid toner to a cotton pad and gently swipe over clean, dry skin. Avoid the eye area.
-Follow with your usual skincare routine, including sunscreen.

Note: This formulation is a simple starting point and it is important to properly test and adjust it based on skin tolerance. It is also important to wear sunscreen when using Mandelic acid as it can increase skin sensitivity to the sun.

Advanced formulation:

Ingredients:

-5% mandelic acid
-2% niacinamide
-1% panthenol
-1% glycerin
-0.5% xanthan gum
-90.5% distilled water

Instructions:

-In a small beaker or mixing bowl, combine the mandelic acid and niacinamide.
-In a separate beaker, combine the panthenol and glycerin.
-Slowly sprinkle the xanthan gum into the panthenol-glycerin mixture while stirring vigorously to avoid clumps.
-Add the distilled water to the panthenol-glycerin-xanthan gum mixture and stir until well combined.
-Add the mandelic acid-niacinamide mixture to the water mixture and stir until well combined.
-Adjust the pH of the serum to around 3.5-4.5 using citric acid or sodium hydroxide.
-Transfer the serum to a bottle with a dropper.

It's important to note that mandelic acid can be irritating to some people, especially if used at high concentrations or if used too frequently. Be sure to patch test and gradually introduce the serum into your skincare routine. Additionally, always wear sunscreen when using products containing alpha-hydroxy acids as they can increase sun sensitivity.