Hollywood Secrets
Regular price
Rs. 600.00
Sale price
Rs. 450.00
Unit price
per
Deal of the Day
Sold out
Benefits of Avocado Butter

[FOR FACE AND SKIN]: - Smooths wrinkles and prevents skin aging. It adds antioxidants to the skin and lightens and hydrates it, too. It has Anti-Inflammatory and Anti-Ageing properties.
[FOR HAIR GROWTH]: - Natural Avocado Butter Strengthens hair from its roots, nourishes, and softens dry hair, stimulates hair growth, and prevents hair loss.
[PROPERTIES]: - This Natural Extract of Avocado is rich in vitamins A, D, and E, unsaturated fatty acids, and lecithin, all of which are beneficial to your skin.
[100% MONEY BACK GUARANTEE]: - The clinically-proven Natural Avocado Butter for itself. If you are not satisfied for whatever reason, we offer a no-question asked money-back guarantee.
[QUALITY COUNTS]-: Hollywood Secrets Natural Avocado Butter made from REAL Avocados, FRESH CUT from Avocado plants and harvested from the farm. MADE IN INDIA!
EASY APPLICATION

 

- Melt a pea-size amount of Avocado Butter between your hands and massage on skin until absorbed. NOTE: A little goes a long way.
Why Us

Customization: Our DIY cosmetic brand empowers you to personalize your beauty products according to your preferences.
Quality Control: By choosing a DIY cosmetic brand, you have complete control over the quality of the ingredients used in your beauty products.
Creativity and Expression: Our DIY cosmetic brand encourages your creativity and allows you to express your unique style.
Sustainable and Eco-friendly: Many mass-produced cosmetic brands generate significant amounts of waste and contribute to environmental pollution. By choosing a DIY cosmetic brand, you can actively reduce your ecological footprint.
Education and Empowerment: Our DIY cosmetic brand aims to educate and empower individuals about the ingredients, formulation techniques, and the science behind cosmetic products.
Cost-effective: Creating your own cosmetics can be a cost-effective alternative to buying high-end branded products.
Features of the product

Premium product. 
100% original & quality assured.
Non-contaminated & non-mixed.
Non-Gmo.
Doctor & dermatologist approved.
No preservatives.
Easy to use.
Payment Method

Payment India: 

Credit card: Available

Debit card: Available

Razorpay (Cards, UPI, Net Banking, Wallets): Available

Cash on Delivery (COD): Available

We accept all forms of payment.

Payment United States: 

Credit card: Available
Shipping

Prepaid & COD order: Both available.

Standard Shipping: 1-7 days (Free)

Expediated: 1-3 days ( Rs. 90)

Ultra high speed delivery using our selected couriers.
Processing Time

Product ordered before 11am: Shipped on the same day

Product ordered after 11am: Shipped on the next day
Return Policy

1-7 days. Call our customer care for returns.
Contact us

WhatsApp & Call : +91-9921645094

Email: info@hollywoodsecrets.in
Share
View full details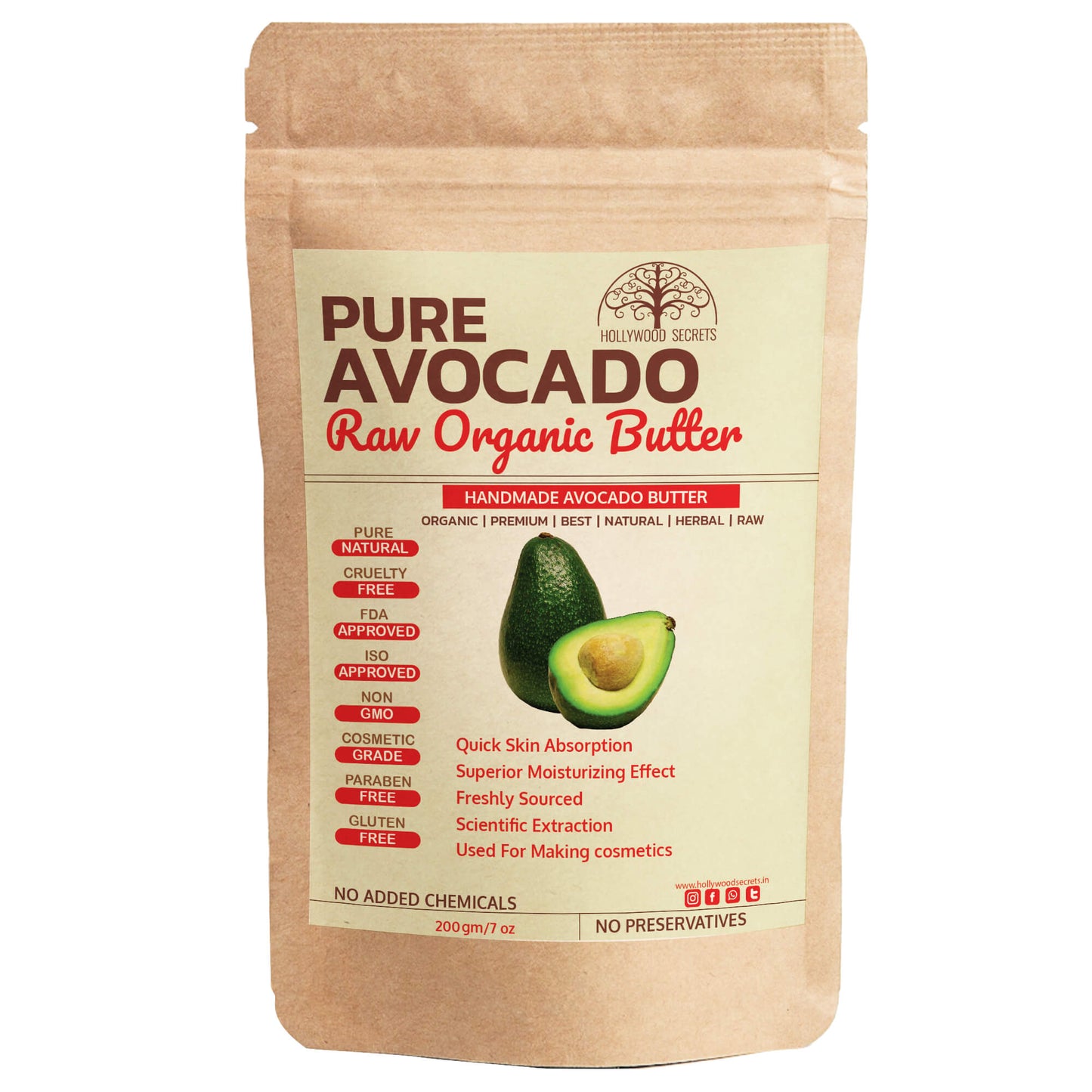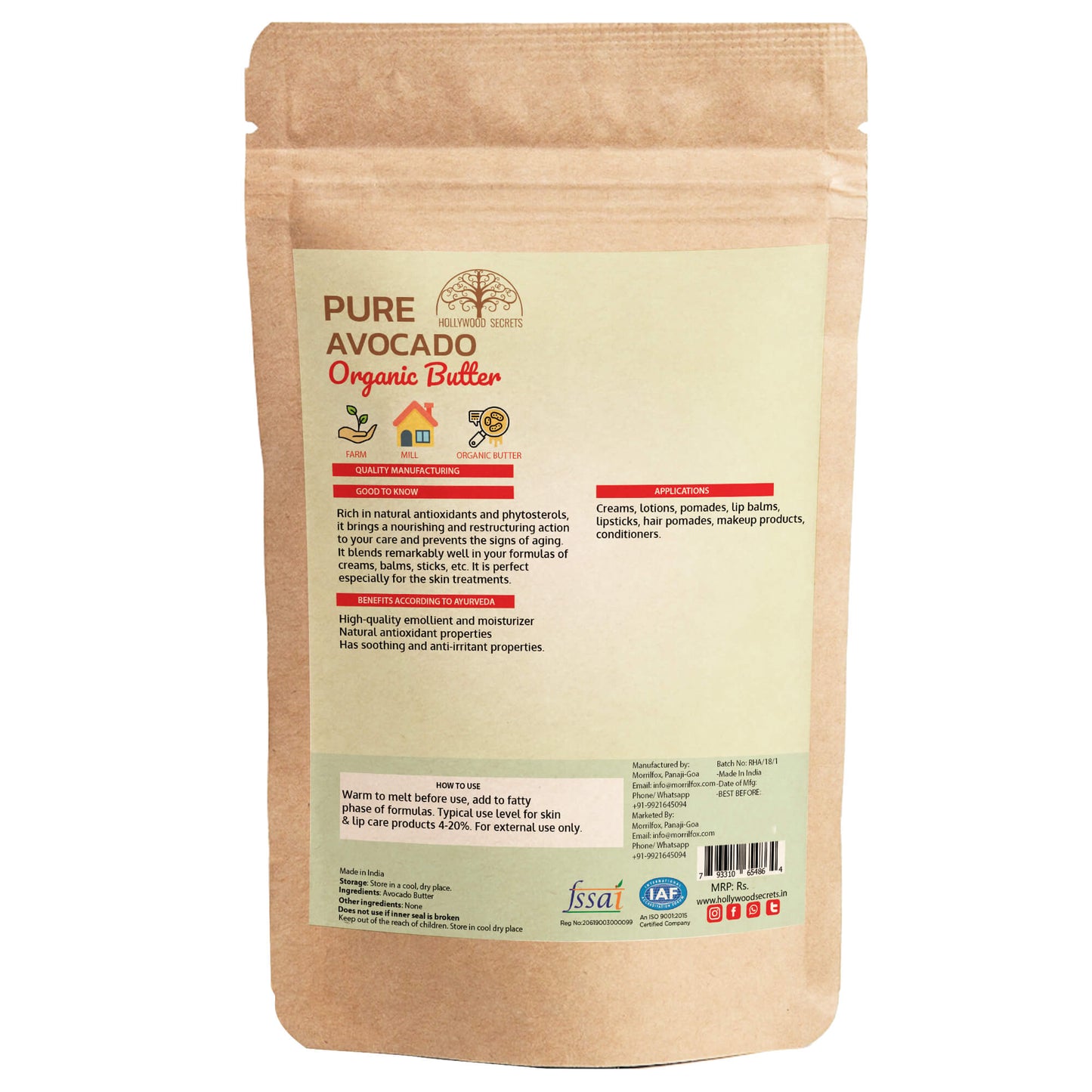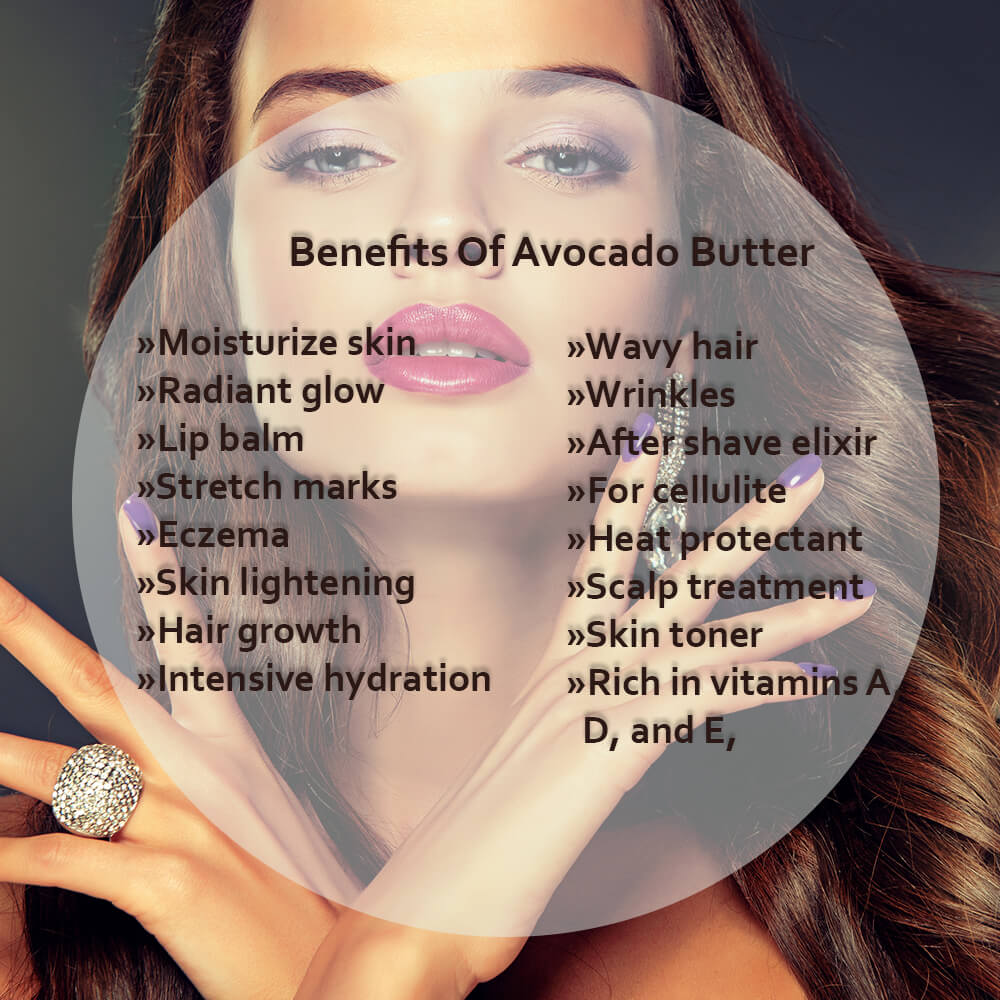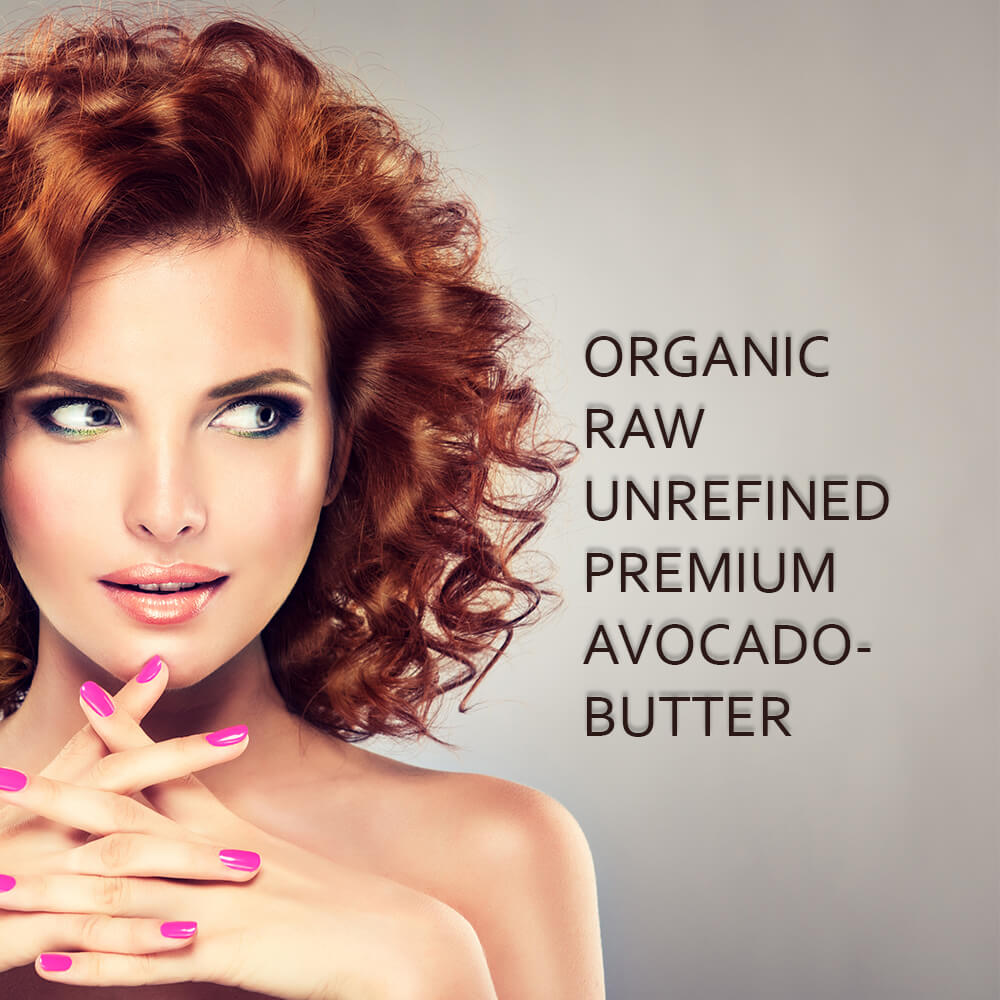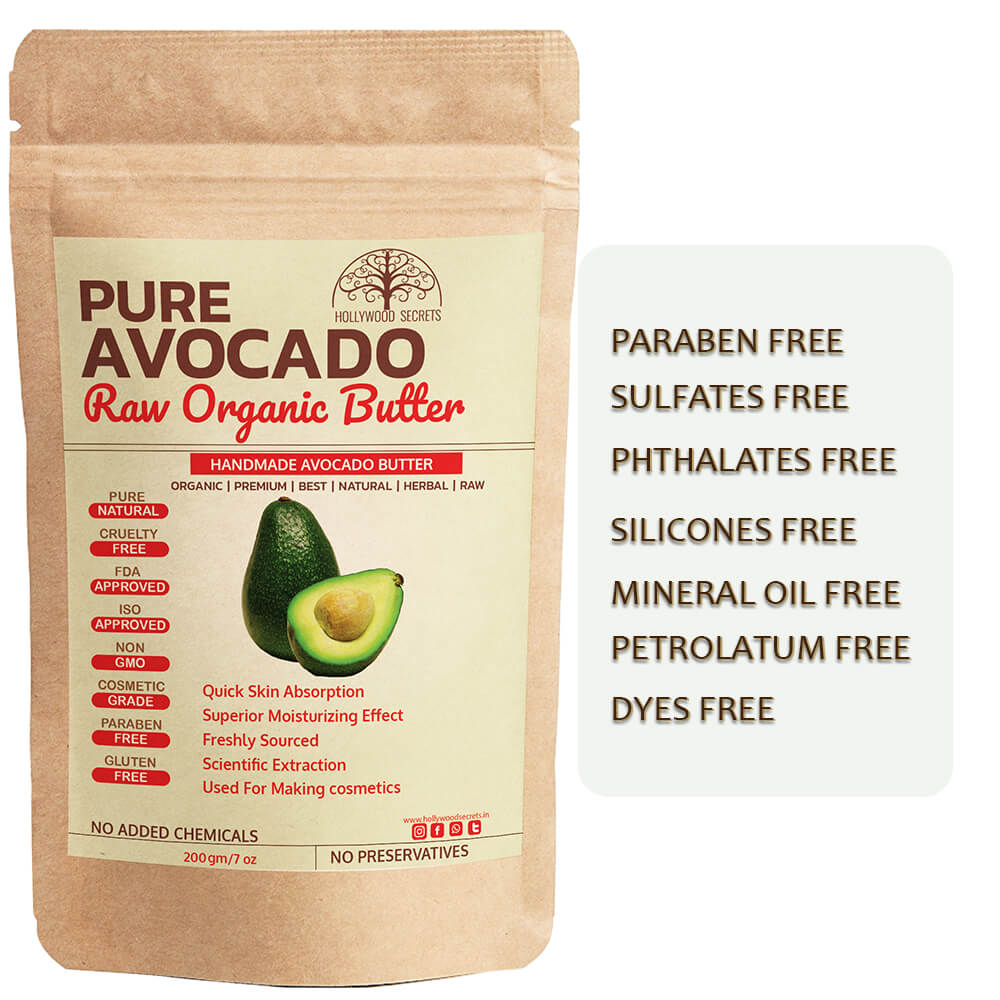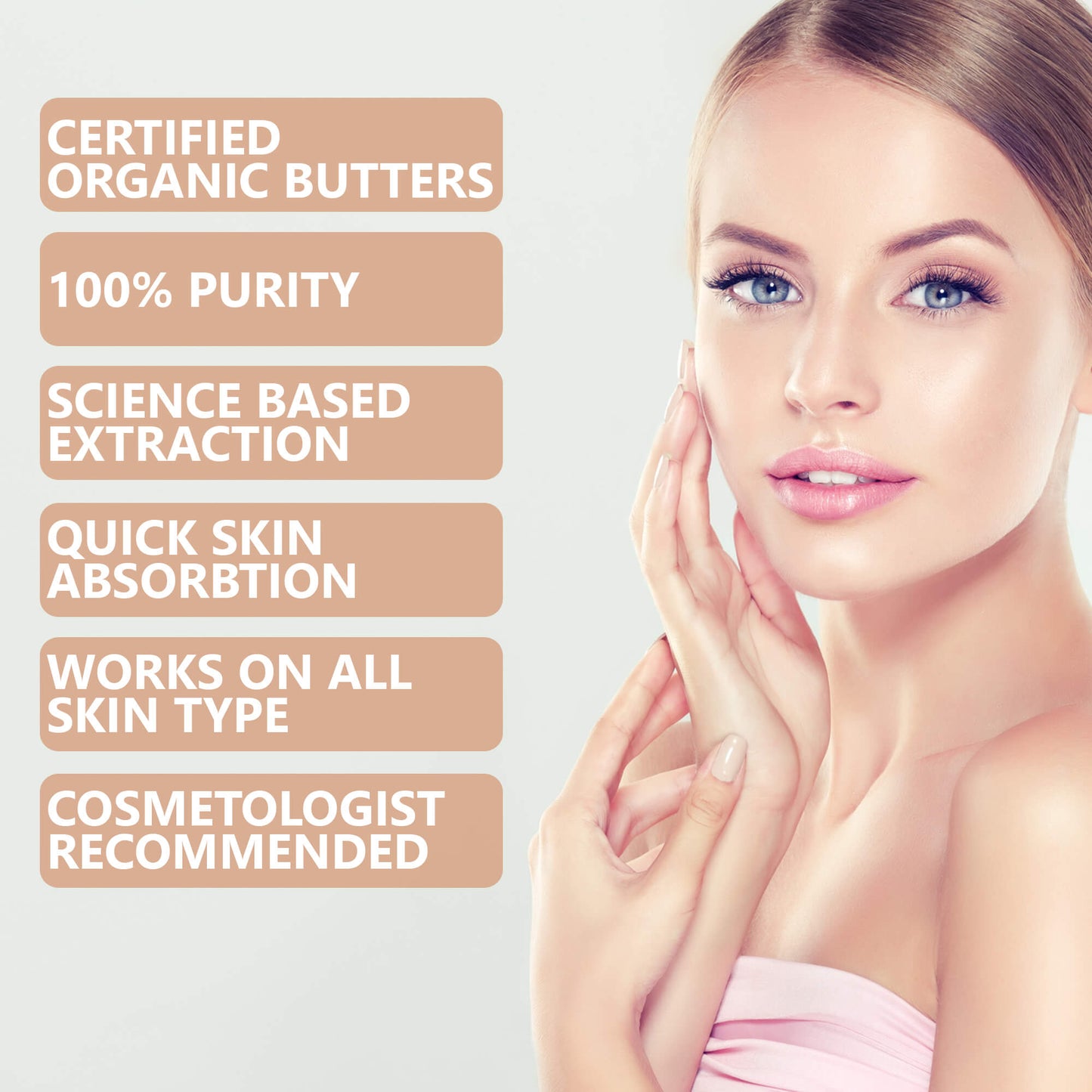 PRODUCT DETAILS
Product Details

Use: Warm to melt before use. Add to oil phase of formula. Typical use level 3 - 100 % (can be used pure).

For external use only.

Applications: Lotions, creams, sun care & after sun products, facial moisturizers, body butter, ointments.
How to use (Formulation Guide)

WHIPPED AVOCADO BUTTER FORMULATION GUIDE:

1) Gather the ingredients and tools:

-Raw avocado butter: Choose high-quality, unrefined avocado butter for the best results.

-Optional ingredients: You can add carrier oils (e.g., coconut oil, jojoba oil) or essential oils (e.g., lavender oil, peppermint oil) for added benefits and fragrance.

-Mixing bowl: Use a clean, dry bowl that is large enough to accommodate the avocado butter and allow room for whipping.

-Electric mixer or hand mixer: This will make the whipping process faster and easier.

-Spatula or spoon: Use it to scrape the sides of the bowl and mix the avocado butter.

2) Soften the avocado butter:

-If your avocado butter is solid or in a semi-solid state, you'll need to soften it before whipping. You can do this by placing the avocado butter in the mixing bowl and allowing it to come to room temperature naturally. Alternatively, you can use a double boiler setup or microwave in short bursts, stirring occasionally until it softens.

3) Add optional ingredients:

-If you want to incorporate carrier oils or essential oils, add them to the softened avocado butter. These additions can enhance the properties and scent of the whipped avocado butter.

-Start with a small amount of additional ingredients and adjust to your preference. It's important not to add too much oil as it can affect the consistency of the whipped avocado butter.

4) Whip the avocado butter:

-Using an electric mixer or hand mixer, start on low speed to prevent splattering.

-Gradually increase the speed to medium-high and whip the avocado butter for a few minutes. Stop and scrape down the sides of the bowl with a spatula or spoon as needed.

-Continue whipping until the avocado butter becomes light, fluffy, and creamy. This process can take around 5-10 minutes, depending on the amount of avocado butter and the mixer's power.

-Be careful not to over-whip, as it can lead to a grainy texture.

5) Transfer and store:

-Once you achieve the desired whipped consistency, transfer the whipped avocado butter to a clean, airtight container.

-Store it in a cool, dark place to maintain its texture and extend its shelf life.

-You can use the whipped avocado butter as a moisturizer for your skin or hair, or incorporate it into your homemade skincare products. Enjoy the light and fluffy texture of your whipped avocado butter!