Hollywood Secrets
Regular price
Rs. 500.00
Sale price
Rs. 350.00
Unit price
per
Deal of the Day
Sold out
Benefits of Carbomer 940 Powder
Thickening Agent: Carbomer 940 is primarily used as a thickening agent in formulations. It can increase the viscosity and stability of liquids, gels, and creams, providing a desirable texture and enhancing product performance.
Gel Formation: When mixed with water or alcohol, Carbomer 940 can form clear or translucent gels. These gels have excellent suspending properties, making them useful for incorporating other ingredients like pigments, exfoliants, or active substances into a formulation.
Emulsion Stabilizer: Carbomer 940 can stabilize oil-in-water emulsions, helping to prevent the separation of oil and water phases in cosmetic and pharmaceutical formulations. This allows for the creation of smooth and stable products such as lotions and creams.
Moisturizing Effect: Products containing Carbomer 940 can provide hydration and moisturization to the skin. Its ability to retain water helps to increase the skin's moisture content, leaving it feeling soft and supple.
pH Adjustment: Carbomer 940 can be used to adjust and maintain the pH of formulations. It acts as a pH modifier, ensuring that the product remains within the desired pH range for optimal stability and performance.
Suspending Agent: Carbomer 940 is effective in suspending insoluble particles or ingredients within a formulation. This property is particularly useful in products like suspensions or foams, where uniform distribution of particles is desired.
Why Us

Customization: Our DIY cosmetic brand empowers you to personalize your beauty products according to your preferences.
Quality Control: By choosing a DIY cosmetic brand, you have complete control over the quality of the ingredients used in your beauty products.
Creativity and Expression: Our DIY cosmetic brand encourages your creativity and allows you to express your unique style.
Sustainable and Eco-friendly: Many mass-produced cosmetic brands generate significant amounts of waste and contribute to environmental pollution. By choosing a DIY cosmetic brand, you can actively reduce your ecological footprint.
Education and Empowerment: Our DIY cosmetic brand aims to educate and empower individuals about the ingredients, formulation techniques, and the science behind cosmetic products.
Cost-effective: Creating your own cosmetics can be a cost-effective alternative to buying high-end branded products.
Features of the product

Premium product. 
100% original & quality assured.
Non-contaminated & non-mixed.
Non-Gmo.
Doctor & dermatologist approved.
No preservatives.
Easy to use.
Payment Method

Payment India: 

Credit card: Available

Debit card: Available

Razorpay (Cards, UPI, Net Banking, Wallets): Available

Cash on Delivery (COD): Available

We accept all forms of payment.

Payment United States: 

Credit card: Available
Shipping

Prepaid & COD order: Both available.

Standard Shipping: 1-7 days (Free)

Expediated: 1-3 days ( Rs. 90)

Ultra high speed delivery using our selected couriers.
Processing Time

Product ordered before 11am: Shipped on the same day

Product ordered after 11am: Shipped on the next day
Return Policy

1-7 days. Call our customer care for returns.
Contact us

WhatsApp & Call : +91-9921645094

Email: info@hollywoodsecrets.in
Share
View full details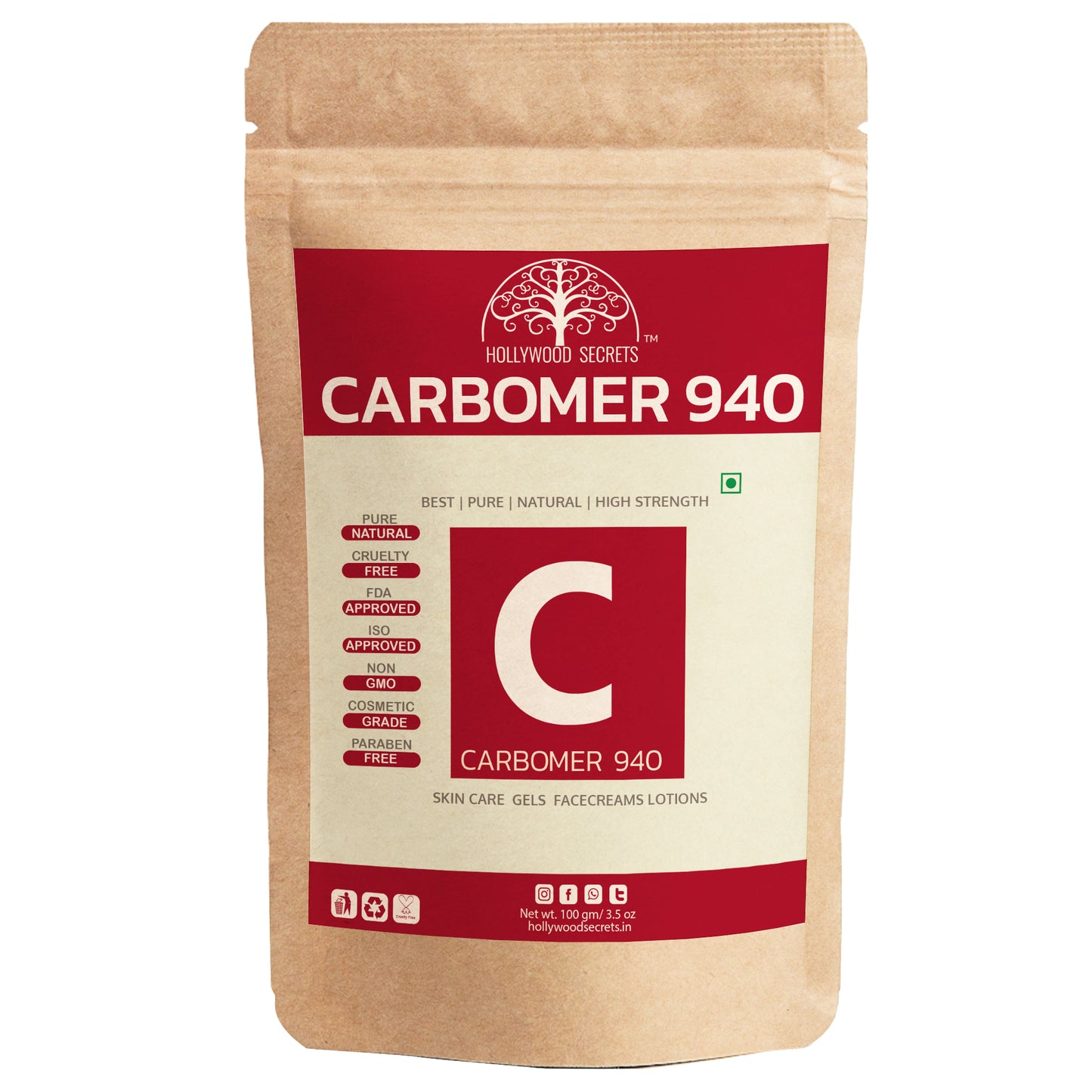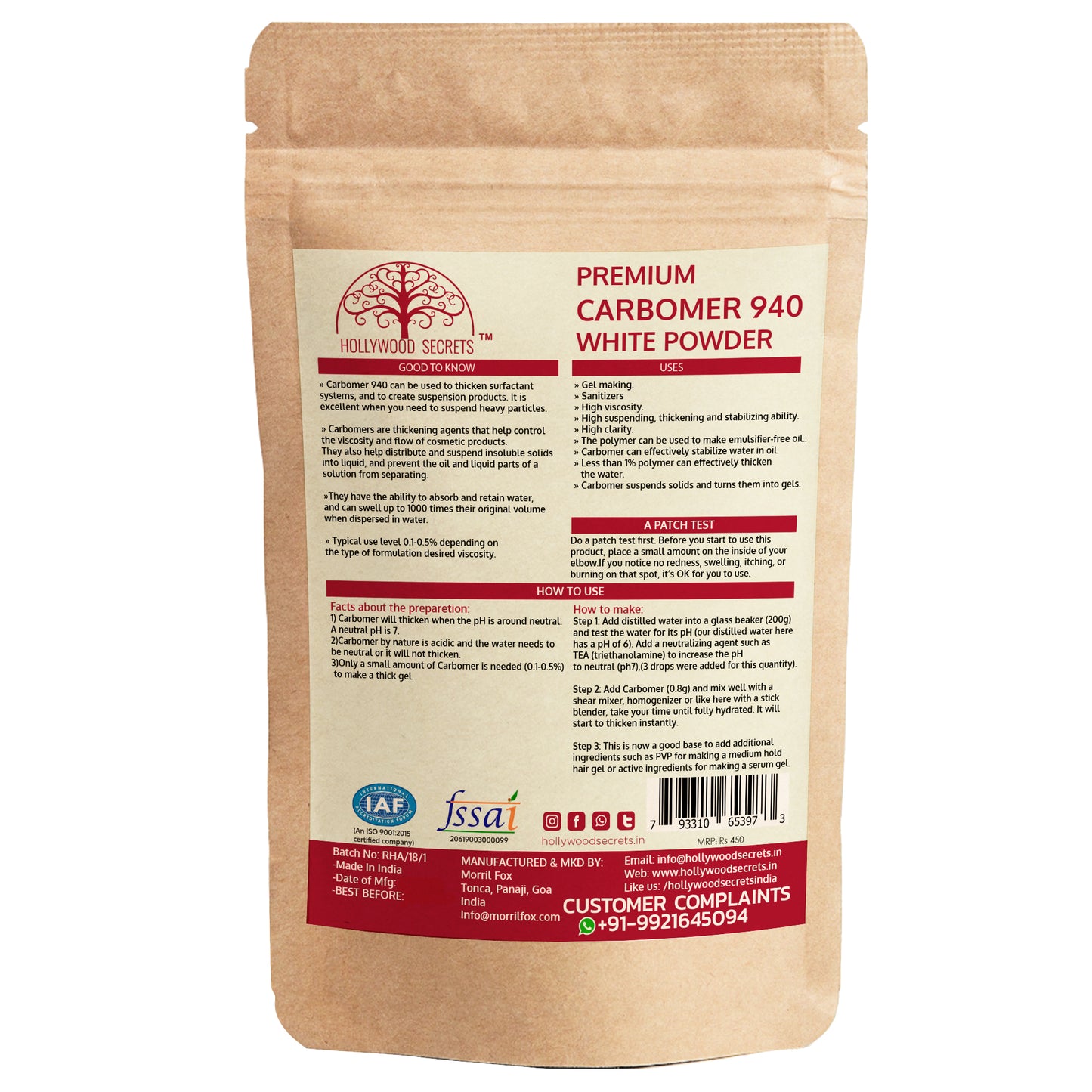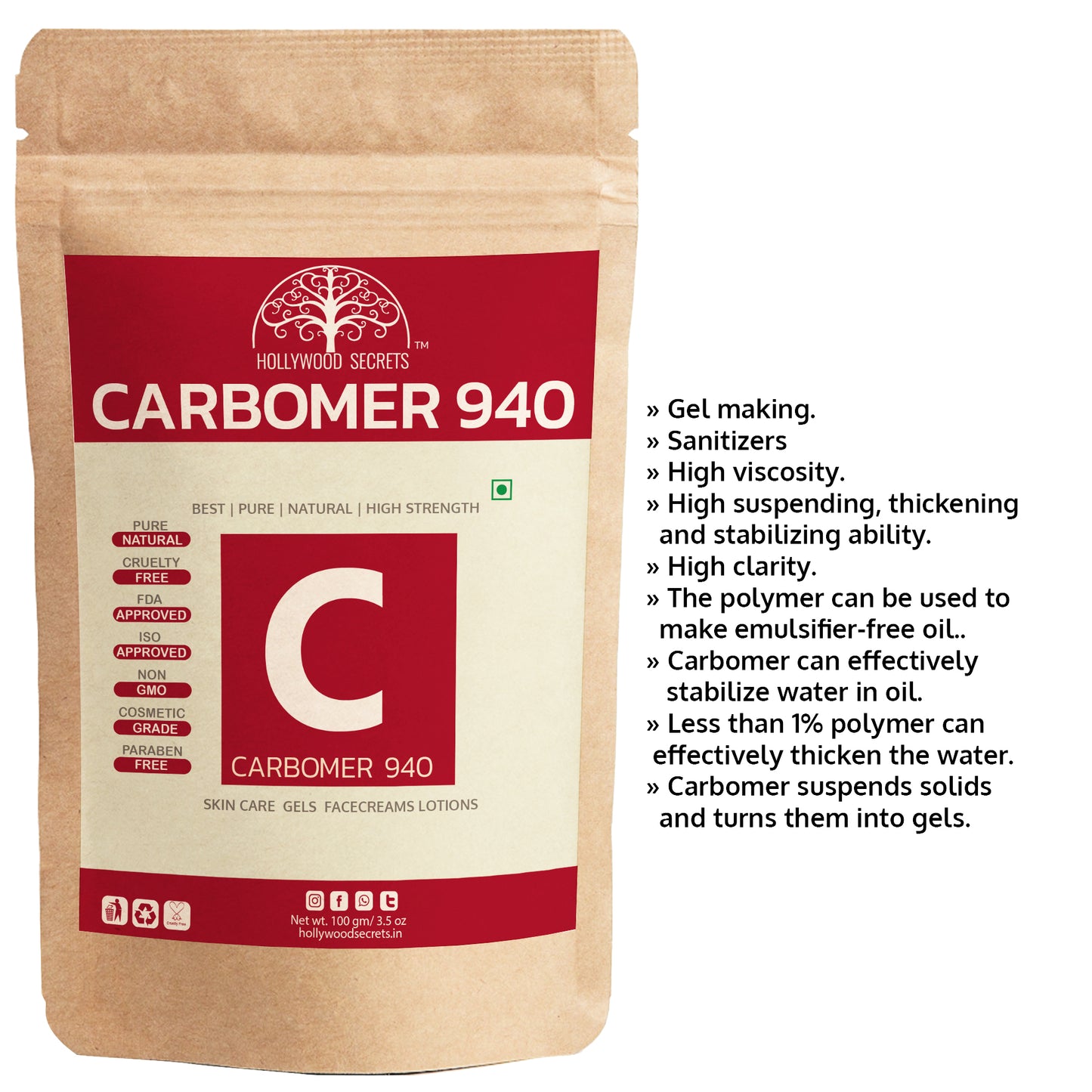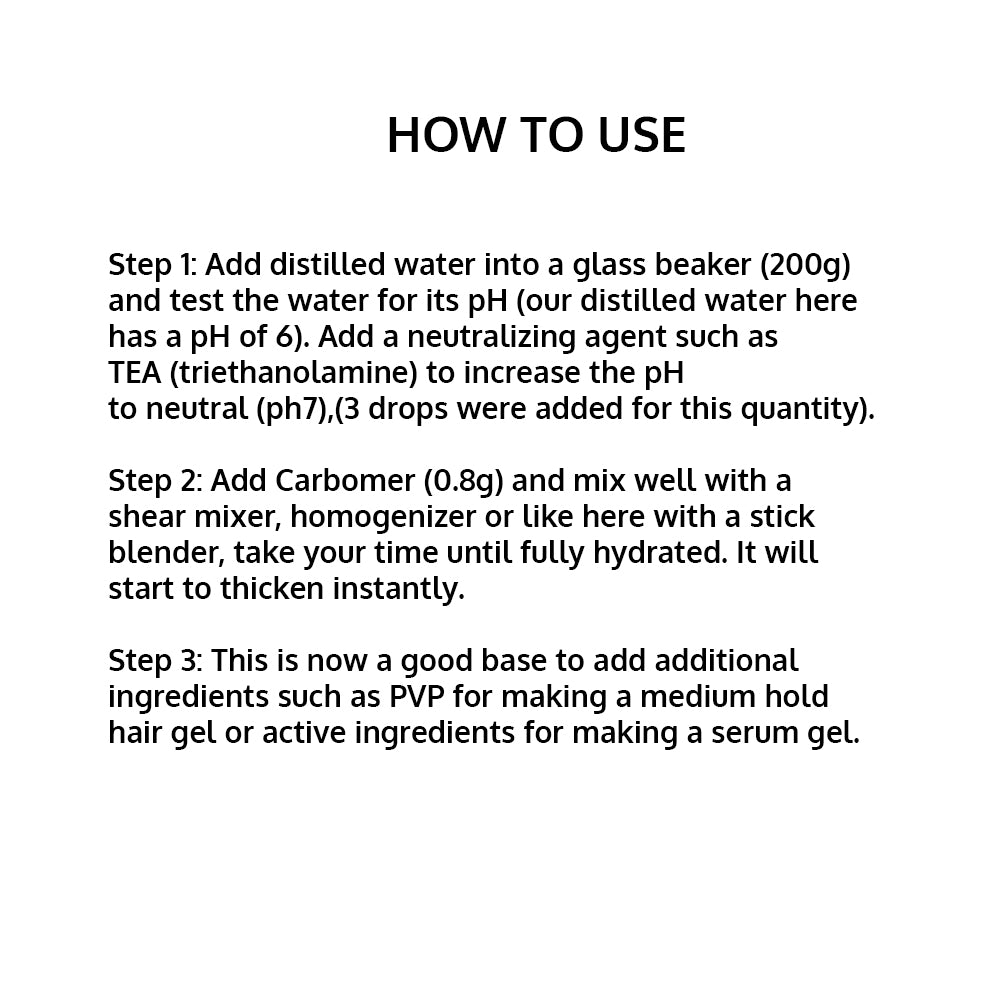 PRODUCT DETAILS
Product Details

CAS NO: 76050-42-5

Molecular Formula:C3H4O2

Molecular Weight:72.06g/mol

Appearance: White powder

Solubility: Soluble in water

Calculations

How to calculate 0.5 powder to be added to 200ml serum

0.5 Χ 200 ÷ 100= 1gm powder
How to use (Formulation Guide)

Typical use level 0.1-0.5% depending on the type of formulation desired viscosity. Carbomer must be thoroughly mixed and hydrated. Increasing the pH to >6.0, gives a gel structure. Neutralization can be carried out with inorganic bases such as NaOH or KOH or triethanolamine (TEA). For external use only.

-Precautions: When handling Carbomer 940, it's advisable to wear appropriate protective equipment such as gloves and goggles to avoid contact with the eyes and skin. In case of contact, rinse thoroughly with water.

-Dispersion: Carbomer 940 is a highly hygroscopic powder, meaning it absorbs moisture readily. To disperse Carbomer 940, it should be sprinkled onto the surface of the water or aqueous phase of the formulation while stirring gently. Avoid introducing it directly into oil phases, as this can lead to clumping and incomplete dispersion.

-Neutralization: Carbomer 940 requires neutralization to achieve its maximum thickening and stabilizing properties. Typically, a neutralizing agent such as triethanolamine (TEA), sodium hydroxide (NaOH), or potassium hydroxide (KOH) is added slowly to the formulation while stirring until the desired pH is achieved. The recommended neutralization pH range for Carbomer 940 is usually between 6.0 and 10.0, but it's best to refer to the specific recommendations provided by the manufacturer.

-Mixing: After neutralization, continue stirring the formulation until the Carbomer 940 is fully hydrated and a smooth gel is formed. This process may take some time, so patience and continuous mixing are important to ensure uniform dispersion.

-Compatibility: Carbomer 940 is compatible with a wide range of cosmetic ingredients, including water, alcohols, glycols, and various oils. However, it's recommended to conduct compatibility tests and stability studies when formulating with new ingredients to ensure the desired results.

-Usage Levels: The recommended usage level of Carbomer 940 in cosmetic formulations typically ranges from 0.1% to 3%, depending on the desired viscosity and consistency of the product. Higher concentrations may be needed for thicker gels or more viscous formulations.