Hollywood Secrets
Regular price
Rs. 250.00
Sale price
Rs. 200.00
Unit price
per
Deal of the Day
Sold out
Benefits of Hibiscus Powder (Gudhal powder): 

Rich in antioxidants: Hibiscus powder is loaded with antioxidants that help protect the body against harmful free radicals. These antioxidants can help reduce oxidative stress, which may contribute to various chronic diseases.
Supports cardiovascular health: Studies suggest that hibiscus powder may help lower blood pressure and cholesterol levels. It contains compounds that may help relax blood vessels, thereby improving blood flow and reducing the risk of heart disease.
May aid in weight management: Hibiscus powder has been used traditionally as a natural aid for weight management. It may help promote weight loss by reducing the absorption of carbohydrates and inhibiting the production of amylase, an enzyme responsible for breaking down carbohydrates.
Supports digestion: The consumption of hibiscus powder may assist in promoting healthy digestion. It is known to have mild laxative properties, which can help relieve constipation and support regular bowel movements.
Potential anti-inflammatory properties: Some studies suggest that hibiscus powder may possess anti-inflammatory properties, which can help reduce inflammation in the body. Chronic inflammation is associated with various health conditions, including heart disease, diabetes, and certain types of cancer.
Supports liver health: Hibiscus powder may help promote liver health by reducing oxidative stress and preventing liver damage caused by toxins. It may also help enhance liver function and detoxification processes.
Rich in vitamin C: Hibiscus powder is a good source of vitamin C, which is essential for a healthy immune system. Vitamin C also acts as an antioxidant and plays a crucial role in collagen synthesis, promoting healthy skin and hair.
Why Us

Customization: Our DIY cosmetic brand empowers you to personalize your beauty products according to your preferences.
Quality Control: By choosing a DIY cosmetic brand, you have complete control over the quality of the ingredients used in your beauty products.
Creativity and Expression: Our DIY cosmetic brand encourages your creativity and allows you to express your unique style.
Sustainable and Eco-friendly: Many mass-produced cosmetic brands generate significant amounts of waste and contribute to environmental pollution. By choosing a DIY cosmetic brand, you can actively reduce your ecological footprint.
Education and Empowerment: Our DIY cosmetic brand aims to educate and empower individuals about the ingredients, formulation techniques, and the science behind cosmetic products.
Cost-effective: Creating your own cosmetics can be a cost-effective alternative to buying high-end branded products.
Features of the product

Premium product. 
100% original & quality assured.
Non-contaminated & non-mixed.
Non-Gmo.
Doctor & dermatologist approved.
No preservatives.
Easy to use.
Payment Method

Payment India: 

Credit card: Available

Debit card: Available

Razorpay (Cards, UPI, Net Banking, Wallets): Available

Cash on Delivery (COD): Available

We accept all forms of payment.

Payment United States: 

Credit card: Available
Shipping

Prepaid & COD order: Both available.

Standard Shipping: 1-7 days (Free)

Expediated: 1-3 days ( Rs. 90)

Ultra high speed delivery using our selected couriers.
Processing Time

Product ordered before 11am: Shipped on the same day

Product ordered after 11am: Shipped on the next day
Return Policy

1-7 days. Call our customer care for returns.
Contact us

WhatsApp & Call : +91-9921645094

Email: info@hollywoodsecrets.in
Share
View full details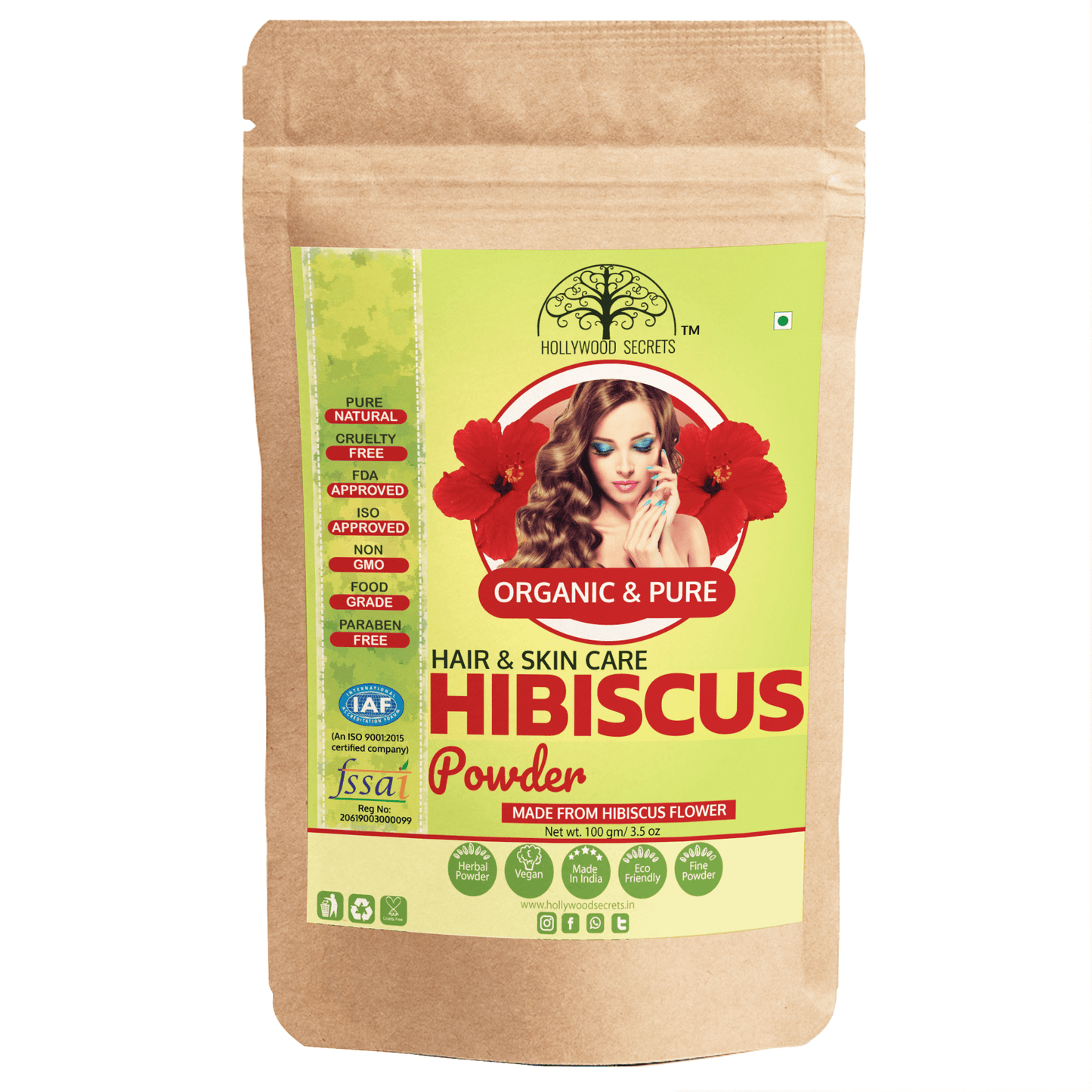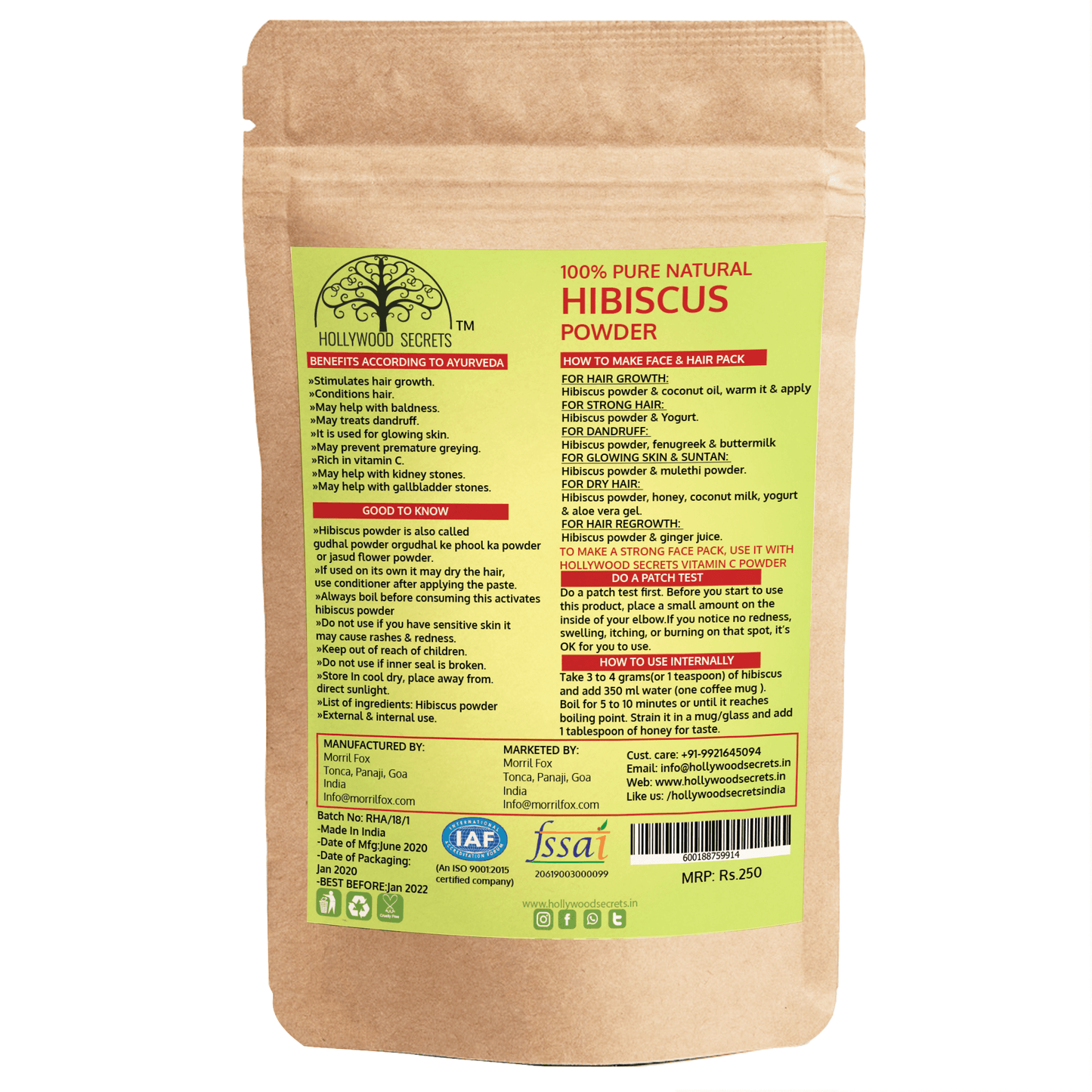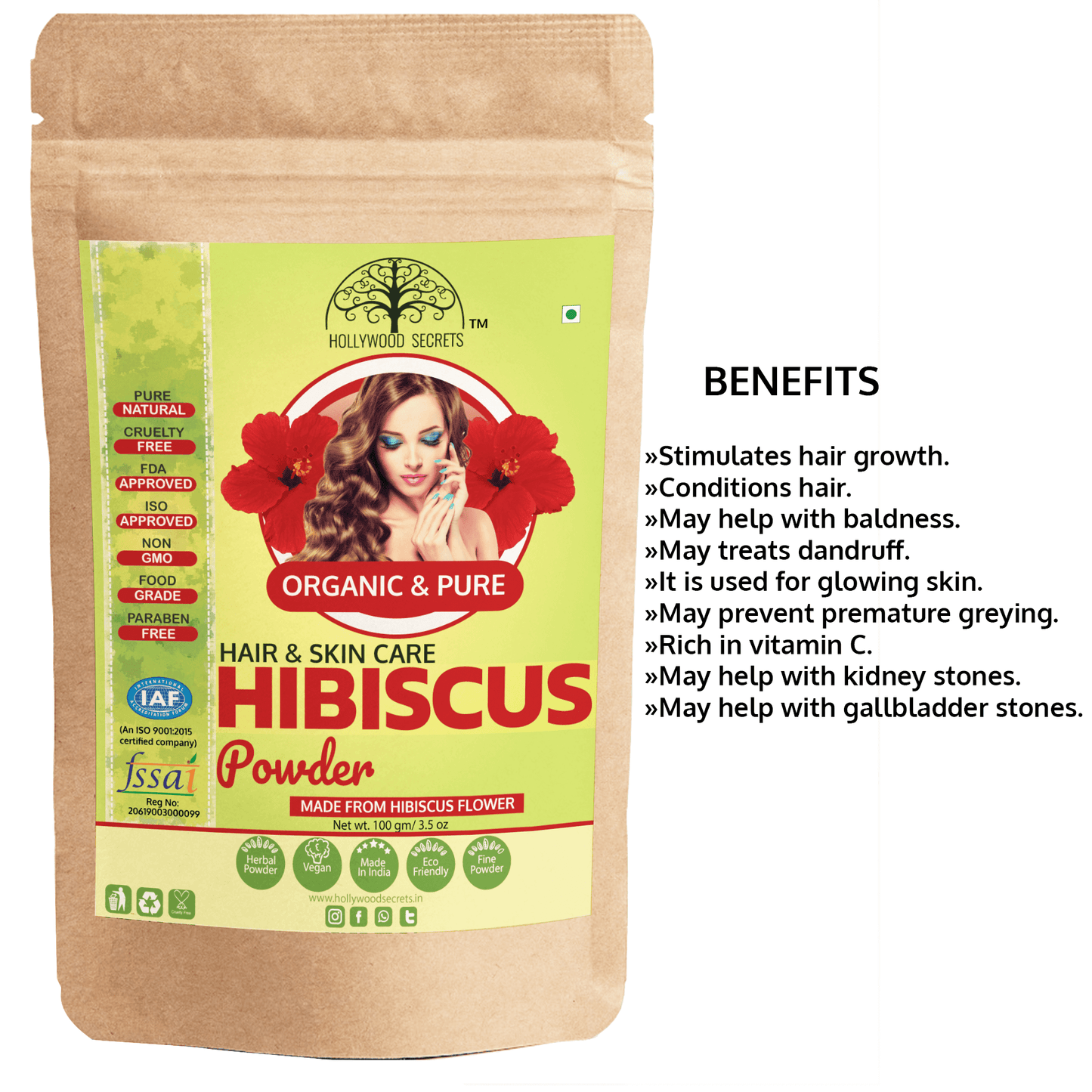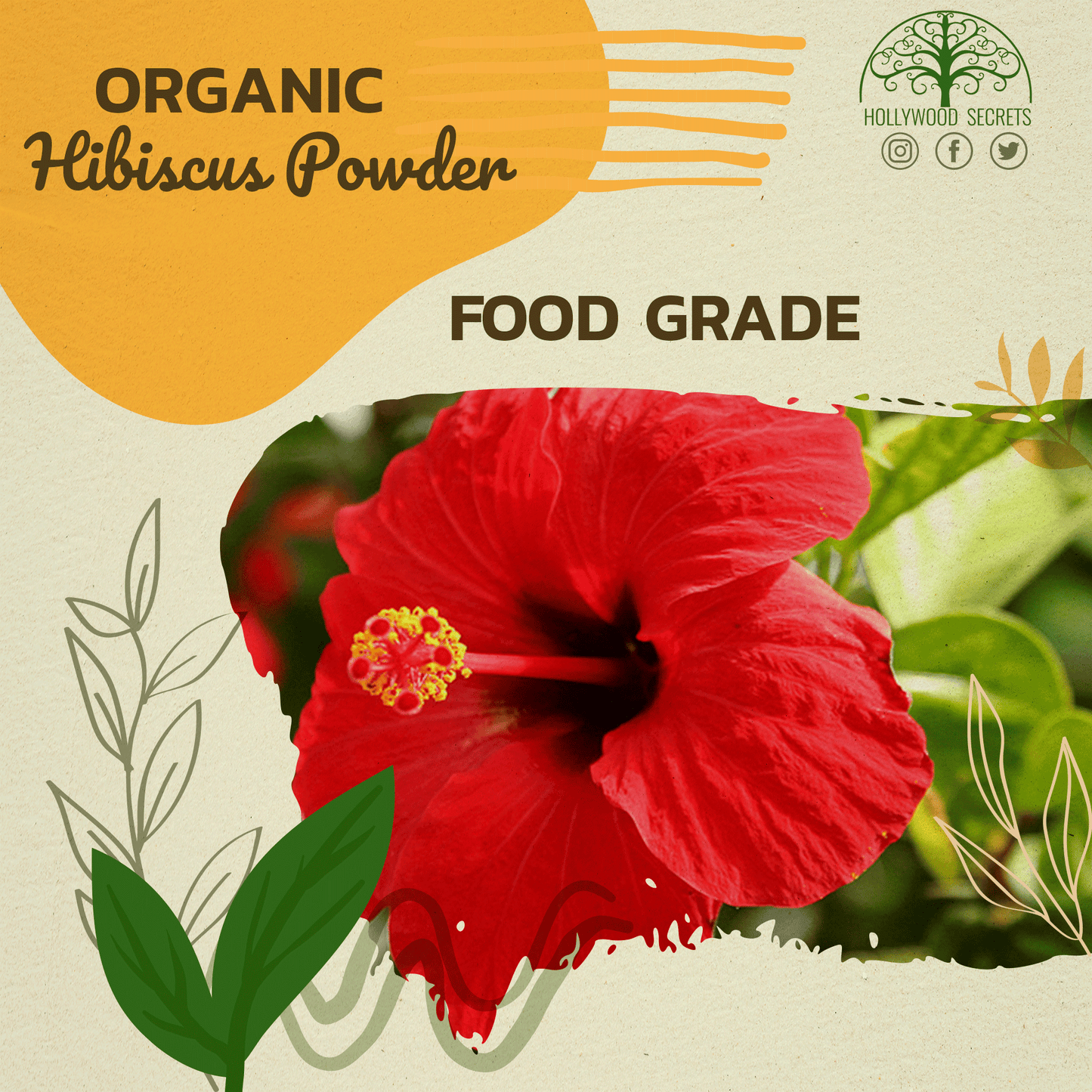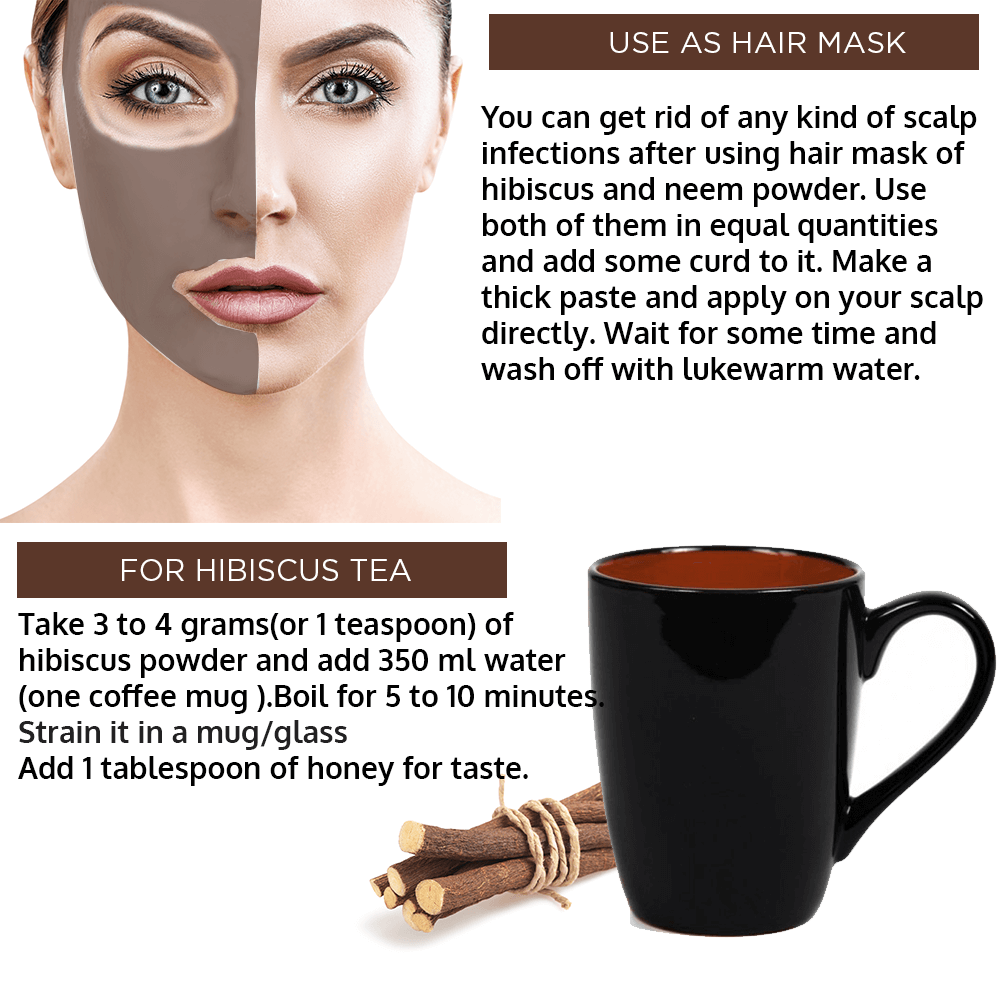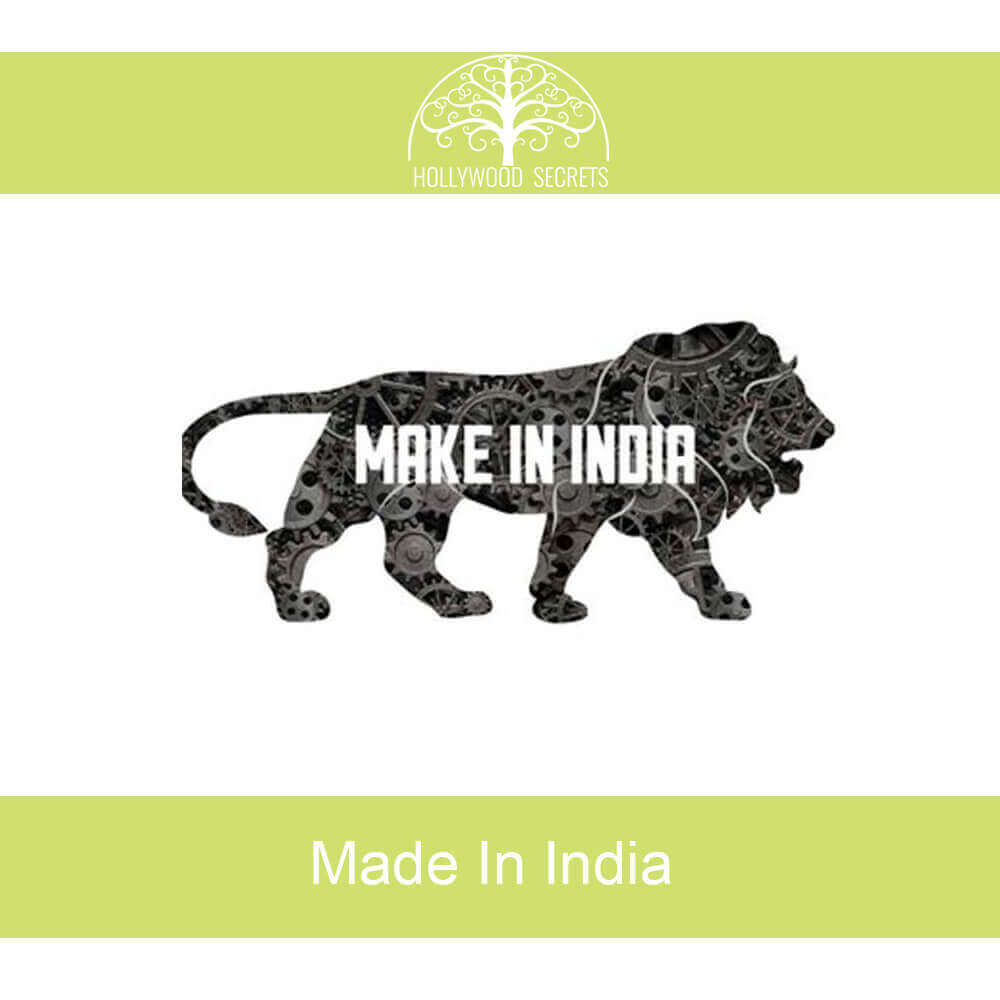 PRODUCT DETAILS
Product Details

Hibiscus powder is derived from the dried petals of the hibiscus flower, scientifically known as Hibiscus sabdariffa. It is widely used in various industries, including cosmetics, herbal medicine, and food and beverage production. Here are some technical details about hibiscus powder:

1.Production: Hibiscus powder is produced by drying the hibiscus flowers and grinding them into a fine powder. The flowers are typically harvested and then sun-dried or dried using low-temperature methods to preserve their natural color, flavor, and nutritional properties.

2.Appearance: Hibiscus powder is usually bright red or deep magenta in color. The powder has a fine texture, similar to other herbal powders.

3.Flavor and Aroma: Hibiscus powder has a tart and tangy flavor, with a slightly floral and fruity aroma. It is known for its pleasantly sour taste, which is often described as similar to cranberries or citrus fruits.

4.Nutritional Composition: Hibiscus powder is rich in various nutrients, including vitamin C, antioxidants, and minerals such as iron and calcium. It also contains flavonoids and organic acids, such as citric acid and malic acid.

Uses: Hibiscus powder has numerous applications:

Food and Beverages: It is commonly used as a natural food coloring agent and flavor enhancer in beverages, teas, jams, jellies, sauces, and desserts. It can also be added to smoothies, yogurts, and baked goods for a tangy and colorful twist.

Herbal Medicine: Hibiscus powder is used in traditional medicine systems for its potential health benefits. It is believed to have antioxidant, anti-inflammatory, and diuretic properties. It is often used to make herbal teas, known as hibiscus tea, which is consumed for its potential blood pressure-lowering and cholesterol-reducing effects.

Cosmetics: Due to its vibrant color and antioxidant properties, hibiscus powder is used in the formulation of natural cosmetics, including face masks, soaps, shampoos, and hair conditioners. It is believed to promote healthy hair and skin by nourishing and protecting them.

Storage: To maintain the freshness and quality of hibiscus powder, it should be stored in an airtight container, away from moisture, heat, and direct sunlight. Properly stored hibiscus powder can retain its flavor and nutritional properties for an extended period.
How to use (Formulation Guide)

Formula for DIY face mask: 

Hibiscus powder for kidney stones: 
Hibiscus tea made by including 1.25-10 grams or 150 mg/kg of hibiscus to 150 mL to 500 mL of bubbling/boiling water. The tea is kept to boil for 10-30 minutes and taken 3 times daily for 2-6 weeks.

Hibiscus powder hair pack: 
Mix 1 teaspoon of hibiscus powder with 2 tablespoon of coconut oil. Massage it on the scalp for about 10 minutes and leave for 30 mins for optimum results. :