Hollywood Secrets
Regular price
Rs. 600.00
Sale price
Rs. 450.00
Unit price
per
Deal of the Day
Sold out
Benefits

 of Onion Ferment Filtrate



-The major active content in onion is the flavonoids which are potent antioxidants.Onion juice improves hair growth by boosting the level of the antioxidant enzyme catalase. This enzyme helps decompose hydrogen peroxide, optimizing the hair growth cycle Kopalleum contains fermented onions which augment the antioxidant potential compared to the conventional onion juice. At least 25 different flavonols have been characterized in onion, being quercetin derivatives the most important ones. Stress conditions such as excessive UV light, wounding, or infection induces the biosynthesis of flavonoids which explains their antioxidant potency.
-Onion contains methylsulfonylmethane which is a highly absorbable source of sulfur that helps with the formation of keratin (a sulfur-rich protein in hair) leading to hair growth.
When added to the hair and scalp, onion juice can provide extra sulfur to support strong and thick hair, thus preventing hair loss and promoting hair growth. Sulfur nourishes the hair follicles and helps promote collagen production and in turn, helps hair growth.
This sulfur also improves blood circulation and provides the hair follicles with a rich amount of nourishment Nourished hair follicles allow the regeneration of healthy hair.

-Selenium plays a key role to prevent oxidative damage and also hair follicle morphogenesis.
When selenium is compounded with sulfur to form Selenium sulfide it is absorbed by the outermost layer of scalp cells
Inside the cells, the compound splits into selenium and sulfide ions. The selenium ions counteract the enzymes responsible for producing new epithelial cells, thus lowering the turnover of surface skin cells. As a result, itching and flaking associated with dandruff is reduced.
Using onion juice directly can be severely irritating the scalp.
Choosing coconut oil as the medium for fermenting onions overrules the irritation potential and imparts added hair growth benefits to Kopalleum.
Coconut oil absorbs into hair strands better than all other kinds of oils. This helps to prevent hair breaking and split ends.
The high-fat content in it helps to calm scalp irritation, flaking, and itching. The fat in coconut oil can also help to seal in hair moisture.
Lauric acid is a medium-chain fatty acid that protects the roots of your hair. It also helps prevent the hair from breakage. Coconut oil is the richest source of lauric acid.
Coconut oil helps to reduce protein loss in hair. This prevents dry, brittle, or breaking hair

 Hair specification quantity
Hair Oil: up to 98%.
Hair Mask: NLT 2.0%.
Shampoo: NLT 2.0%.
Conditioner: NLT 2.0%
Why Us

Customization: Our DIY cosmetic brand empowers you to personalize your beauty products according to your preferences.
Quality Control: By choosing a DIY cosmetic brand, you have complete control over the quality of the ingredients used in your beauty products.
Creativity and Expression: Our DIY cosmetic brand encourages your creativity and allows you to express your unique style.
Sustainable and Eco-friendly: Many mass-produced cosmetic brands generate significant amounts of waste and contribute to environmental pollution. By choosing a DIY cosmetic brand, you can actively reduce your ecological footprint.
Education and Empowerment: Our DIY cosmetic brand aims to educate and empower individuals about the ingredients, formulation techniques, and the science behind cosmetic products.
Cost-effective: Creating your own cosmetics can be a cost-effective alternative to buying high-end branded products.
Features of the product

Premium product. 
100% original & quality assured.
Non-contaminated & non-mixed.
Non-Gmo.
Doctor & dermatologist approved.
No preservatives.
Easy to use.
Payment Method

Payment India: 

Credit card: Available

Debit card: Available

Razorpay (Cards, UPI, Net Banking, Wallets): Available

Cash on Delivery (COD): Available

We accept all forms of payment.

Payment United States: 

Credit card: Available
Shipping

Prepaid & COD order: Both available.

Standard Shipping: 1-7 days (Free)

Expediated: 1-3 days ( Rs. 90)

Ultra high speed delivery using our selected couriers.
Processing Time

Product ordered before 11am: Shipped on the same day

Product ordered after 11am: Shipped on the next day
Return Policy

1-7 days. Call our customer care for returns.
Contact us

WhatsApp & Call : +91-9921645094

Email: info@hollywoodsecrets.in
Share
View full details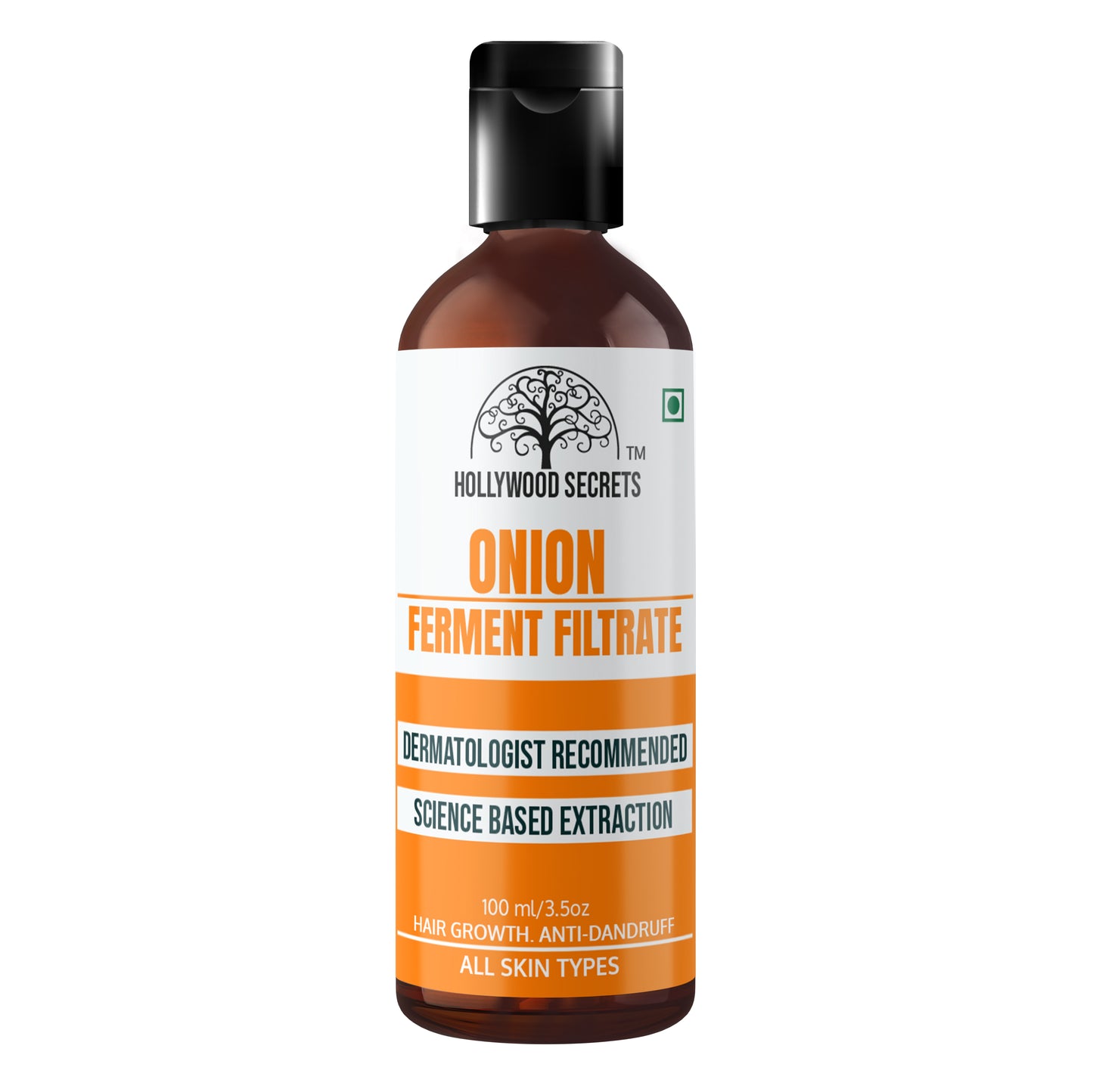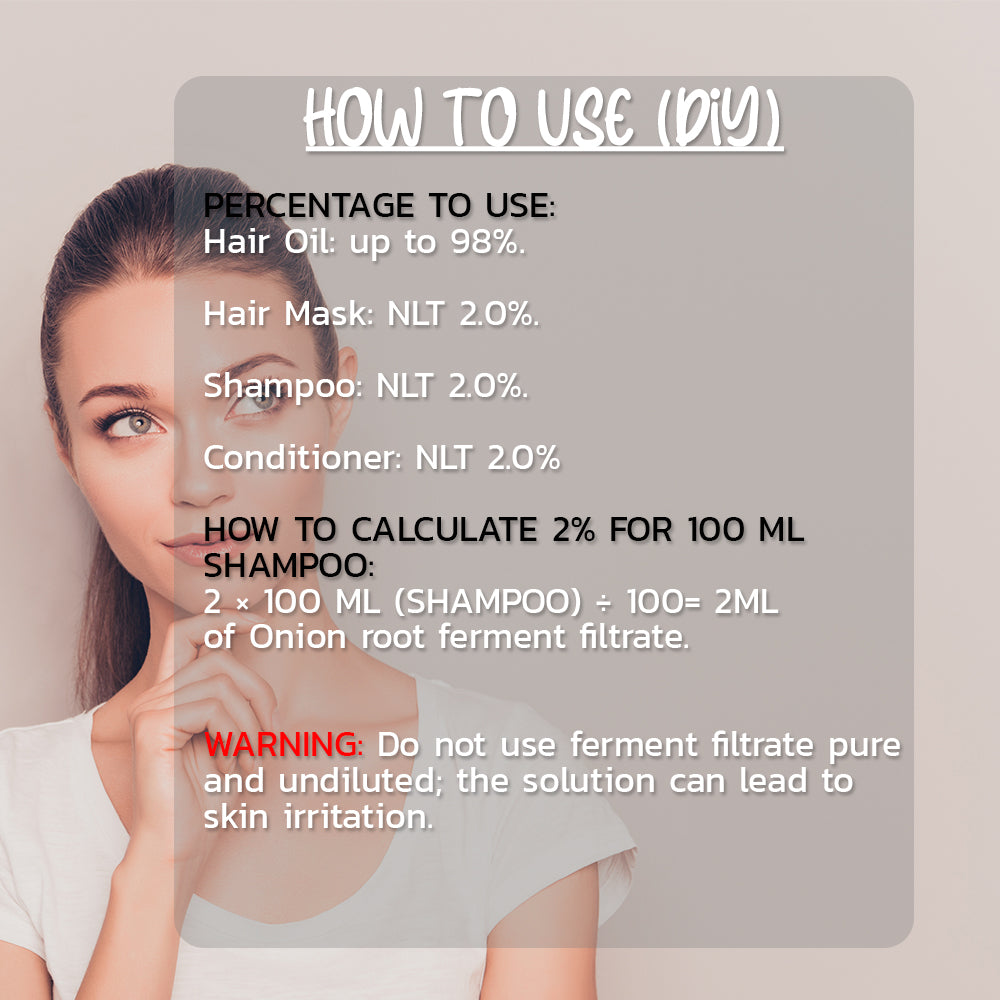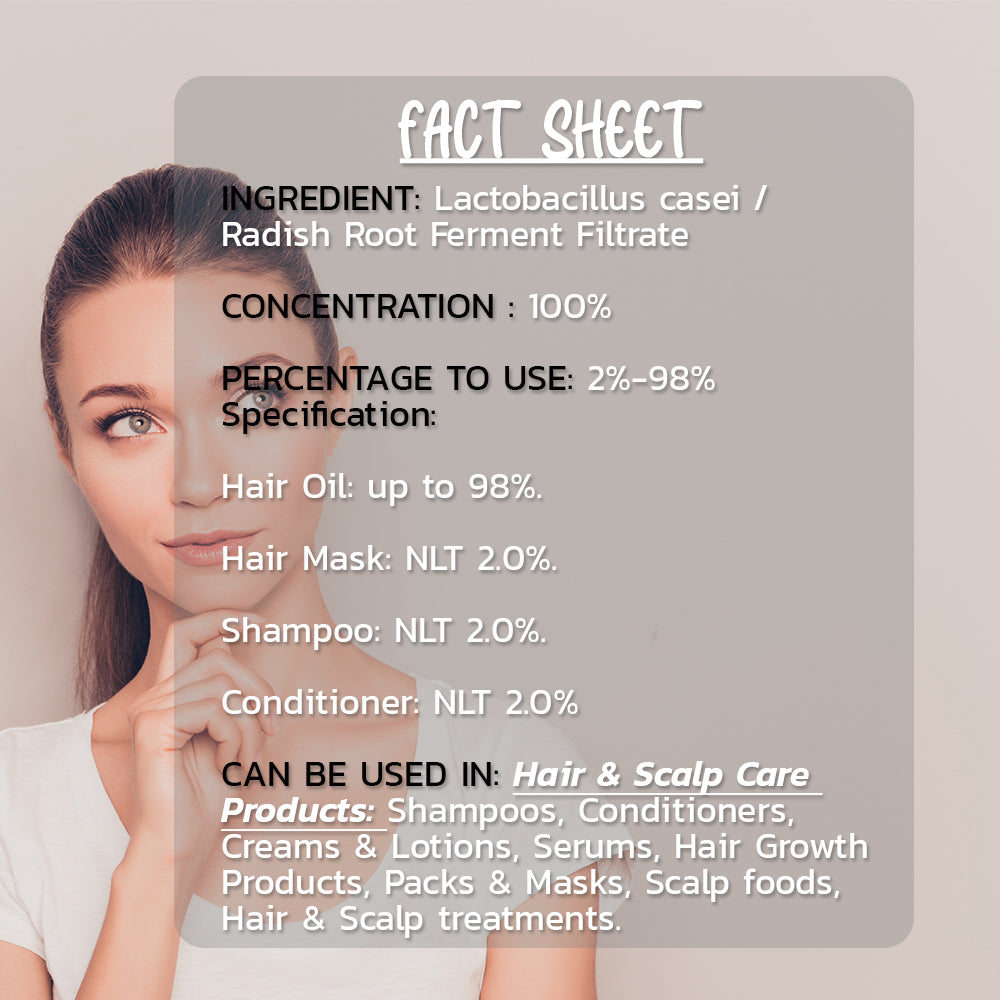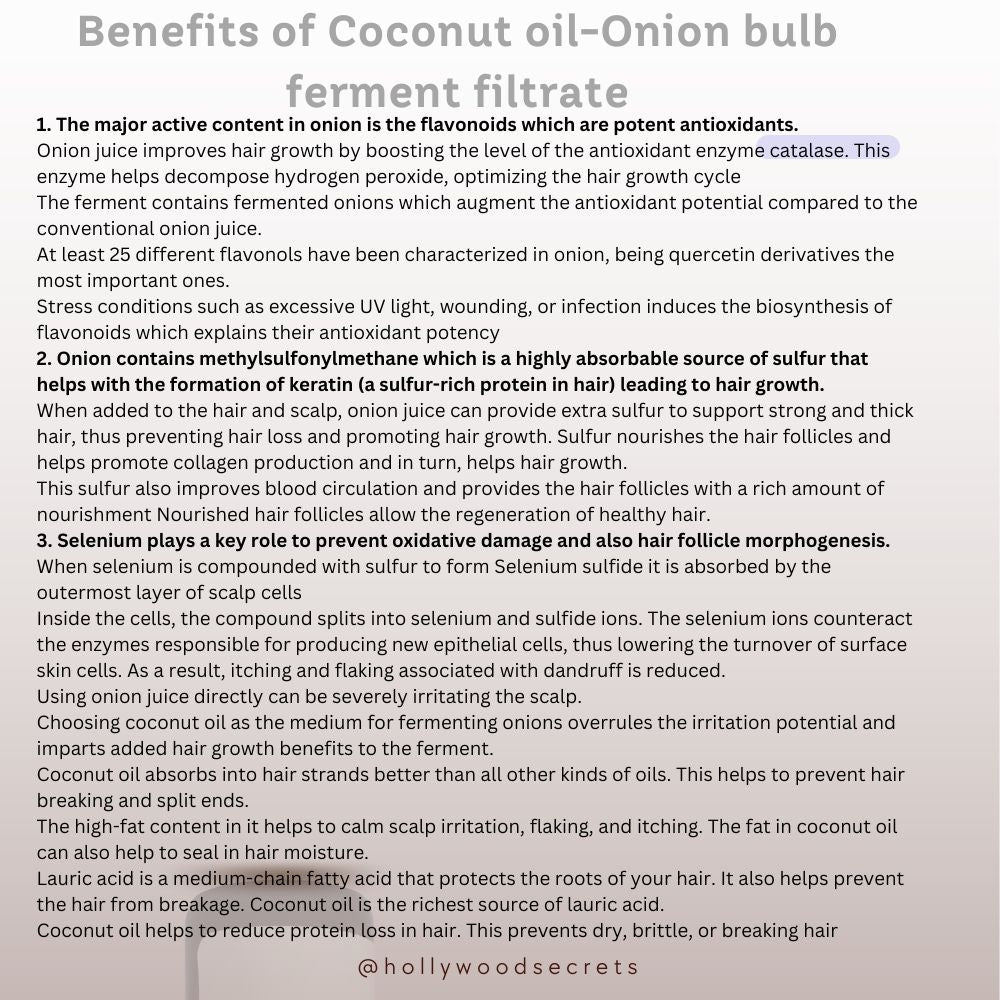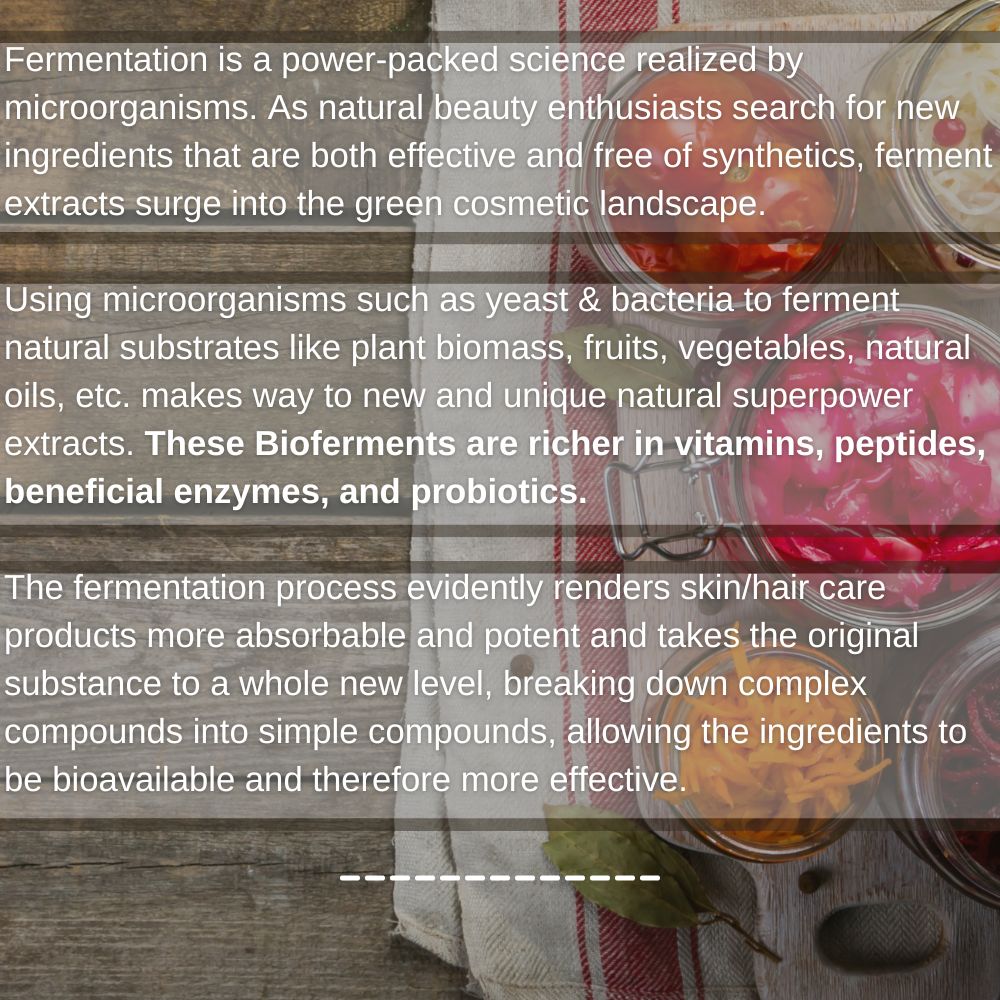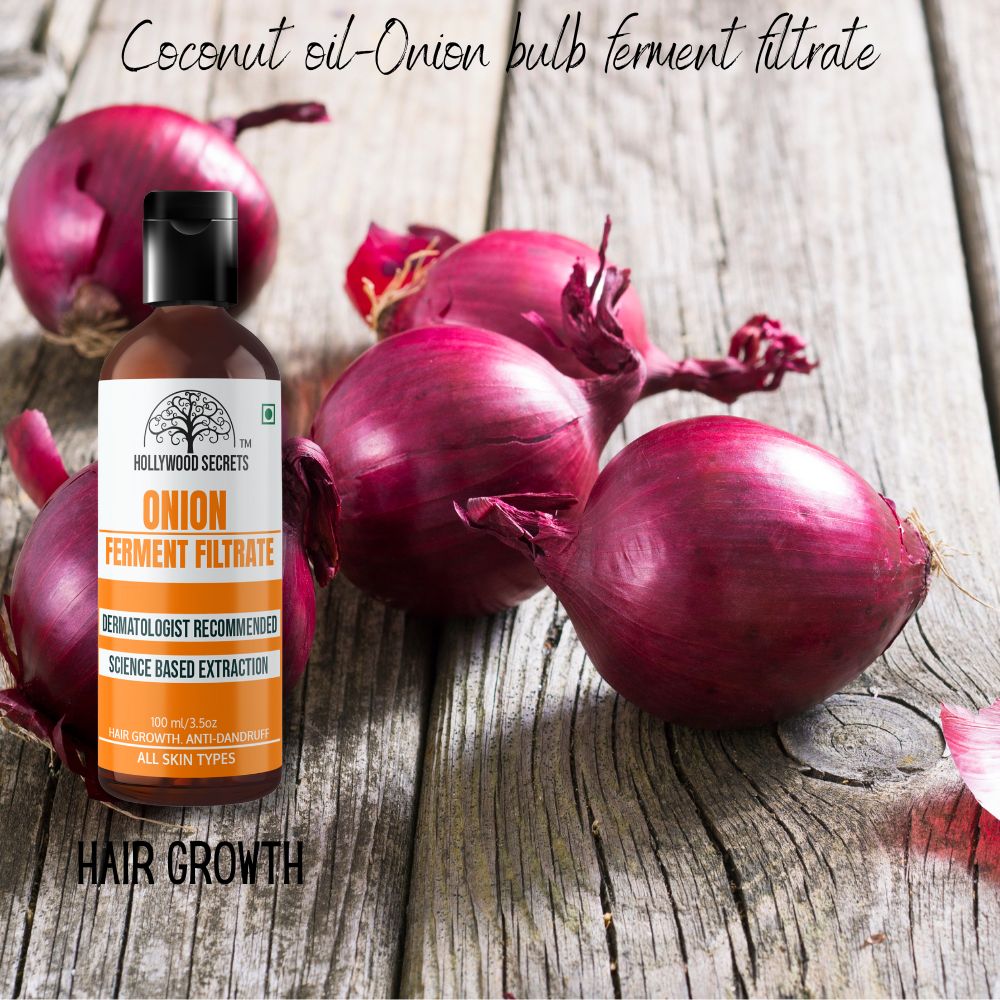 PRODUCT DETAILS
Calculations

PERCENTAGE TO USE: 1%-5%

HOW TO CALCULATE 5% FOR 100 ML
DISTILLED WATER:
5 × 100 ML (DISTILLED WATER) ÷ 100=5ML
of Onion Bulb-Coconut ferment filtrate.

HOW TO MIX:
Empty the 95 ml distilled water in a
container, add the 5 ml ferment filtrate.
Mix well and store it in a small airtight
container.

WARNING: Do not use ferment filtrate pure
and undiluted; the solution can lead to
skin irritation.

How to use (Formulation Guide)

Suggested Formulations:

-Onion Bulb-Coconut ferment can be used in both Skin & Hair Care Products

-Creams & Lotions

-Cleansers

-Serums

-Shampoos

-Conditioners

-Skin & Hair treatments

-Sunscreen products

-Masks & Packs

Specification:

Hair Oil: up to 98%.

Hair Mask: NLT 2.0%.

Shampoo: NLT 2.0%.

Conditioner: NLT 2.0%