Hollywood Secrets
Regular price
Rs. 250.00
Sale price
Rs. 200.00
Unit price
per
Deal of the Day
Sold out
Benefits of Amla Powder (Indian Gooseberry):

Rich in vitamin C: Amla powder is a potent source of vitamin C, containing more vitamin C than oranges. Vitamin C is an antioxidant that helps boost the immune system, protects against oxidative stress, and promotes collagen synthesis for healthy skin.
Antioxidant properties: Amla powder is packed with antioxidants like flavonoids and polyphenols, which help protect cells against damage caused by free radicals. Antioxidants can reduce the risk of chronic diseases such as heart disease, diabetes, and certain types of cancer.
Digestive health: Amla powder has digestive properties and can help improve digestion. It can stimulate the secretion of gastric juices, aid in the absorption of nutrients, and regulate bowel movements, thus preventing constipation.
Hair health: Amla powder is often used in hair care products due to its ability to strengthen the hair follicles and promote hair growth. It helps reduce hair fall, prevents premature graying, and improves the overall texture and shine of the hair.
Skin health: The high vitamin C content in amla powder contributes to healthy skin by promoting collagen production, which keeps the skin firm and supple. It also possesses antimicrobial properties that may help in treating skin infections and acne.
Antidiabetic effects: Amla powder has shown potential in managing diabetes by regulating blood sugar levels. It may help improve insulin sensitivity, reduce blood glucose levels, and lower the risk of diabetic complications.
Heart health: The antioxidants present in amla powder can help protect the heart by reducing oxidative stress and inflammation. It may help lower cholesterol levels, improve blood circulation, and support overall cardiovascular health.
Boosts immunity: Amla powder is known for its immune-boosting properties due to its high vitamin C content and antioxidant activity. It helps strengthen the immune system, making the body more resistant to infections and diseases.
Anti-inflammatory properties: Amla powder possesses anti-inflammatory properties that may help reduce inflammation in the body. Chronic inflammation is associated with various health issues, including arthritis, cardiovascular disease, and certain cancers.
Why Us

Customization: Our DIY cosmetic brand empowers you to personalize your beauty products according to your preferences.
Quality Control: By choosing a DIY cosmetic brand, you have complete control over the quality of the ingredients used in your beauty products.
Creativity and Expression: Our DIY cosmetic brand encourages your creativity and allows you to express your unique style.
Sustainable and Eco-friendly: Many mass-produced cosmetic brands generate significant amounts of waste and contribute to environmental pollution. By choosing a DIY cosmetic brand, you can actively reduce your ecological footprint.
Education and Empowerment: Our DIY cosmetic brand aims to educate and empower individuals about the ingredients, formulation techniques, and the science behind cosmetic products.
Cost-effective: Creating your own cosmetics can be a cost-effective alternative to buying high-end branded products.
Features of the product

Premium product. 
100% original & quality assured.
Non-contaminated & non-mixed.
Non-Gmo.
Doctor & dermatologist approved.
No preservatives.
Easy to use.
Payment Method

Payment India: 

Credit card: Available

Debit card: Available

Razorpay (Cards, UPI, Net Banking, Wallets): Available

Cash on Delivery (COD): Available

We accept all forms of payment.

Payment United States: 

Credit card: Available
Shipping

Prepaid & COD order: Both available.

Standard Shipping: 1-7 days (Free)

Expediated: 1-3 days ( Rs. 90)

Ultra high speed delivery using our selected couriers.
Processing Time

Product ordered before 11am: Shipped on the same day

Product ordered after 11am: Shipped on the next day
Return Policy

1-7 days. Call our customer care for returns.
Contact us

WhatsApp & Call : +91-9921645094

Email: info@hollywoodsecrets.in
Share
View full details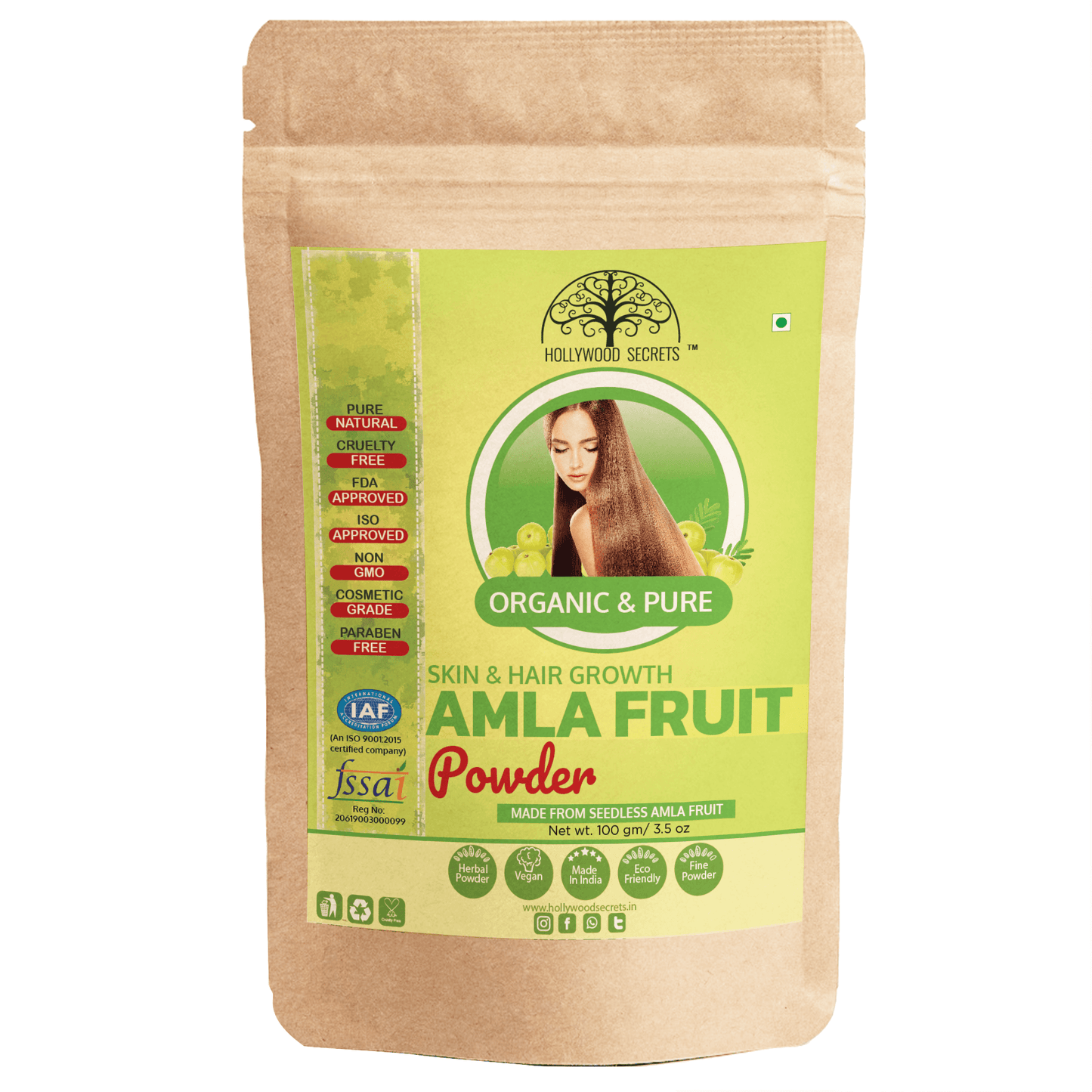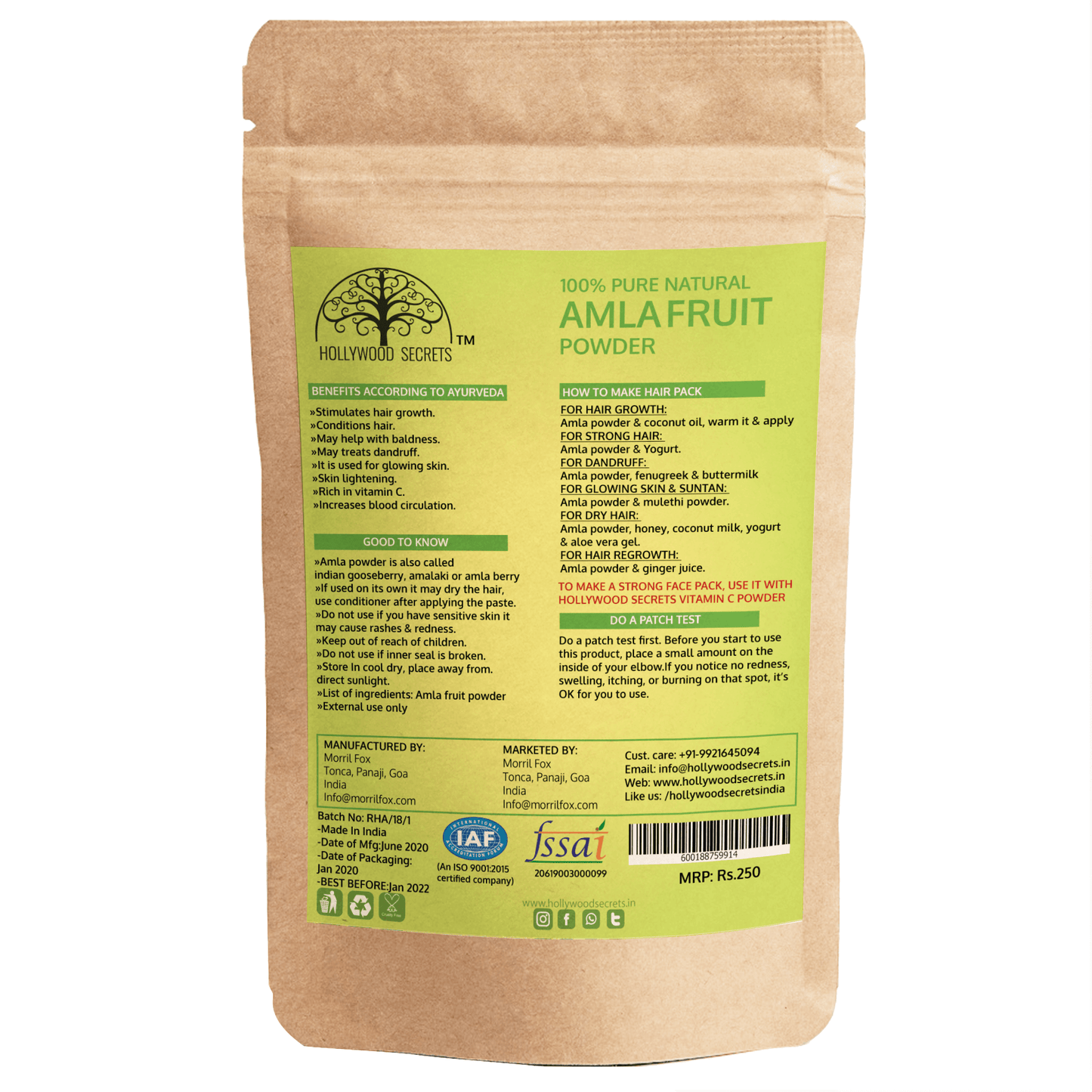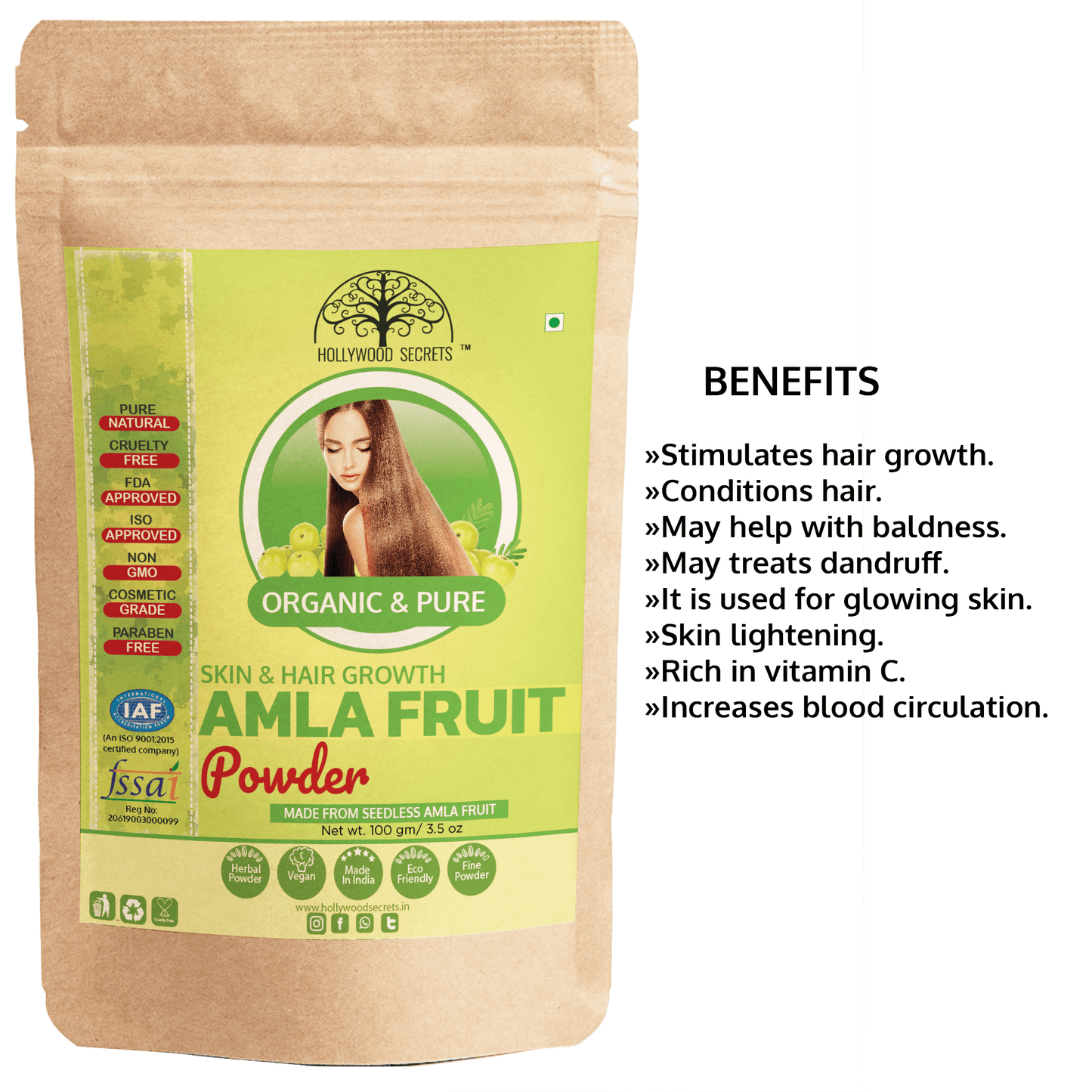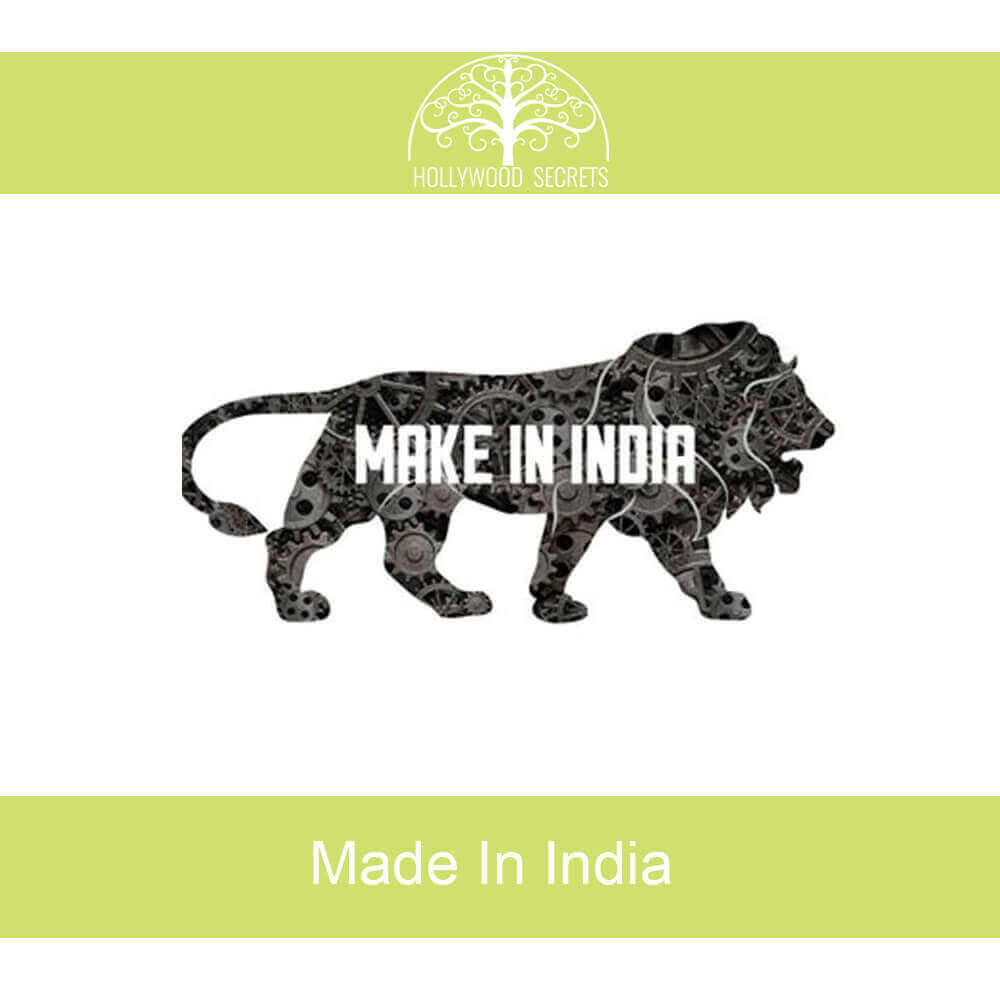 PRODUCT DETAILS
How to use (Formulation Guide)

Formula for DIY face mask: 

Take two tablespoons amla powder and one tablespoon yogurt and one teaspoon premium honey, and blend it well. Apply it uniformly all over and let it dry for 20 minutes. Wash with cool water and pat dry.