hollywoodsecrets
Regular price
Rs. 300.00
Sale price
Rs. 160.00
Unit price
per
Deal of the Day
Sold out
Lemon Peel Powder Benefits:

Rich in Nutrients: Lemon peels are packed with essential nutrients like vitamins C, B6, A, and E, as well as minerals such as calcium, potassium, and magnesium. Incorporating lemon peel powder into your diet can provide a concentrated source of these nutrients.
Antioxidant Properties: Lemon peel powder contains high levels of antioxidants, including flavonoids, polyphenols, and vitamin C. Antioxidants help combat oxidative stress and neutralize harmful free radicals, potentially reducing the risk of chronic diseases and promoting overall health.
Digestive Aid: Lemon peel powder has been used traditionally to support digestive health. It contains compounds like pectin, a soluble fiber that may help improve digestion, relieve constipation, and support a healthy gut.
Skin Health: The natural astringent and antibacterial properties of lemon peel powder make it a popular ingredient in skincare products. It can help tone the skin, reduce excess oil, and promote a clear complexion. The vitamin C in lemon peels may also support collagen production and help brighten the skin.
Immune System Support: Vitamin C is known for its immune-boosting properties, and lemon peel powder is a rich source of this vitamin. Consuming it may help strengthen the immune system and enhance the body's ability to fight off infections and illnesses.
Weight Management: Some studies suggest that lemon peel powder may have a positive impact on weight management. The high fiber content can promote satiety, potentially reducing overeating, and the flavonoids in lemon peels may help support healthy metabolism.
Oral Health: The antibacterial properties of lemon peel powder may contribute to improved oral health. It may help combat bad breath, reduce plaque formation, and support gum health.
Why Us

Customization: Our DIY cosmetic brand empowers you to personalize your beauty products according to your preferences.
Quality Control: By choosing a DIY cosmetic brand, you have complete control over the quality of the ingredients used in your beauty products.
Creativity and Expression: Our DIY cosmetic brand encourages your creativity and allows you to express your unique style.
Sustainable and Eco-friendly: Many mass-produced cosmetic brands generate significant amounts of waste and contribute to environmental pollution. By choosing a DIY cosmetic brand, you can actively reduce your ecological footprint.
Education and Empowerment: Our DIY cosmetic brand aims to educate and empower individuals about the ingredients, formulation techniques, and the science behind cosmetic products.
Cost-effective: Creating your own cosmetics can be a cost-effective alternative to buying high-end branded products.
Features of the product

Premium product. 
100% original & quality assured.
Non-contaminated & non-mixed.
Non-Gmo.
Doctor & dermatologist approved.
No preservatives.
Easy to use.
Payment Method

Payment India: 

Credit card: Available

Debit card: Available

Razorpay (Cards, UPI, Net Banking, Wallets): Available

Cash on Delivery (COD): Available

We accept all forms of payment.

Payment United States: 

Credit card: Available
Shipping

Prepaid & COD order: Both available.

Standard Shipping: 1-7 days (Free)

Expediated: 1-3 days ( Rs. 90)

Ultra high speed delivery using our selected couriers.
Processing Time

Product ordered before 11am: Shipped on the same day

Product ordered after 11am: Shipped on the next day
Return Policy

1-7 days. Call our customer care for returns.
Contact us

WhatsApp & Call : +91-9921645094

Email: info@hollywoodsecrets.in
Share
View full details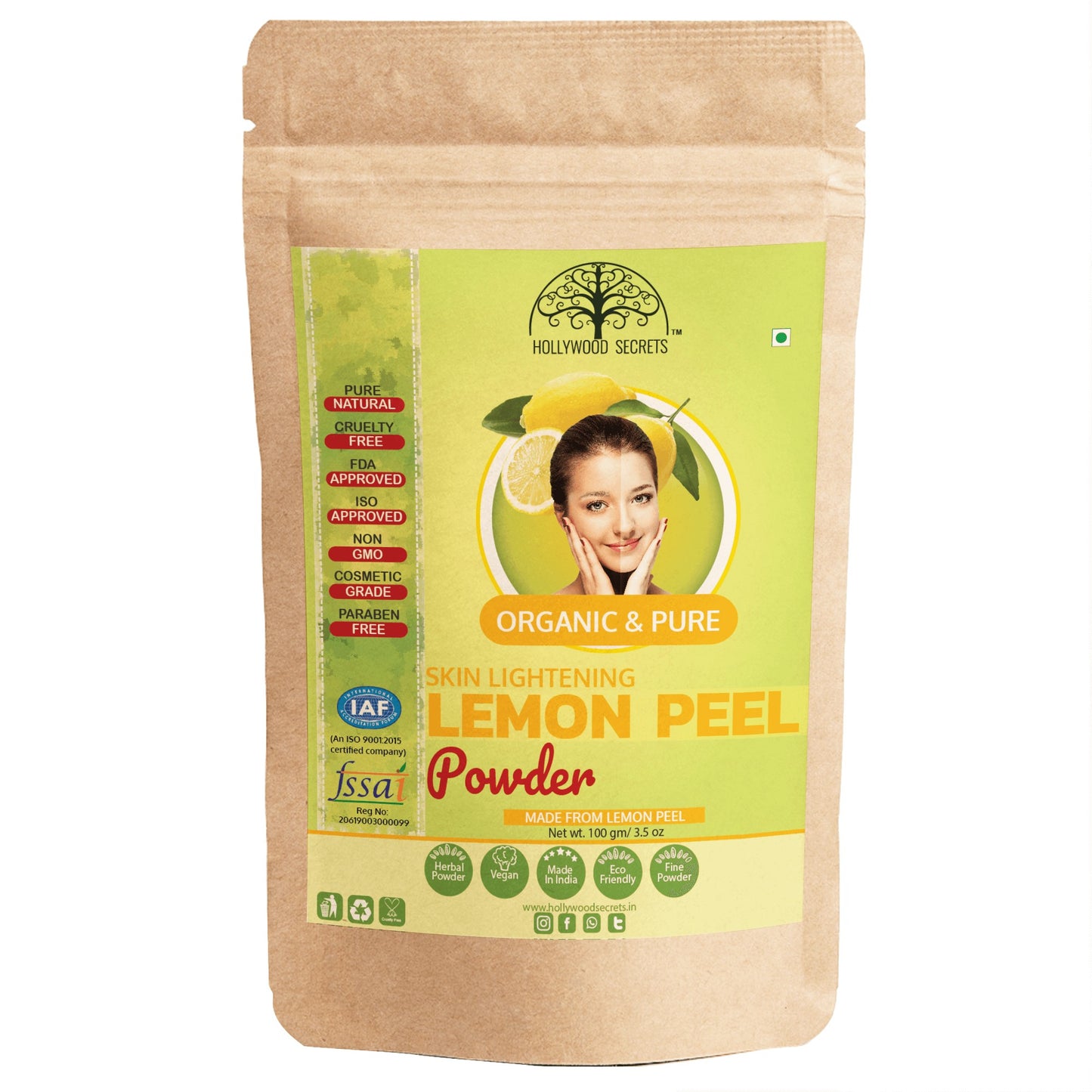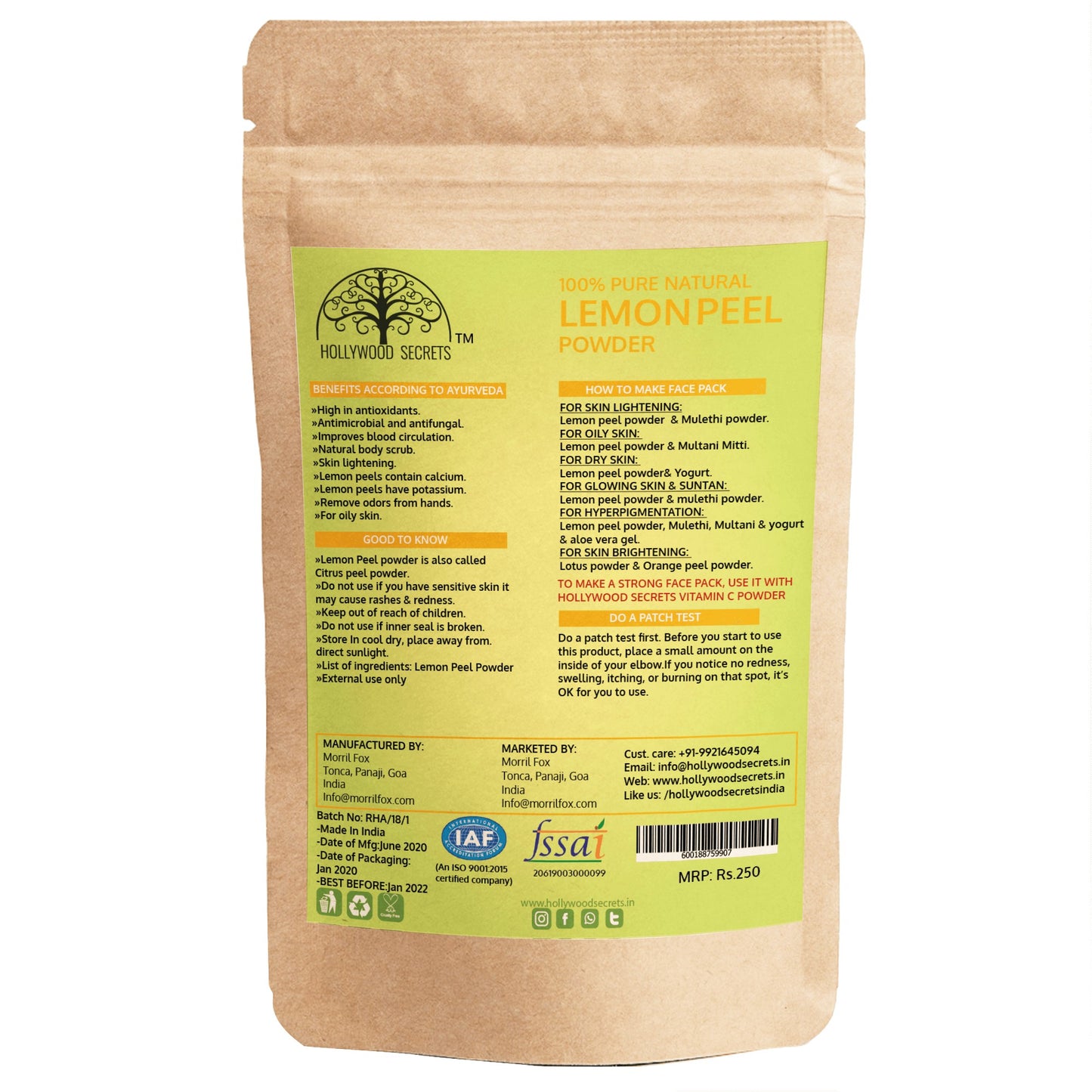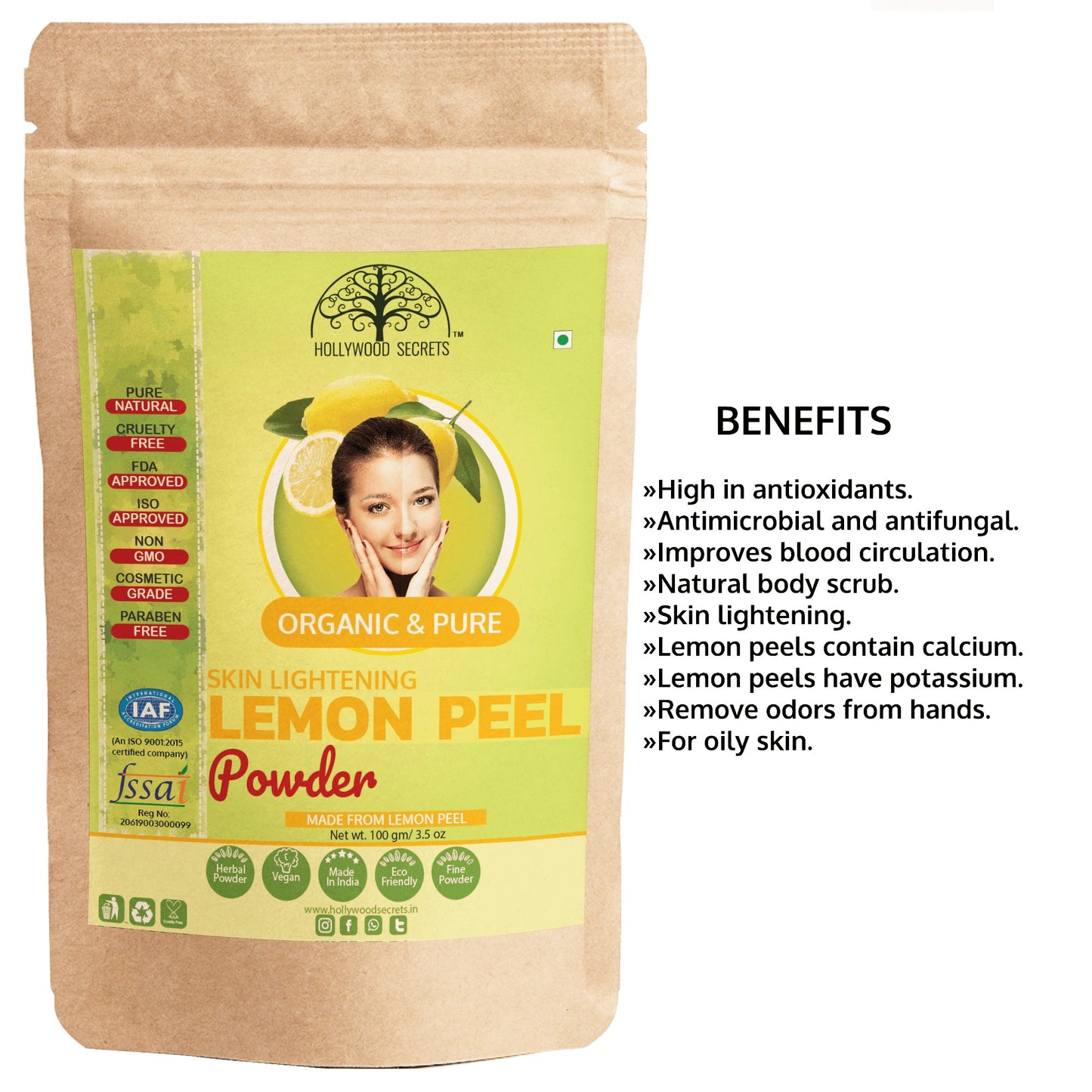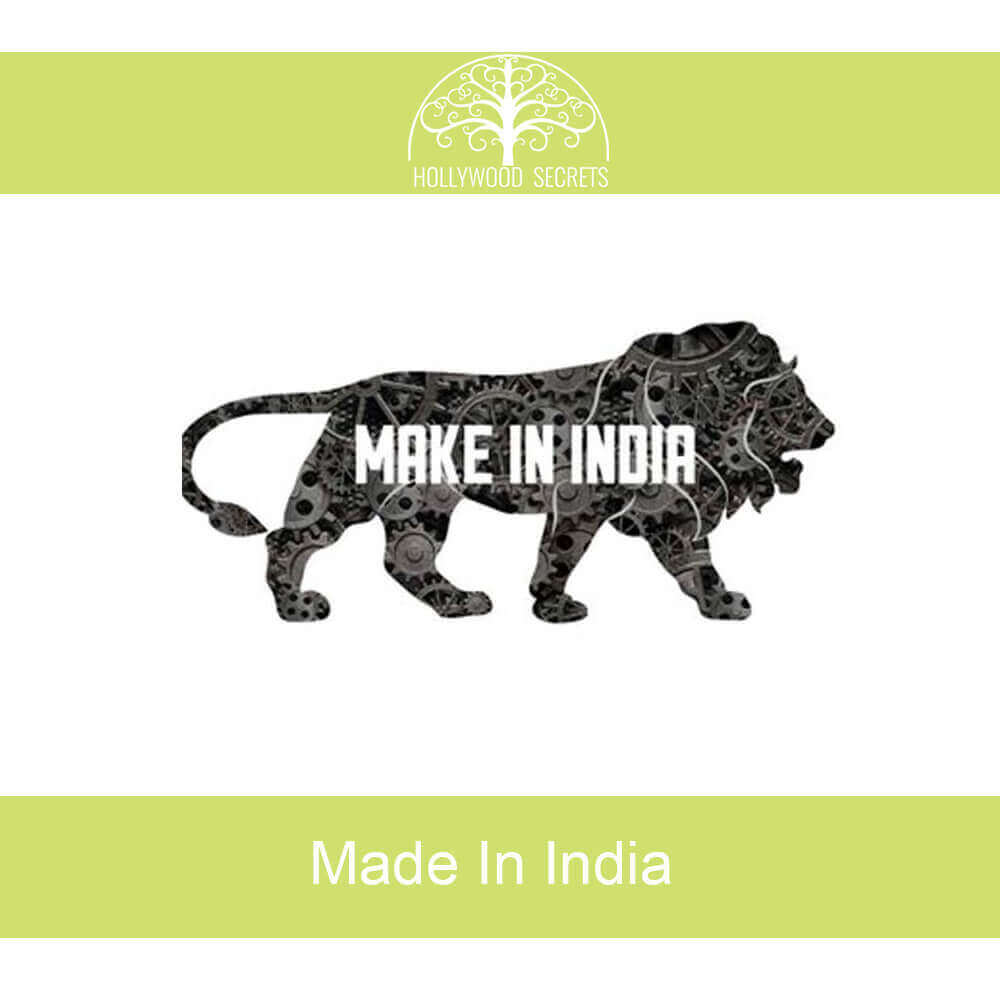 PRODUCT DETAILS
Product Details

1.Preparation: Lemon peel powder is typically prepared by collecting the peels of ripe lemons and thoroughly drying them. The peels are often thinly sliced or grated to increase the drying efficiency. Once dried, they are ground into a fine powder using a grinder or food processor.

2.Composition: Lemon peel powder primarily consists of the outer layer of the lemon peel, which contains various bioactive compounds. It is rich in nutrients like vitamin C, vitamin A, calcium, potassium, and dietary fiber. The powder also contains essential oils, flavonoids, limonene, and other antioxidants present in the peel.

3.Appearance and Aroma: Lemon peel powder is usually light yellow to golden yellow in color, reflecting the natural hue of lemon peels. It has a fragrant citrus aroma, similar to fresh lemons, due to the presence of essential oils.

4.Culinary Uses: Lemon peel powder is a popular ingredient in cooking and baking. It can be used as a flavor enhancer in various dishes, including soups, sauces, marinades, dressings, desserts, and beverages. The powder adds a tangy, citrusy flavor to the recipes.

5.Cosmetic Uses: Lemon peel powder is utilized in the formulation of cosmetic products due to its beneficial properties for the skin and hair. It can be used in face masks, scrubs, soaps, creams, lotions, and hair care products. The powder helps in brightening the skin, exfoliating dead cells, controlling excess oil, and promoting a healthy scalp.

6.Medicinal Benefits: Lemon peel powder has several potential health benefits. It is believed to have antioxidant properties that can help combat free radicals in the body. The high vitamin C content may support immune health, while the dietary fiber may aid digestion. Lemon peel powder is also used in traditional medicine for its antimicrobial, anti-inflammatory, and digestive properties.

7.Storage: To preserve the quality of lemon peel powder, it should be stored in an airtight container in a cool, dry place away from direct sunlight. Proper storage can help maintain its aroma, flavor, and nutritional properties.

8.Precautions: Although lemon peel powder is generally safe for most people, it is important to note that some individuals may be allergic to citrus fruits. If you have a known allergy or sensitivity, it is advisable to consult a healthcare professional before using lemon peel powder or products containing it.
How to use (Formulation Guide)

Formula for DIY face mask: 

Lemon peel face mask:
Take one tablespoon of lemon peel powder in a bowl. Add some yogurt to make a smooth paste. Apply the paste all over the face and allow it to stay for over 20 mins . Wash off utilizing normal water. You can utilize this face pack two times every week to see best results.

Lemon Peel drink: 
Take one tablespoon of lemon peel powder and mix it with lukewarm water. Stir until the powder dissolves with water. For best results, drink twice daily before breakfast and dinner. Also use the powder while cooking, for salads, smoothies etc