Hollywood Secrets
Regular price
Rs. 800.00
Sale price
Rs. 600.00
Unit price
per
Deal of the Day
Sold out
Benefits of Kojic Acid 
Skin-lightening: Kojic acid is a potent skin-lightening agent that can help to reduce the appearance of dark spots, hyperpigmentation, and other forms of skin discoloration.
Anti-aging: Kojic acid has antioxidant properties that can help to protect the skin from damage caused by free radicals and environmental stressors. This can help to reduce the signs of aging, such as fine lines and wrinkles.
Acne-fighting: Kojic acid has antibacterial properties that can help to reduce the growth of acne-causing bacteria on the skin. This can help to prevent breakouts and improve the overall appearance of the skin.
Gentle exfoliation:  Kojic acid has mild exfoliating properties that can help to remove dead skin cells and promote the growth of new, healthy skin cells. This can help to improve the texture and tone of the skin.
Brightening: Kojic acid can help to brighten and even out the skin tone, giving the skin a more radiant and youthful appearance.
Why Us

Customization: Our DIY cosmetic brand empowers you to personalize your beauty products according to your preferences.
Quality Control: By choosing a DIY cosmetic brand, you have complete control over the quality of the ingredients used in your beauty products.
Creativity and Expression: Our DIY cosmetic brand encourages your creativity and allows you to express your unique style.
Sustainable and Eco-friendly: Many mass-produced cosmetic brands generate significant amounts of waste and contribute to environmental pollution. By choosing a DIY cosmetic brand, you can actively reduce your ecological footprint.
Education and Empowerment: Our DIY cosmetic brand aims to educate and empower individuals about the ingredients, formulation techniques, and the science behind cosmetic products.
Cost-effective: Creating your own cosmetics can be a cost-effective alternative to buying high-end branded products.
Features of the product

Premium product. 
100% original & quality assured.
Non-contaminated & non-mixed.
Non-Gmo.
Doctor & dermatologist approved.
No preservatives.
Easy to use.
Payment Method

Payment India: 

Credit card: Available

Debit card: Available

Razorpay (Cards, UPI, Net Banking, Wallets): Available

Cash on Delivery (COD): Available

We accept all forms of payment.

Payment United States: 

Credit card: Available
Shipping

Prepaid & COD order: Both available.

Standard Shipping: 1-7 days (Free)

Expediated: 1-3 days ( Rs. 90)

Ultra high speed delivery using our selected couriers.
Processing Time

Product ordered before 11am: Shipped on the same day

Product ordered after 11am: Shipped on the next day
Return Policy

1-7 days. Call our customer care for returns.
Contact us

WhatsApp & Call : +91-9921645094

Email: info@hollywoodsecrets.in
Share
View full details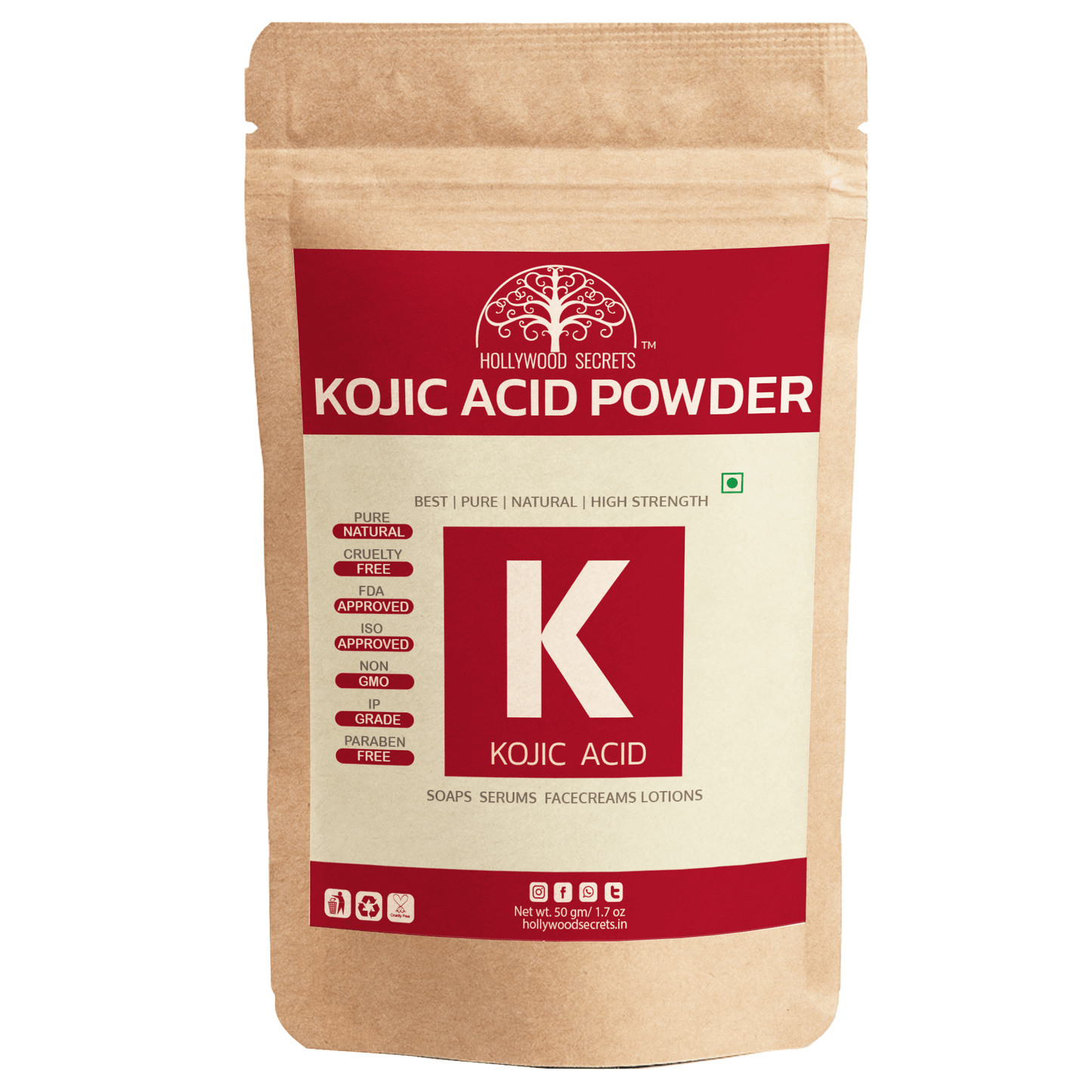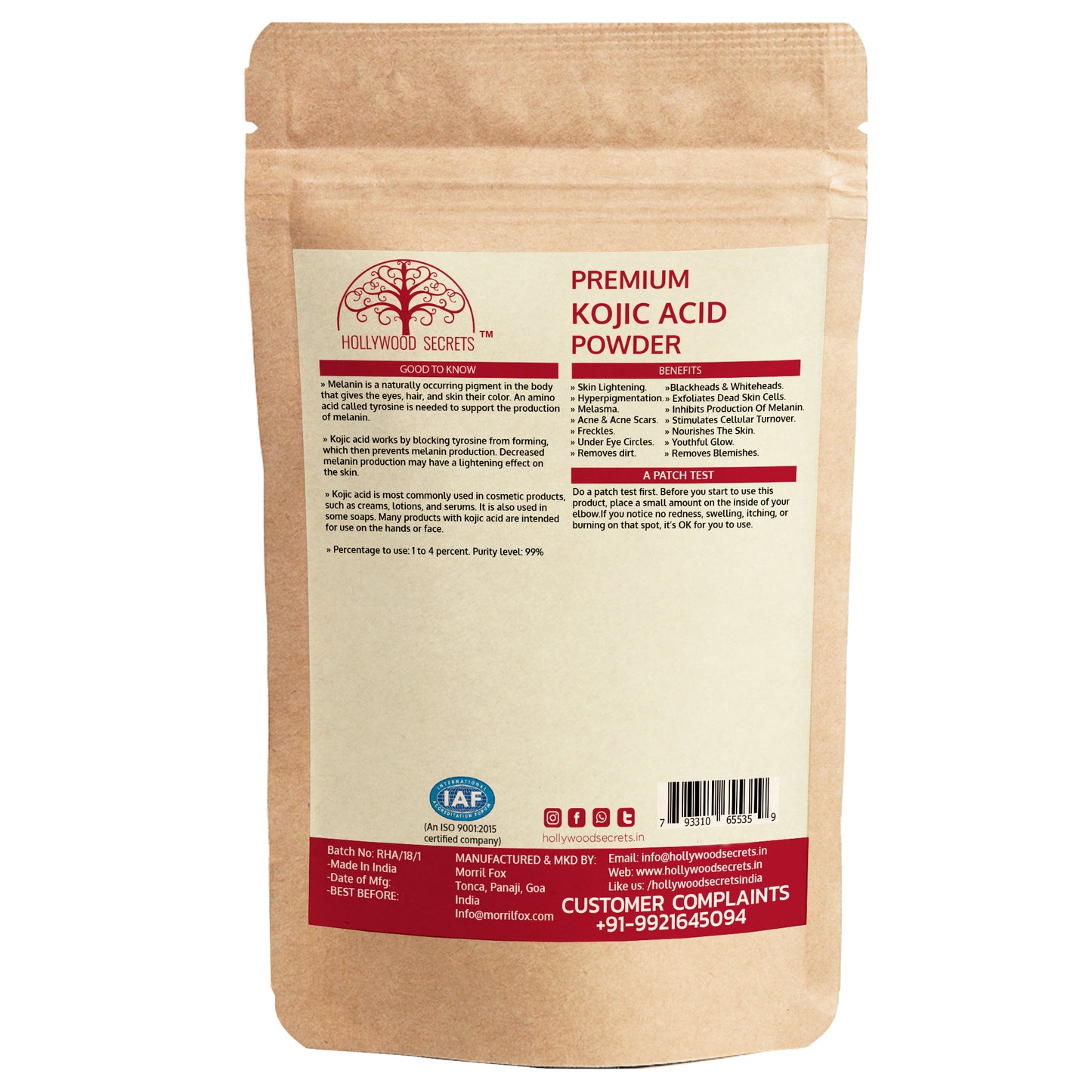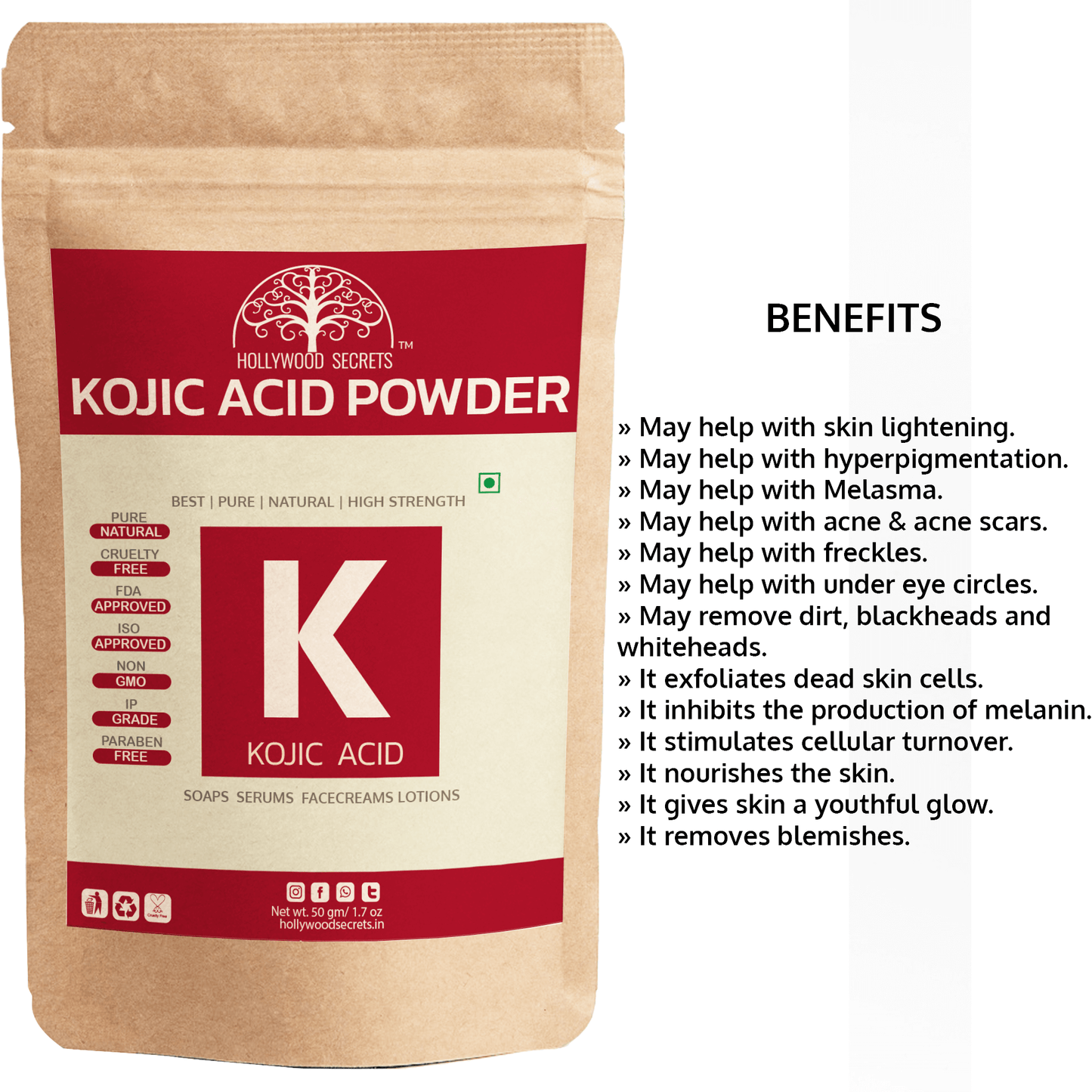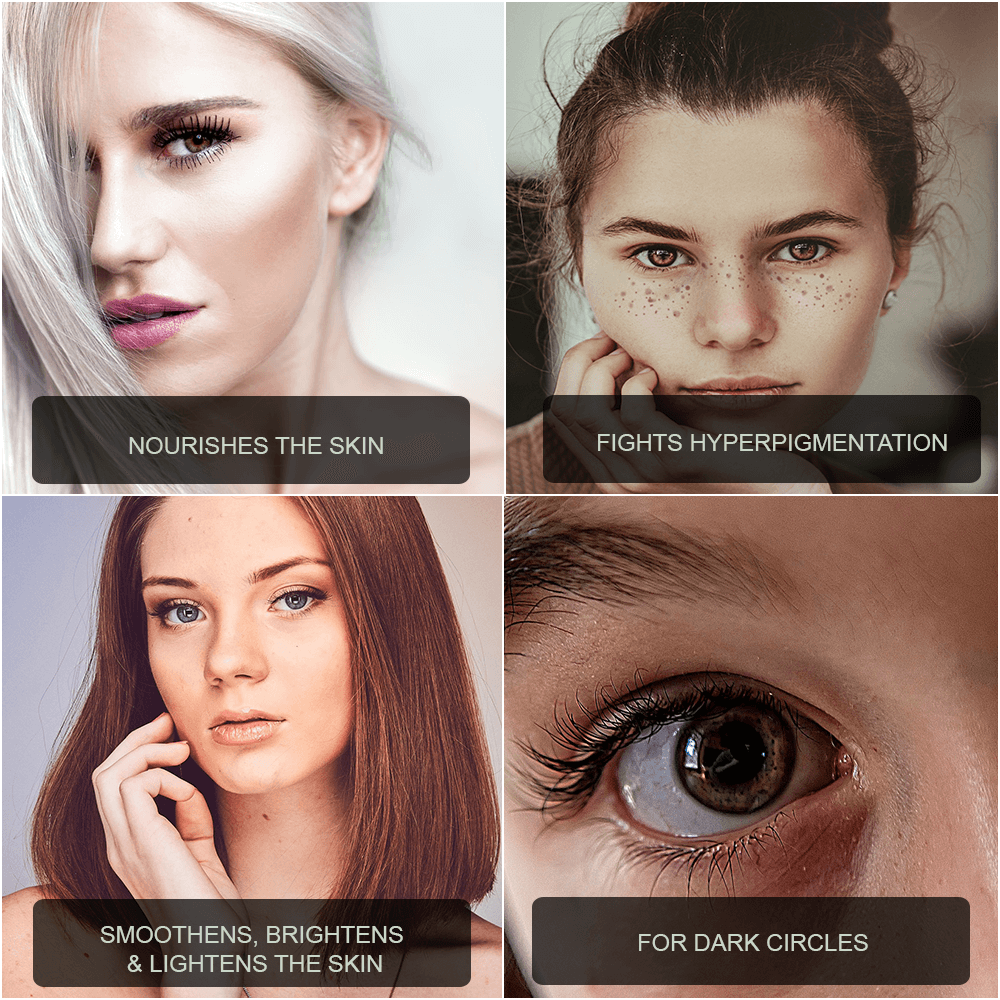 PRODUCT DETAILS
Product Details

FACT SHEET:
CONCENTRATION OF KOJIC ACID: 99.94%

PERCENTAGE TO USE: 1-3%

CAS NO: 501-30-4

RECOMMENDED TEMPERATURE RANGE FOR DISSOLVING KOJIC ACID:
50-60°C/122-140°F

MOLECULAR FORMULA / MOLECULAR WEIGHT: C6H6O4 = 142.11

APPEARANCE: White powder to crystal

SOLUBILITY: In water (1G/45ML at room temp), Acetone (freely soluble),
Methanol, Ethanol (freely soluble), DMSO.

SOLUBILITY (INSOLUBLE IN): Benzene

SOLUBILITY (SLIGHTLY SOL. IN): Ether, ethyl acetate, chloroform, pydidine

STORAGE: Store below +30°C.

PKa: 8.05 (Predicted)

OPTIMAL PH RANGE: Between 3.0 and 5.0. (However, if the pH is too low,
it can cause skin irritation )

TIME TO WORK: On average it will take 1-2 months of consistent topical use of kojic acid before you begin to see improvements.

CRYSTALLIZATION ISSUES: If the solution recrystallizes after dissolving, 1-5% of Polysorbate 2 or Glycerin or Propylene glycol or Polyethylene glycol (PEG) or Citric acid can be added. By using these anti-crystallizing agents in your cosmetic formulations, you can help to ensure that your products have a smooth and pleasant texture and remain effective over time.


Calculations

HOW TO CALCULATE FOR 3% 100ML KOJIC ACID SERUM:

CALCULATION FOR MANDELIC ACID: 3 × 100 ÷ 100 = 3 GM

CALCULATION FOR DISTILLED WATER: 100-3 = 97 ML

It is important to note that kojic acid should be dissolved slowly and gently to prevent degradation or decomposition. It is recommended to dissolve it with constant stirring and a low heat source to avoid overheating the solution. Store the solution in a clean, airtight container away from heat and light.
How to use (Formulation Guide)

KOJIC ACID FORMULATION GUIDE: (100ml serum)

Ingredients:

-3% kojic acid (3 gm)
-88.5% distilled water (88.5 ml)
-8% Glycerine (8ml)
-0.5% preservative (such as Germaben II or Optiphen Plus) (0.5 ml)

Instructions:

-In a clean, sterile container, combine the distilled water and preservative.

-Slowly sprinkle the kojic acid into the water while stirring continuously with a glass rod or magnetic stirrer. Heat it to 60 degrees if it does not dissolve.

-Continue stirring until the kojic acid powder is completely dissolved.

-Once the kojic acid is fully dissolved, transfer the mixture to a clean, airtight container.

-OPTIMAL PH RANGE: Between 3.0 and 5.0. (However, if the pH is too low, it can cause skin irritation )

-Store the serum in a cool, dry place, and use it within 2-3 months.