Hollywood Secrets
Regular price
Rs. 900.00
Sale price
Rs. 650.00
Unit price
per
Deal of the Day
Sold out
kojic Acid Dipalmitate Uses:
Skin Brightening and Lightening: Kojic acid dipalmitate is used primarily for its skin-lightening and brightening properties. It can help to fade the appearance of dark spots, age spots, freckles, and other types of hyperpigmentation by inhibiting the production of melanin in the skin.
Hyperpigmentation Treatment: It is commonly used in products targeted at treating hyperpigmentation issues caused by factors like sun damage, hormonal changes, and inflammation.
Even Skin Tone: Kojic acid dipalmitate can contribute to achieving a more even skin tone by reducing the contrast between areas of pigmented and non-pigmented skin.
Melasma: It is sometimes used as a part of a skincare regimen to help address melasma, a condition characterized by brown patches on the skin, often associated with hormonal changes.
Anti-Aging: Some skincare formulations use kojic acid dipalmitate for its potential to improve the appearance of fine lines and wrinkles, although its primary function is related to skin tone improvement.
Cosmetic Formulations: Kojic acid dipalmitate can be found in a variety of skincare and cosmetic products, including creams, lotions, serums, soaps, and masks.
Sun Damage: It may also be used to counteract the effects of sun damage and reduce the appearance of sunspots.
Why Us

Customization: Our DIY cosmetic brand empowers you to personalize your beauty products according to your preferences.
Quality Control: By choosing a DIY cosmetic brand, you have complete control over the quality of the ingredients used in your beauty products.
Creativity and Expression: Our DIY cosmetic brand encourages your creativity and allows you to express your unique style.
Sustainable and Eco-friendly: Many mass-produced cosmetic brands generate significant amounts of waste and contribute to environmental pollution. By choosing a DIY cosmetic brand, you can actively reduce your ecological footprint.
Education and Empowerment: Our DIY cosmetic brand aims to educate and empower individuals about the ingredients, formulation techniques, and the science behind cosmetic products.
Cost-effective: Creating your own cosmetics can be a cost-effective alternative to buying high-end branded products.
Features of the product

Premium product. 
100% original & quality assured.
Non-contaminated & non-mixed.
Non-Gmo.
Doctor & dermatologist approved.
No preservatives.
Easy to use.
Payment Method

Payment India: 

Credit card: Available

Debit card: Available

Razorpay (Cards, UPI, Net Banking, Wallets): Available

Cash on Delivery (COD): Available

We accept all forms of payment.

Payment United States: 

Credit card: Available
Shipping

Prepaid & COD order: Both available.

Standard Shipping: 1-7 days (Free)

Expediated: 1-3 days ( Rs. 90)

Ultra high speed delivery using our selected couriers.
Processing Time

Product ordered before 11am: Shipped on the same day

Product ordered after 11am: Shipped on the next day
Return Policy

1-7 days. Call our customer care for returns.
Contact us

WhatsApp & Call : +91-9921645094

Email: info@hollywoodsecrets.in
Share
View full details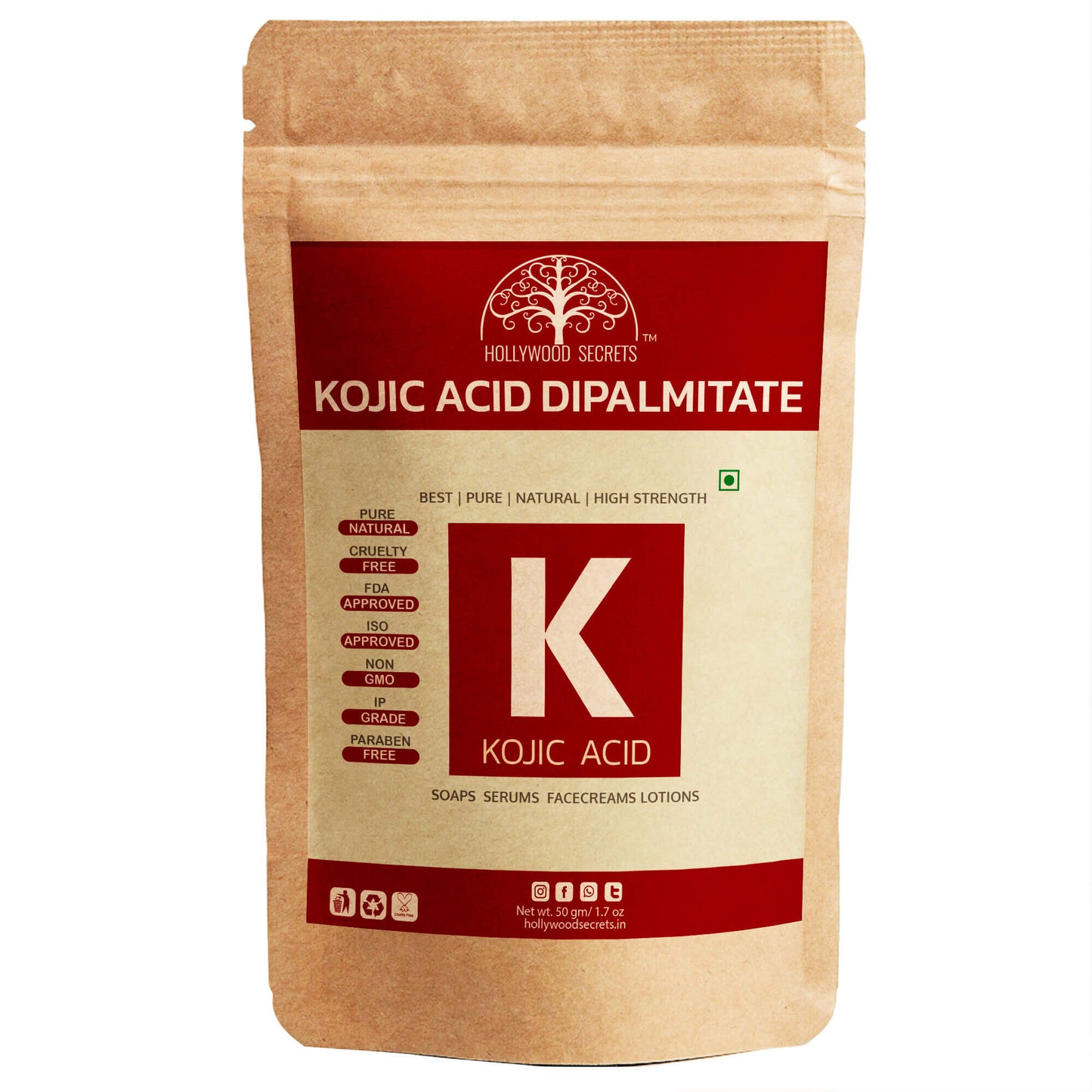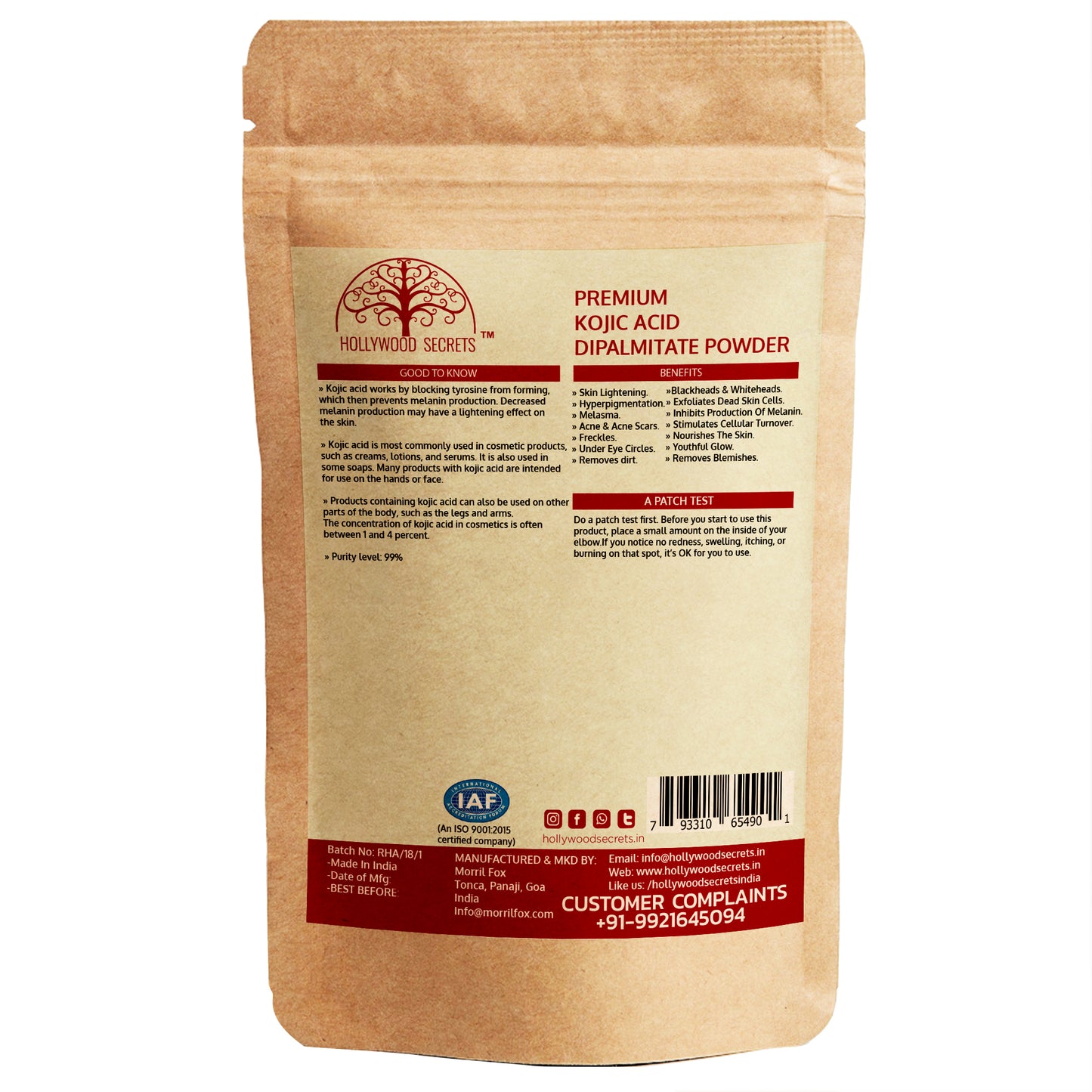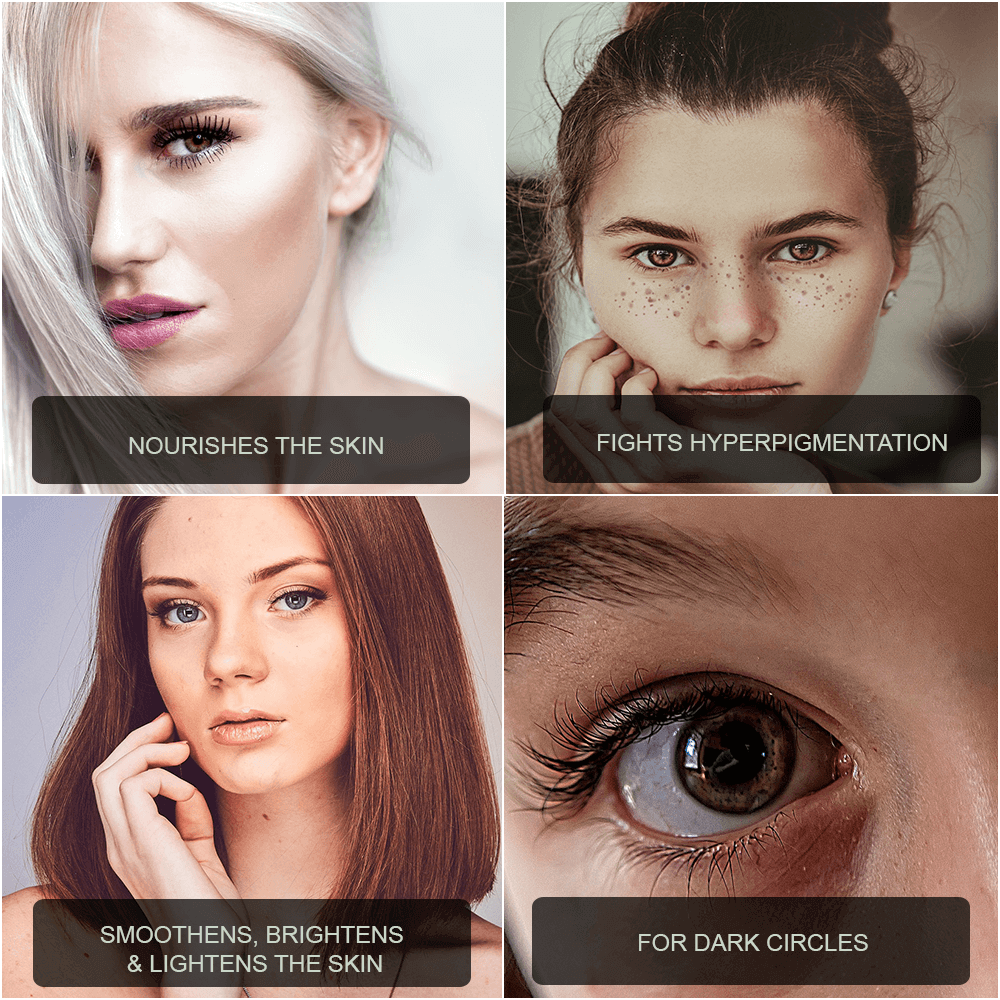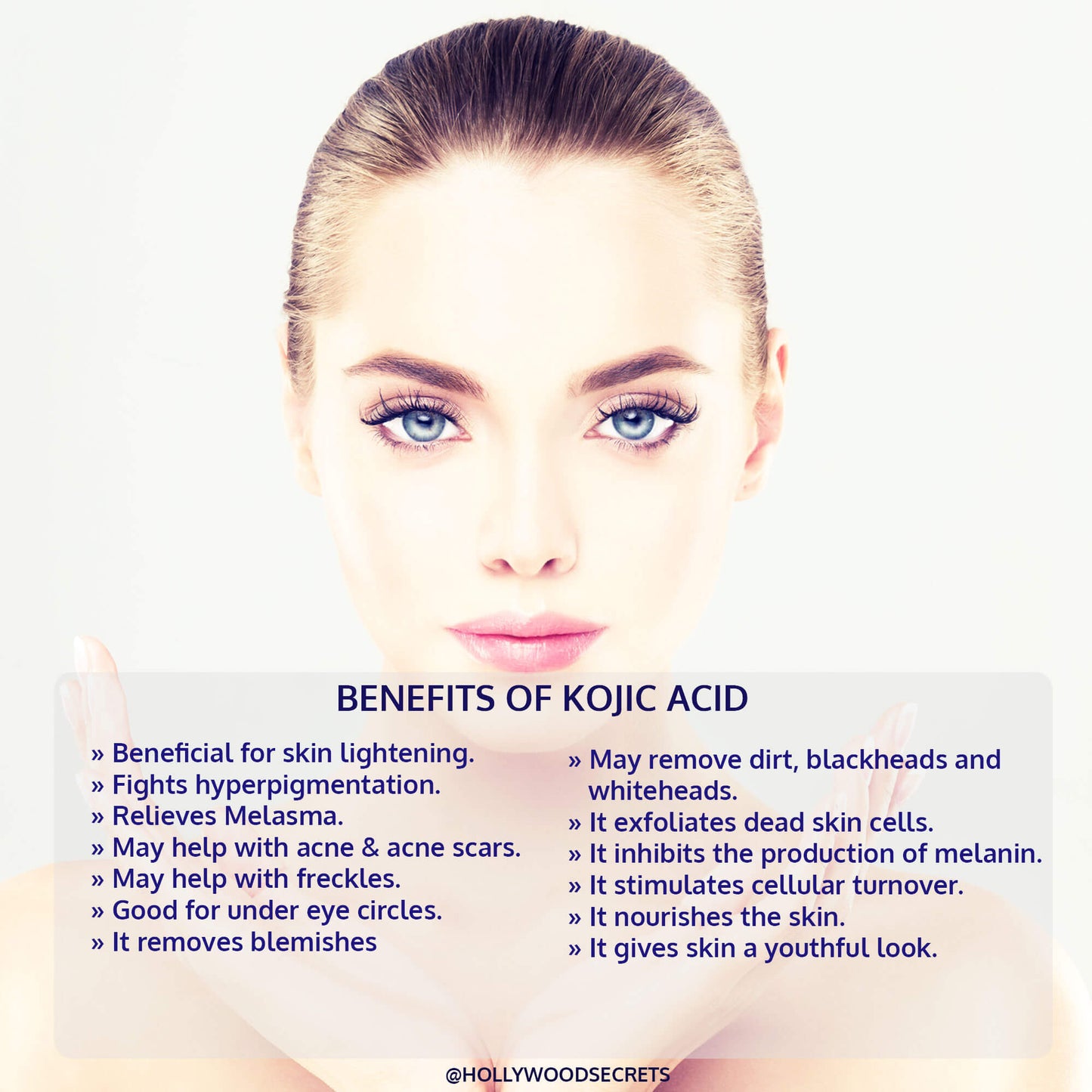 PRODUCT DETAILS
Product Details

CAS Number: 79725-98-7

Molecular form: C38H66O6

Mol. Weight: 618.90

Storage: Store at room temperature

Appearance: White crystalline powder

Solubility: Soluble in oil and hot ethanol. Insoluble in water

Typical usage rate: 1 - 5%, typically 3-5% in whitening products
Calculations

HOW TO CALCULATE FOR 3% KOJIC ACID DIPALMITATE 100 gm SOAP:

CALCULATION FOR KOJIC ACID: 3 × 100 ÷ 100 = 3 GM

CALCULATION FOR SOAP BASE : 100-3 = 97 ML

It is important to note that kojic acid should be dissolved slowly and gently to prevent degradation or decomposition. It is recommended to dissolve it with constant stirring and a low heat source to avoid overheating the solution. Store the solution in a clean, airtight container away from heat and light.

Applications: All kinds of skin-whitening products including creams, lotions, serums
How to use (Formulation Guide)

Formulation guide to make 3% kojic acid dipalmitate 100 grams soap:

Ingredients:
-Kojic Acid Dipalmitate Powder: 3 grams (3% of total weight)
-Melt and Pour Soap Base: Approximately 97 grams
-Optional: Fragrance, Essential Oils, Botanical Additives


Equipment Needed:
-Digital scale
-Heat-resistant container for melting soap base
-Stirring utensil
-Soap mold

Procedure:
1) Sanitize: Ensure your workspace, utensils, and soap mold are properly sanitized.

2) Weigh and Measure: Weigh and measure the quantities of your ingredients using a digital scale.

3) Cut and Melt Soap Base: Cut the melt and pour soap base into small chunks for easier melting. In a heat-resistant container, melt the soap base according to the manufacturer's instructions (usually in the microwave or a double boiler).

4) Add Kojic Acid Dipalmitate: Once the soap base is fully melted, remove it from heat. Add the kojic acid dipalmitate powder to the melted soap base. Stir thoroughly to ensure even distribution of the powder.

5) Optional Additives: If desired, add fragrance, essential oils, or botanical additives to enhance the soap's properties and scent. Stir well to incorporate.

6) Pour into Mold: Carefully pour the mixture into your sanitized soap mold. Gently tap the mold to remove any air bubbles.

7) Cooling and Solidification: Allow the soap to cool and solidify. This may take a few hours, depending on the soap base and room temperature.

8) Unmold and Cut: Once the soap is completely solid, carefully unmold it from the soap mold. If necessary, cut the soap into your desired shape and size.

9) Curing: Allow the soap to cure for a few days in a cool, dry place. This helps the soap harden and allows excess moisture to evaporate.

10) Labeling and Storage: Label the soap with its ingredients, including the percentage of kojic acid dipalmitate (3%), and the date of creation. Store the soap in a cool, dry place away from direct sunlight.