Hollywood Secrets
Regular price
Rs. 600.00
Sale price
Rs. 600.00
Unit price
per
Deal of the Day
Sold out
Benefits of Hollywood Secrets Vitamin E oil

ALL NATURAL VITAMIN E OIL:  No cancer-causing ingredients; non-GMO, gluten-free, soy-free, cruelty-free, and organic. Safe for all skin types
NATURAL VITAMIN OIL FOR HAIR GROWTH: Hollywood Secrets Vitamin E oil improves hair growth in people with hair loss. Vitamin E oil helps reduce oxidative stress in the scalp. Oxidative stress is linked with hair loss. It also may help with psoriasis, dry scalp, etc.
VITAMIN E OIL FOR BEAUTIFUL SKIN: Vitamin E makes the nerves stronger and helps in nourishing your skin from within. It's known to clear acne scars, stretch marks, dark circles, wrinkles, melasma, tanning, and dry scalp. Best for glowing skin, skin whitening & skin brightening.
VITAMIN E OIL FOR STRONG NAILS: Hollywood Secrets vitamin oil is an intensely moisturizing oil that softens cuticles and cares for dry, brittle nails.
Frequently asked questions
1) What are the ways to use vitamin E oil for hair?
You can massage the vitamin e oil on the scalp. Take 1 big tablespoon of Vitamin E oil and 2 tablespoons of coconut oil, mix it well and gently apply to the scalp and then cover up your hair with a warm towel.
2) Can I keep vitamin E oil on my hair overnight?
Absolutely. Vitamins E is great, not only for shiny hair but by combining it with coconut oil and massaging it on the scalp overnight.
3) Is it necessary to wash your hair after applying vitamin E oil?
Yes, aesthetically, it is advisable to wash your hair after two hours of application of any oil including vit. E oil. If you leave it overnight, it's advisable to wash it in the morning.
4) Can I mix vitamin E and coconut oil and apply them to my hair?
Yes, you can mix vitamin E oil and coconut oil and apply them to your scalp.
5) Can we apply a mixture of vitamin E and castor oil to the face?
Yes, you can use it as long you don't have oily, acne, and pimple-covered skin. Adding oil to already oily skin is not a good idea.

Why Us

Customization: Our DIY cosmetic brand empowers you to personalize your beauty products according to your preferences.
Quality Control: By choosing a DIY cosmetic brand, you have complete control over the quality of the ingredients used in your beauty products.
Creativity and Expression: Our DIY cosmetic brand encourages your creativity and allows you to express your unique style.
Sustainable and Eco-friendly: Many mass-produced cosmetic brands generate significant amounts of waste and contribute to environmental pollution. By choosing a DIY cosmetic brand, you can actively reduce your ecological footprint.
Education and Empowerment: Our DIY cosmetic brand aims to educate and empower individuals about the ingredients, formulation techniques, and the science behind cosmetic products.
Cost-effective: Creating your own cosmetics can be a cost-effective alternative to buying high-end branded products.
Features of the product

Premium product. 
100% original & quality assured.
Non-contaminated & non-mixed.
Non-Gmo.
Doctor & dermatologist approved.
No preservatives.
Easy to use.
Payment Method

Payment India: 

Credit card: Available

Debit card: Available

Razorpay (Cards, UPI, Net Banking, Wallets): Available

Cash on Delivery (COD): Available

We accept all forms of payment.

Payment United States: 

Credit card: Available
Shipping

Prepaid & COD order: Both available.

Standard Shipping: 1-7 days (Free)

Expediated: 1-3 days ( Rs. 90)

Ultra high speed delivery using our selected couriers.
Processing Time

Product ordered before 11am: Shipped on the same day

Product ordered after 11am: Shipped on the next day
Return Policy

1-7 days. Call our customer care for returns.
Contact us

WhatsApp & Call : +91-9921645094

Email: info@hollywoodsecrets.in
Share
View full details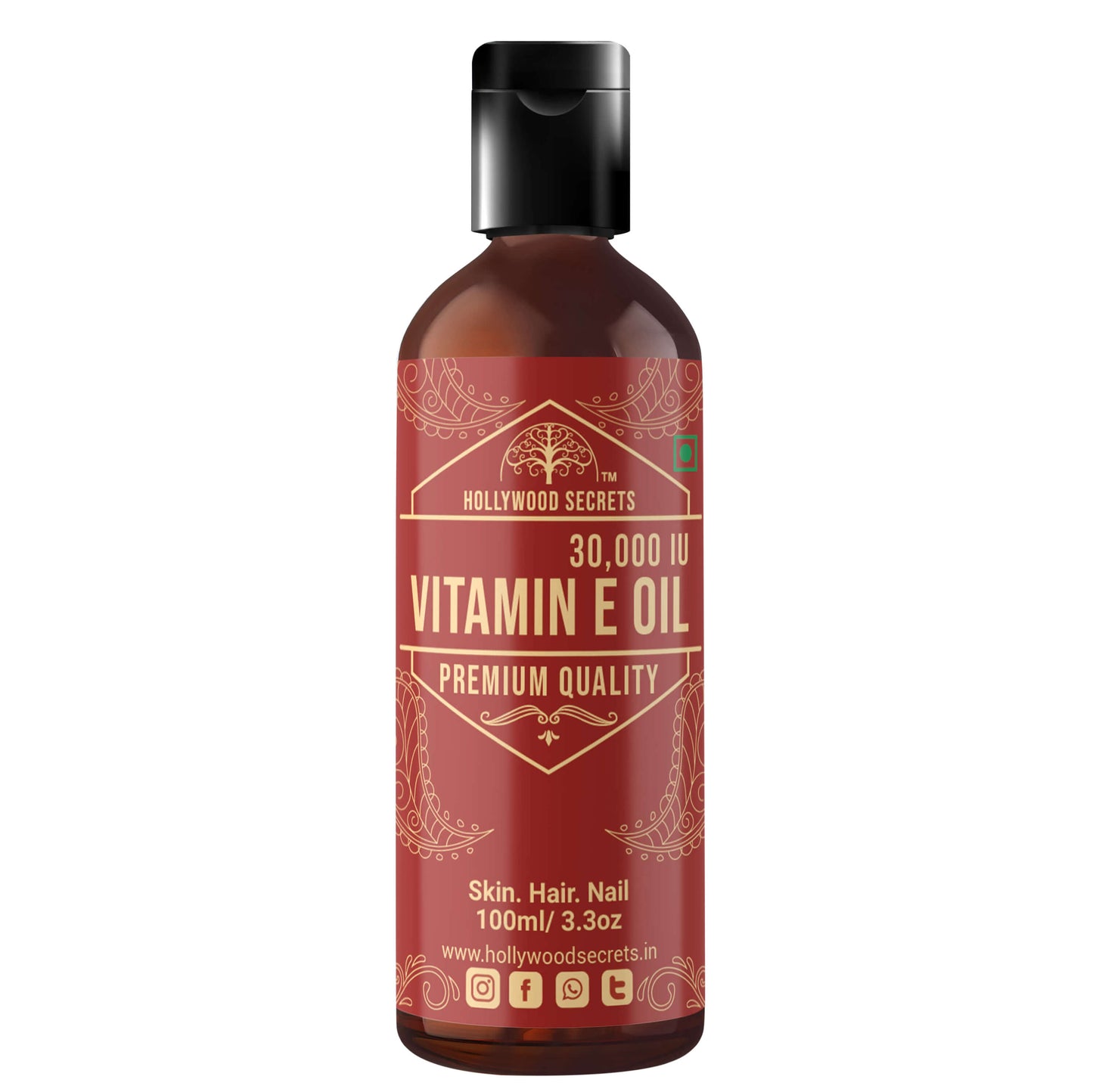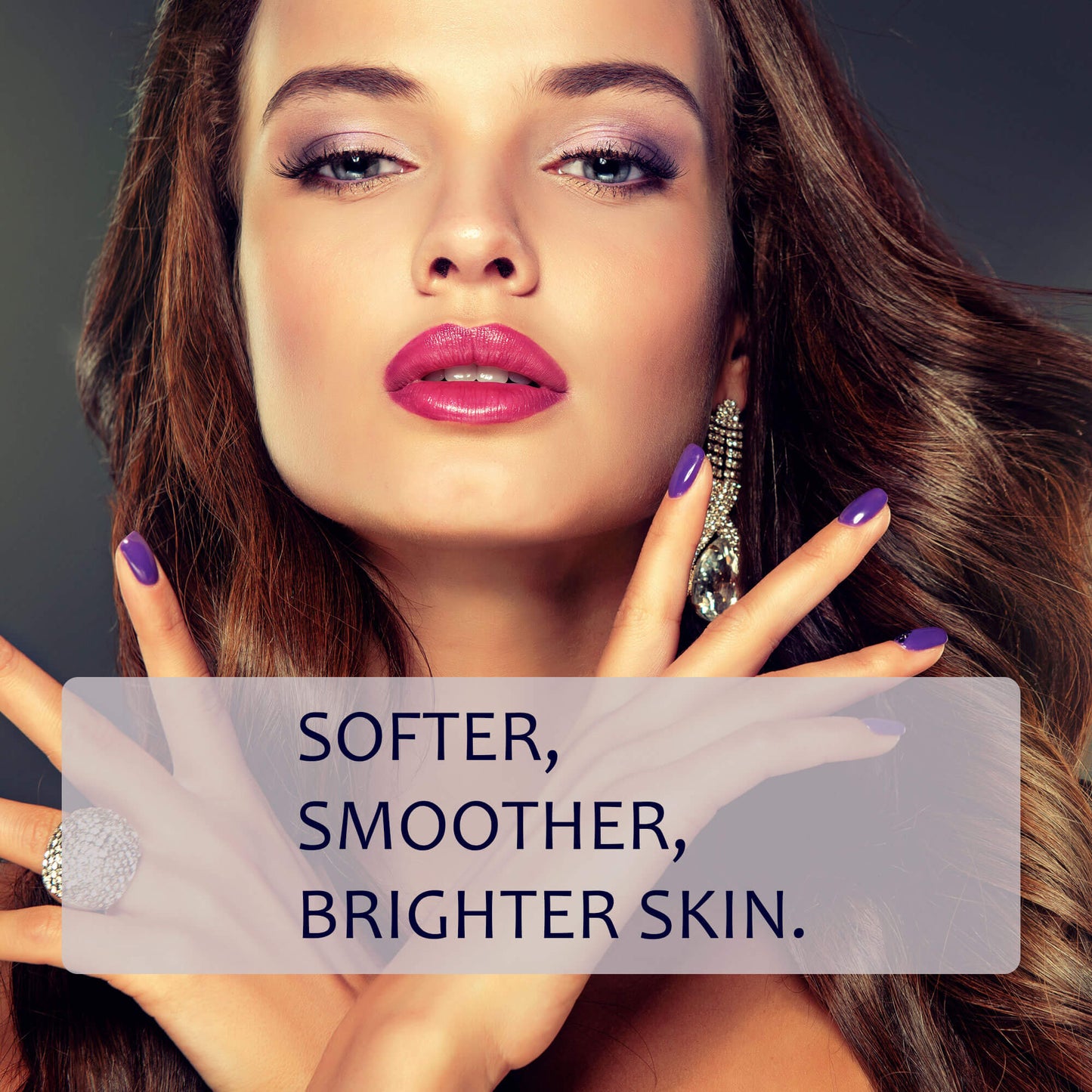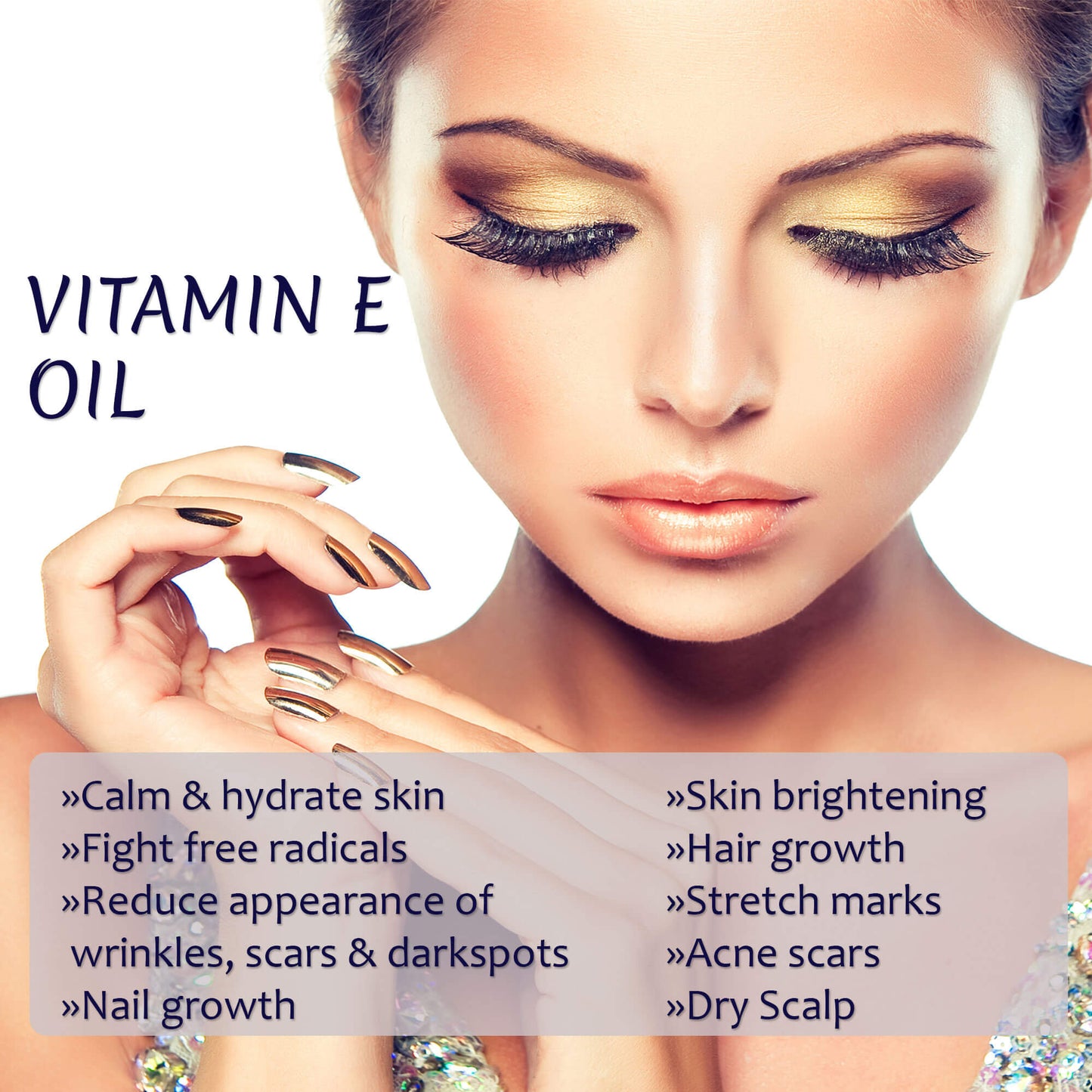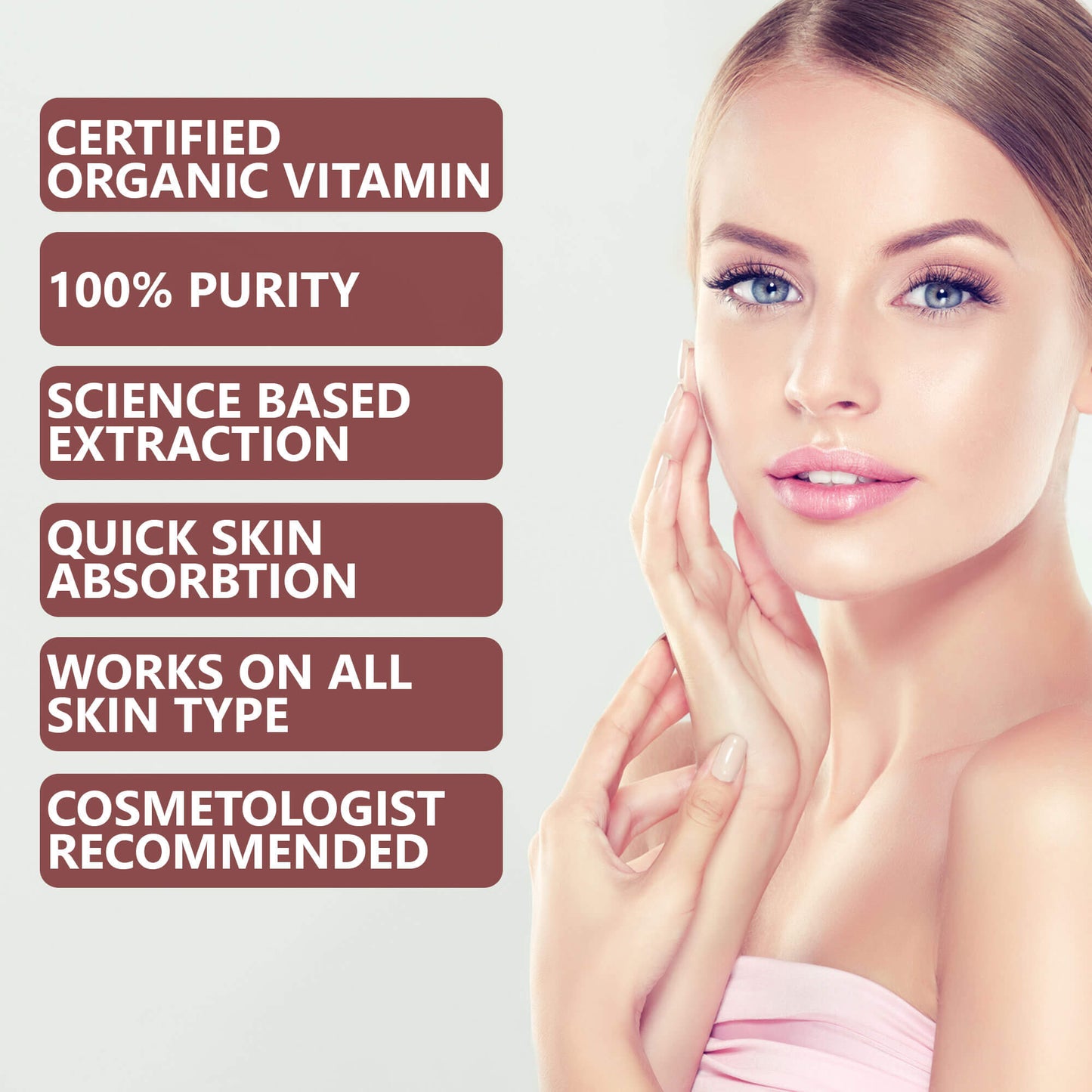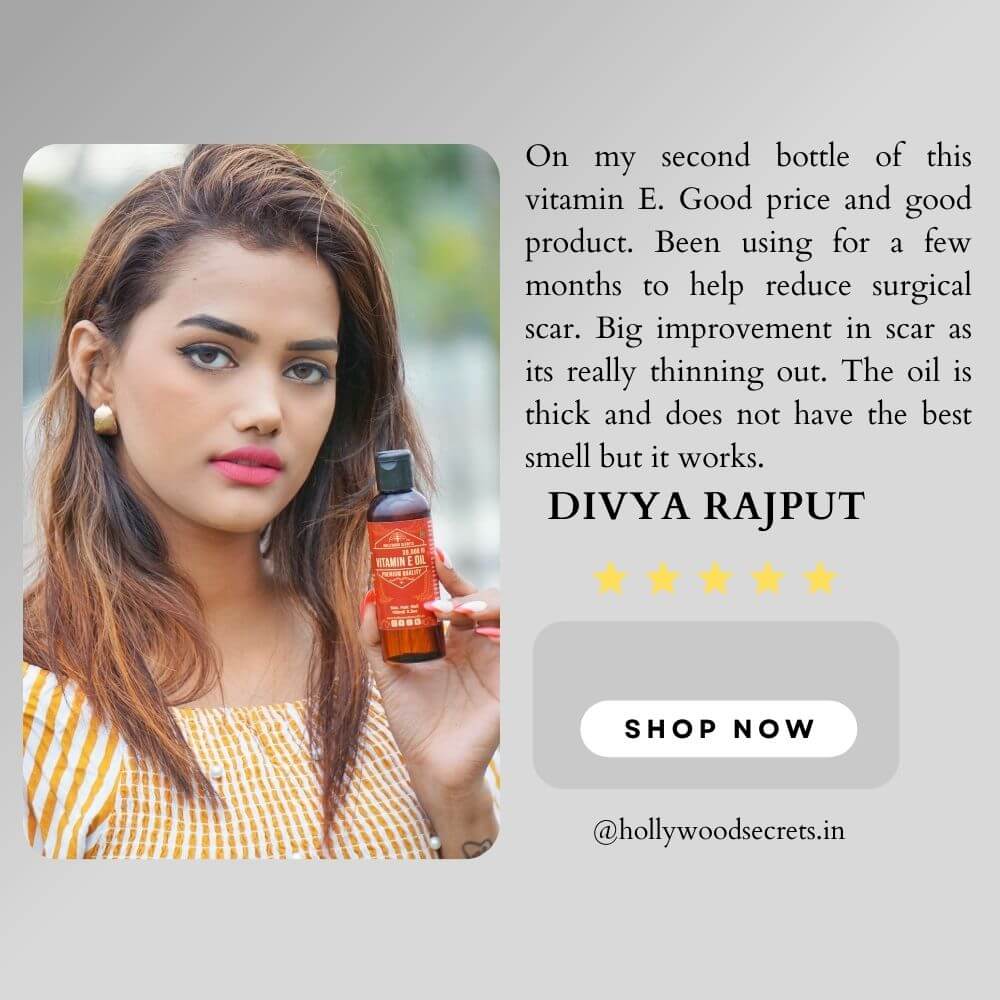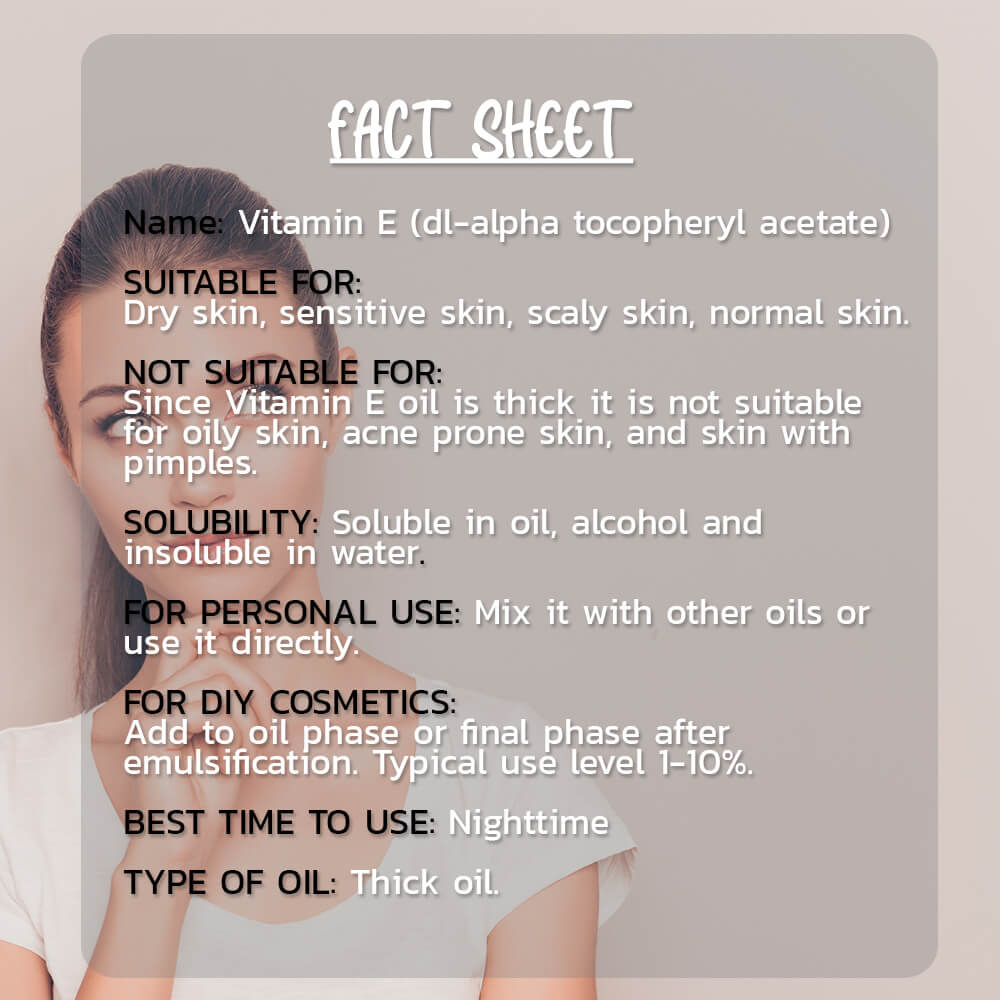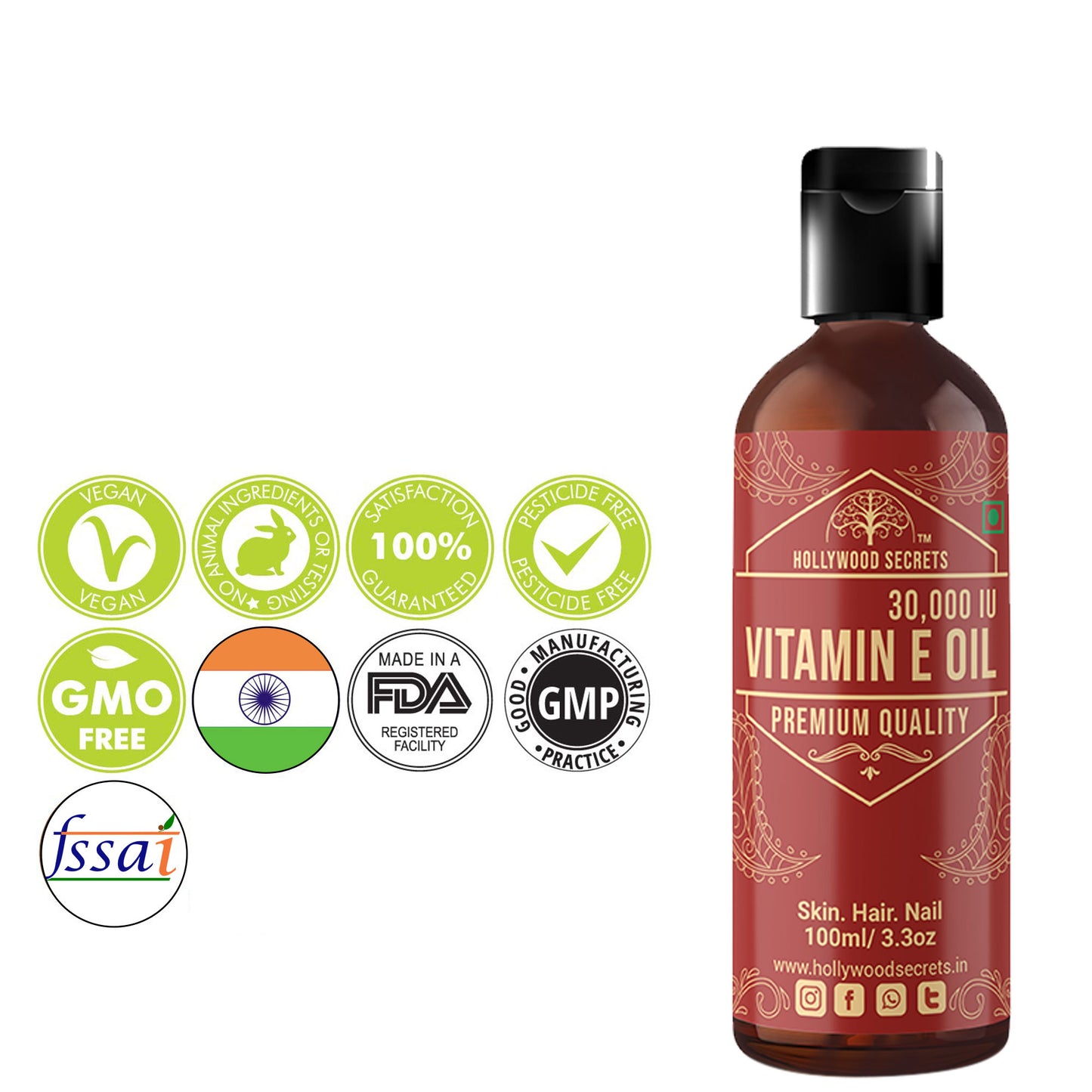 PRODUCT DETAILS
Product Details

Technical details:
TYPE OF OIL: Vitamin E (dl-alpha tocopheryl acetate)

SUITABLE FOR: Dry skin, sensitive skin, scaly skin, normal skin, acne & pimple scars.

NOT SUITABLE FOR: Since Vitamin E oil is thick it is not suitable for oily skin, acne-prone skin, and skin with pimples.

SOLUBILITY: Soluble in oil, and alcohol and insoluble in water.

FOR PERSONAL USE: Mix it with other oils or use it directly.

FOR DIY COSMETICS: Add to oil phase or final phase after emulsification. Typical use level 1-10%.

BEST TIME TO USE: Nighttime.

TYPE OF OIL: Thick oil.
Calculations

FOR DIY COSMETICS: Add to oil phase or final phase after emulsification. Typical use level 1-10%.

Calculations: 5% of 30 ml
5 × 30 ÷ 100 = 1.5 ml vitamin e oil

30- 1.5 = 28.5 ml of other carrier oil
How to use (Formulation Guide)

Creating your own Vitamin E oil formulation can be a fun and rewarding process. Here's a simple guide to help you get started:

Ingredients:

1) Vitamin E oil (pure, natural, and preferably non-GMO)
2) Carrier oil (to dilute the Vitamin E oil; choose an oil suitable for your skin type, such as jojoba, almond, coconut, or grapeseed oil)
3) Essential oils (optional, for added fragrance and therapeutic benefits)

Equipment:

1) Glass bottle or container with a tight-fitting lid (to store the formulation)
2) Measuring spoons or pipettes
3) Funnel (optional, for easier pouring)

Steps:

1) Choose Your Carrier Oil: Select a carrier oil that complements your skin type and provides additional benefits. For example, if you have dry skin, you may prefer a heavier oil like coconut or avocado oil, while oily skin types may benefit from lighter oils like grapeseed or jojoba.

2) Determine the Dilution Ratio: Vitamin E oil is potent, so it's essential to dilute it with a carrier oil. A common dilution ratio is 1% to 10% Vitamin E oil to carrier oil. For instance, if you have a 30ml (1oz) container, you'll need about 1.5 ml of Vitamin E oil (5% of 30ml) and fill the rest with your chosen carrier oil.

3) Mixing the Ingredients: Using a funnel (if necessary), add the measured amount of Vitamin E oil to the glass container first. Then, pour in the carrier oil to fill the container. If you want to add essential oils for fragrance or added benefits, now is the time to add a few drops (usually 1.5 ml per 30ml).

4) Blend and Store: Close the container tightly with the lid and shake well to ensure the oils are thoroughly mixed. Store the formulation in a cool, dark place away from direct sunlight, as light and heat can degrade the Vitamin E and carrier oils over time.

Customization Tips:

-You can experiment with different carrier oils and essential oils to create a formulation that suits your specific skin type and preferences.

-If you have sensitive skin, consider using a mild carrier oil like jojoba or sweet almond oil and use a lower dilution of Vitamin E oil.

-For a more luxurious blend, consider adding other beneficial oils like rosehip seed oil or evening primrose oil to your formulation.

Safety Precautions:

-Always perform a patch test before using the formulation on a larger area of your skin to check for any allergic reactions or sensitivity.
-If you experience any irritation or discomfort after applying the formulation, discontinue use and consult a dermatologist.