Hollywood Secrets
Regular price
Sale price
Rs. 250.00
Unit price
per
Deal of the Day
Sold out
Benefits Of Walnut Scrub Powder:

Exfoliation: One of the primary benefits of walnut scrub powder is its exfoliating properties. The granules in the scrub help to physically slough off dead skin cells, revealing a smoother and brighter complexion underneath. Regular exfoliation can help improve the texture of the skin and promote cell turnover.
Smoother Skin: By removing dead skin cells and unclogging pores, walnut scrub powder can help make the skin feel smoother and softer. It can also improve the absorption of other skincare products, such as moisturizers, serums, and treatments.
Improved Skin Tone: Walnut scrub powder may help even out the skin tone by removing dull, dead skin cells and promoting the growth of new, healthier cells. This can result in a more radiant and youthful appearance.
Deep Cleansing: The abrasive nature of walnut scrub powder allows it to effectively cleanse the skin by removing dirt, excess oil, and impurities from the surface. This can be particularly beneficial for individuals with oily or acne-prone skin.
Enhanced Blood Circulation: Massaging the walnut scrub powder onto the skin stimulates blood circulation in the area. Improved blood flow can help deliver oxygen and nutrients to the skin, promoting a healthy complexion.
Why Us

Customization: Our DIY cosmetic brand empowers you to personalize your beauty products according to your preferences.
Quality Control: By choosing a DIY cosmetic brand, you have complete control over the quality of the ingredients used in your beauty products.
Creativity and Expression: Our DIY cosmetic brand encourages your creativity and allows you to express your unique style.
Sustainable and Eco-friendly: Many mass-produced cosmetic brands generate significant amounts of waste and contribute to environmental pollution. By choosing a DIY cosmetic brand, you can actively reduce your ecological footprint.
Education and Empowerment: Our DIY cosmetic brand aims to educate and empower individuals about the ingredients, formulation techniques, and the science behind cosmetic products.
Cost-effective: Creating your own cosmetics can be a cost-effective alternative to buying high-end branded products.
Features of the product

Premium product. 
100% original & quality assured.
Non-contaminated & non-mixed.
Non-Gmo.
Doctor & dermatologist approved.
No preservatives.
Easy to use.
Payment Method

Payment India: 

Credit card: Available

Debit card: Available

Razorpay (Cards, UPI, Net Banking, Wallets): Available

Cash on Delivery (COD): Available

We accept all forms of payment.

Payment United States: 

Credit card: Available
Shipping

Prepaid & COD order: Both available.

Standard Shipping: 1-7 days (Free)

Expediated: 1-3 days ( Rs. 90)

Ultra high speed delivery using our selected couriers.
Processing Time

Product ordered before 11am: Shipped on the same day

Product ordered after 11am: Shipped on the next day
Return Policy

1-7 days. Call our customer care for returns.
Contact us

WhatsApp & Call : +91-9921645094

Email: info@hollywoodsecrets.in
Share
View full details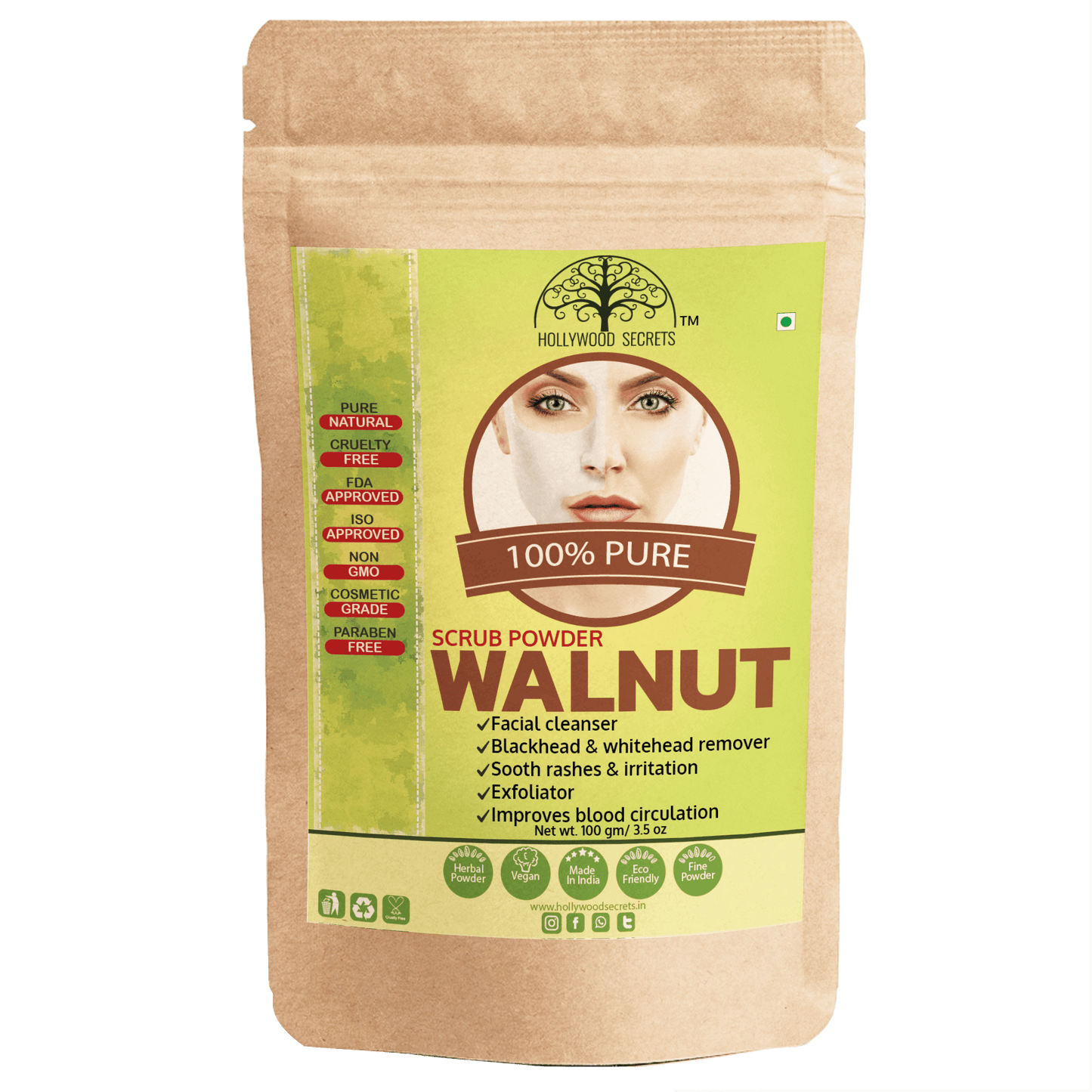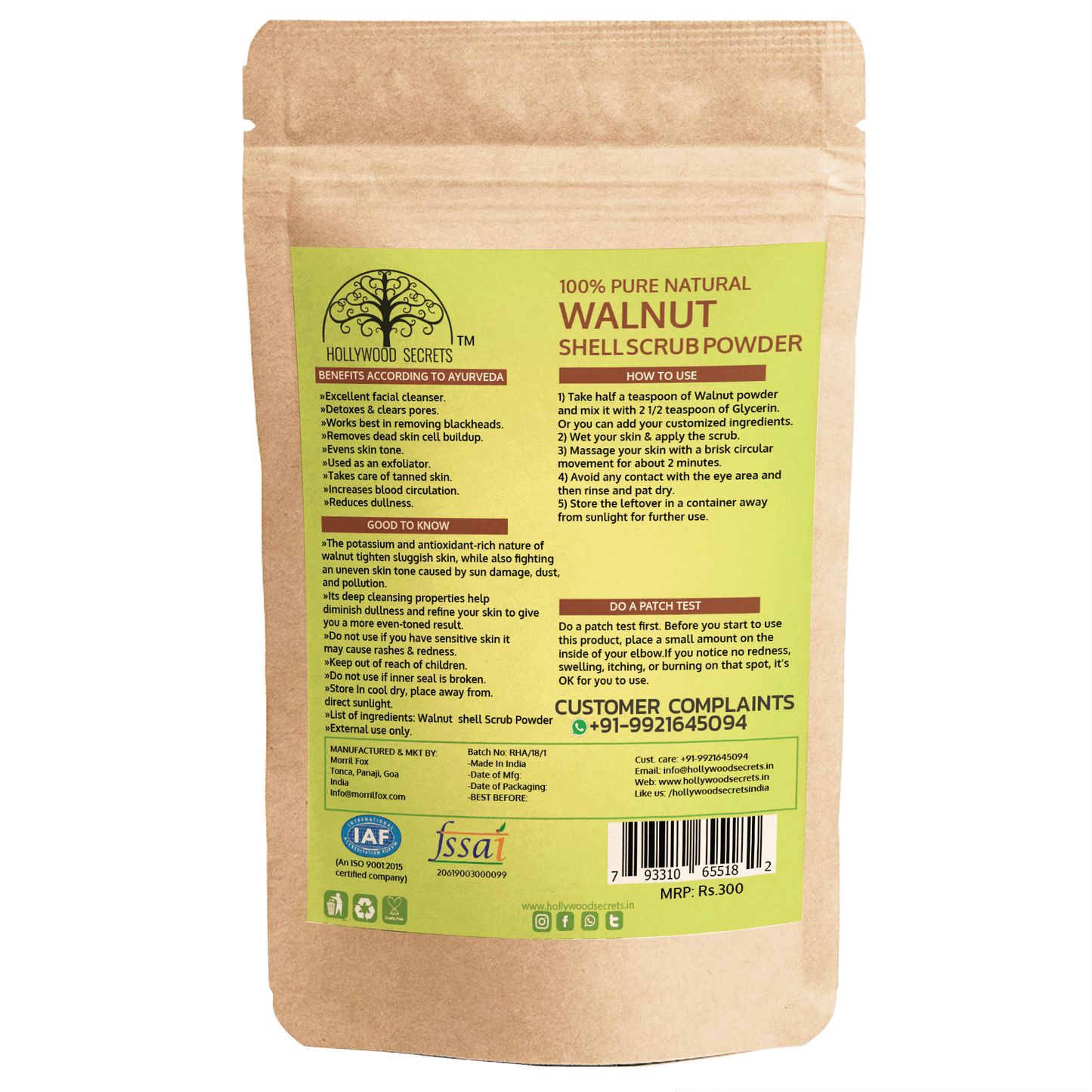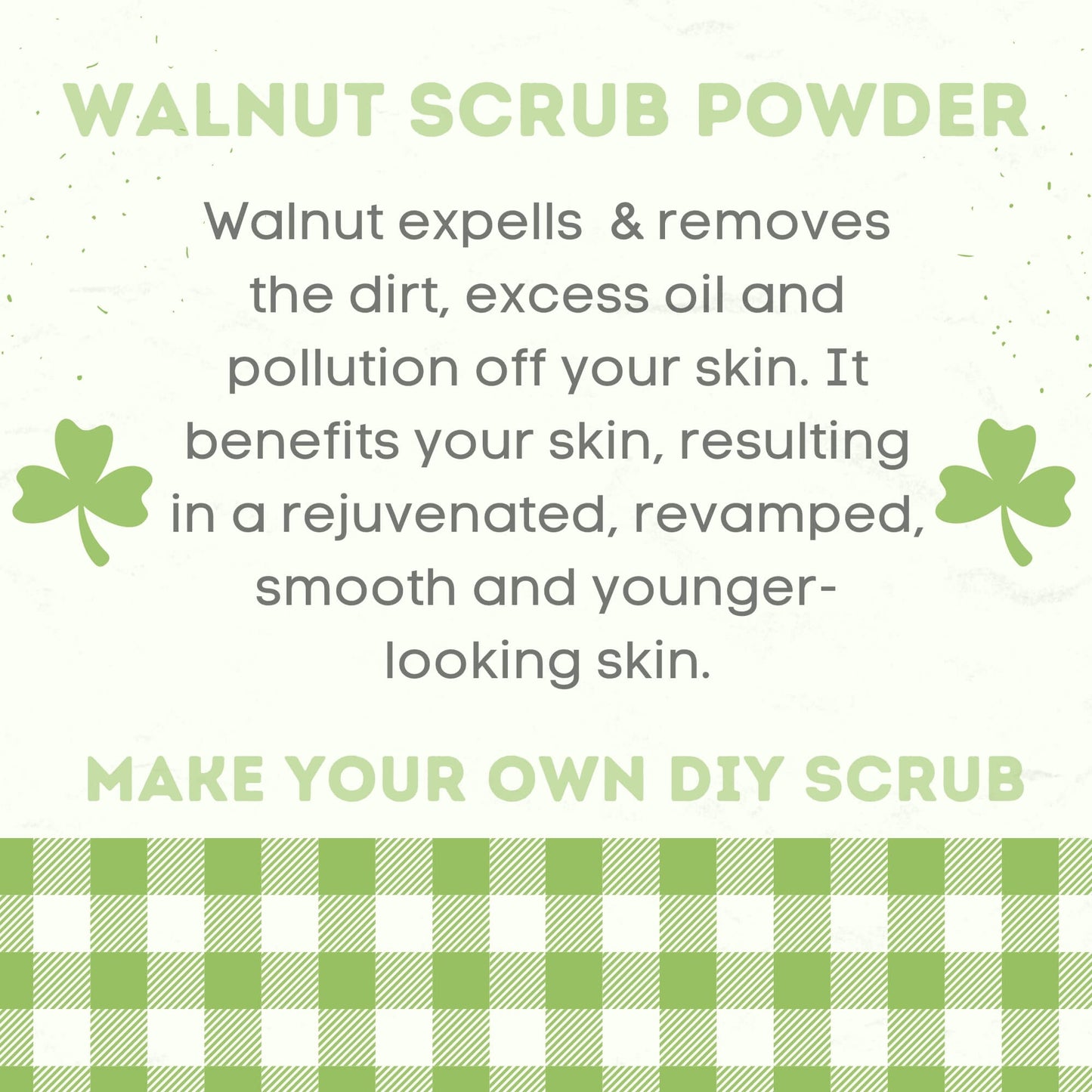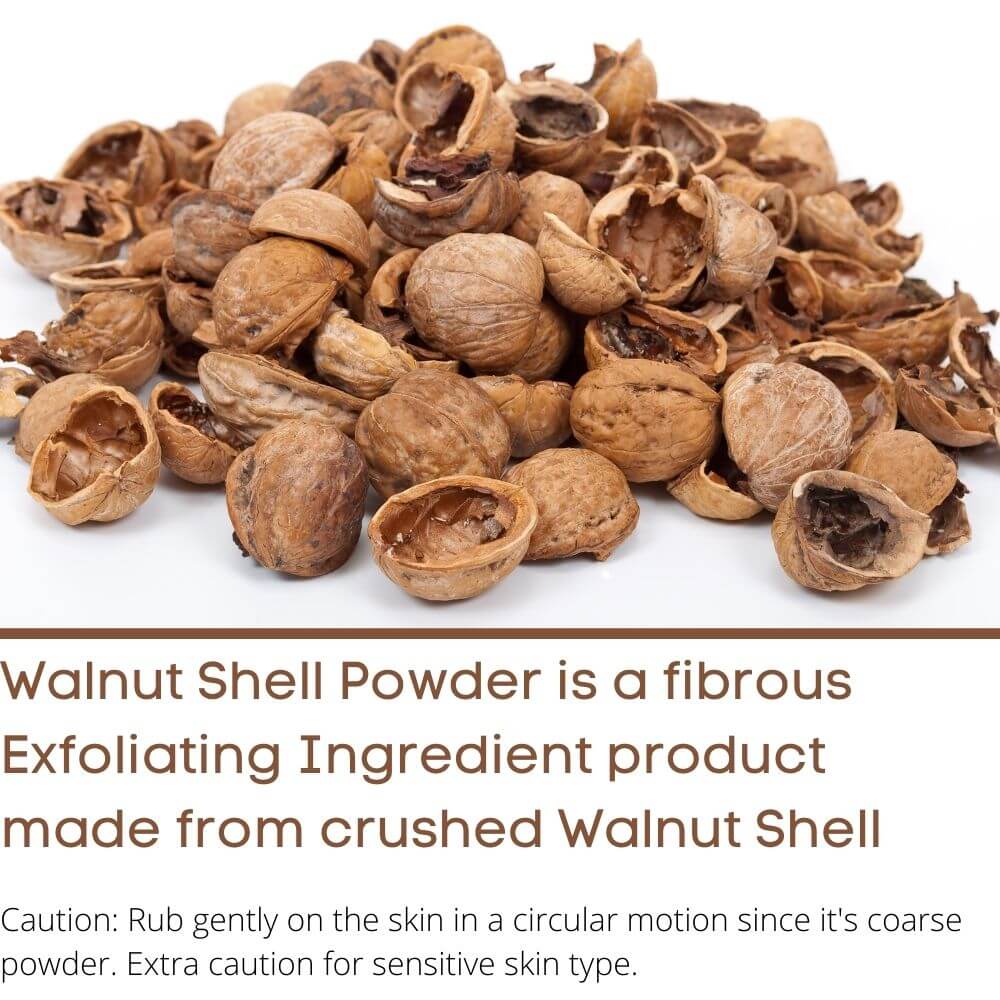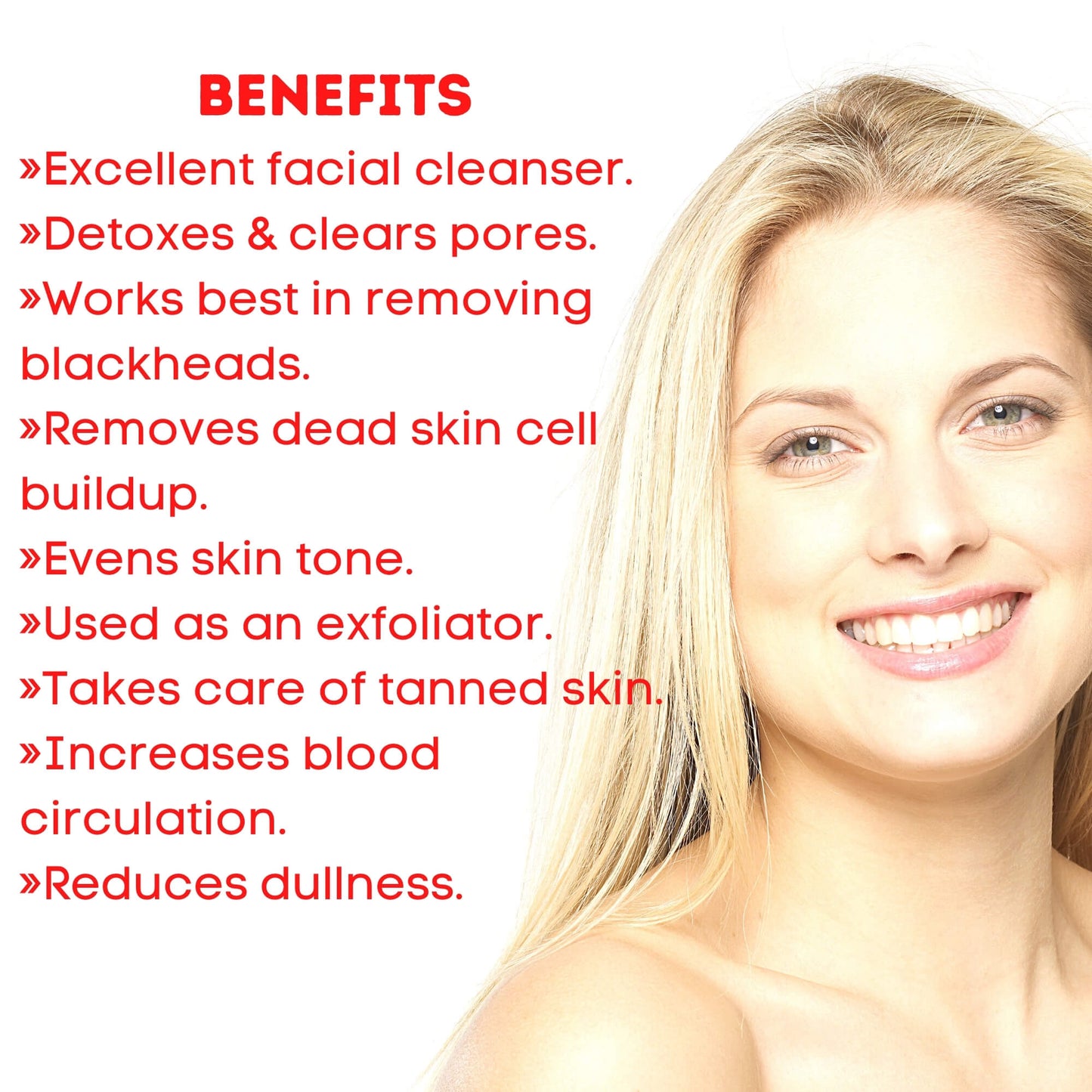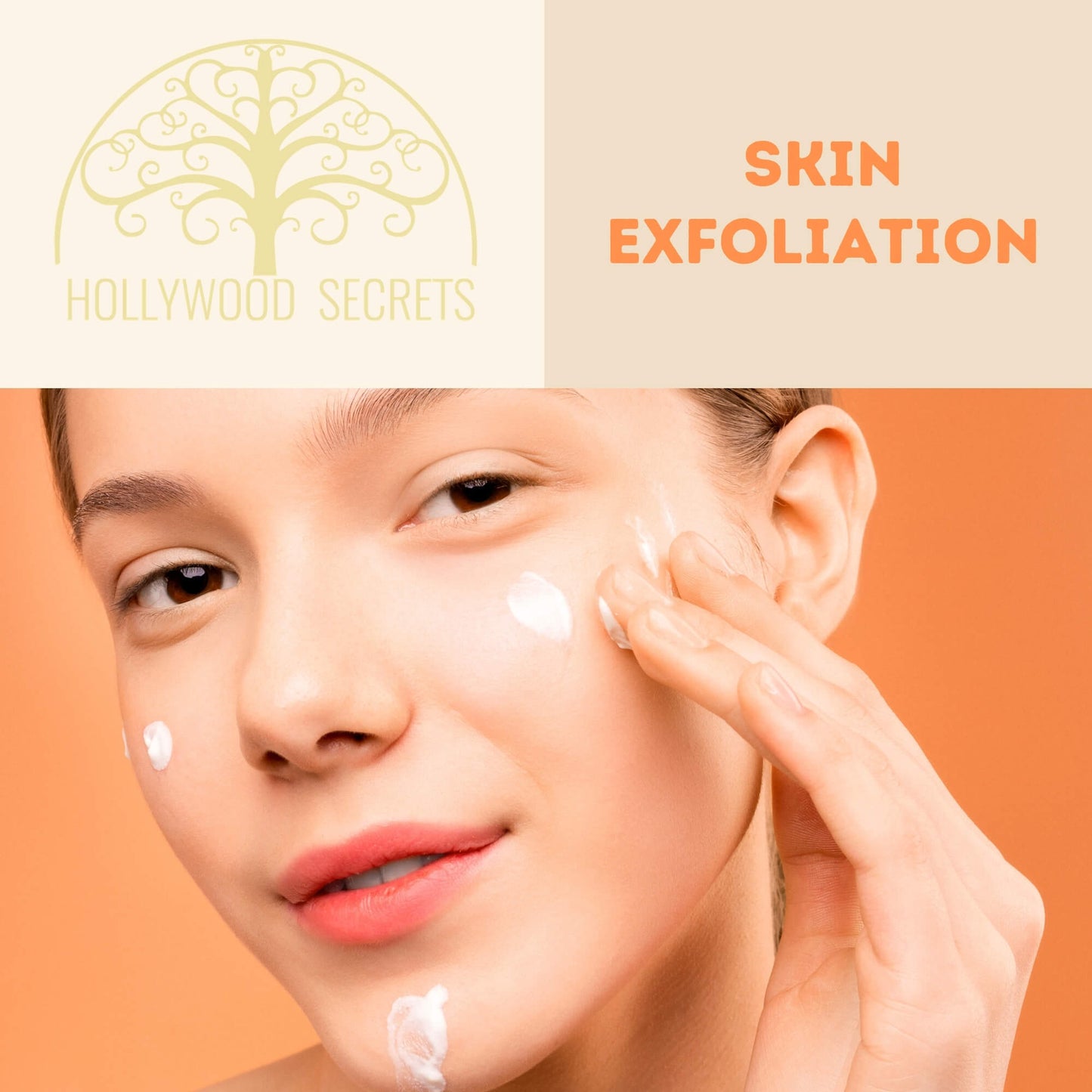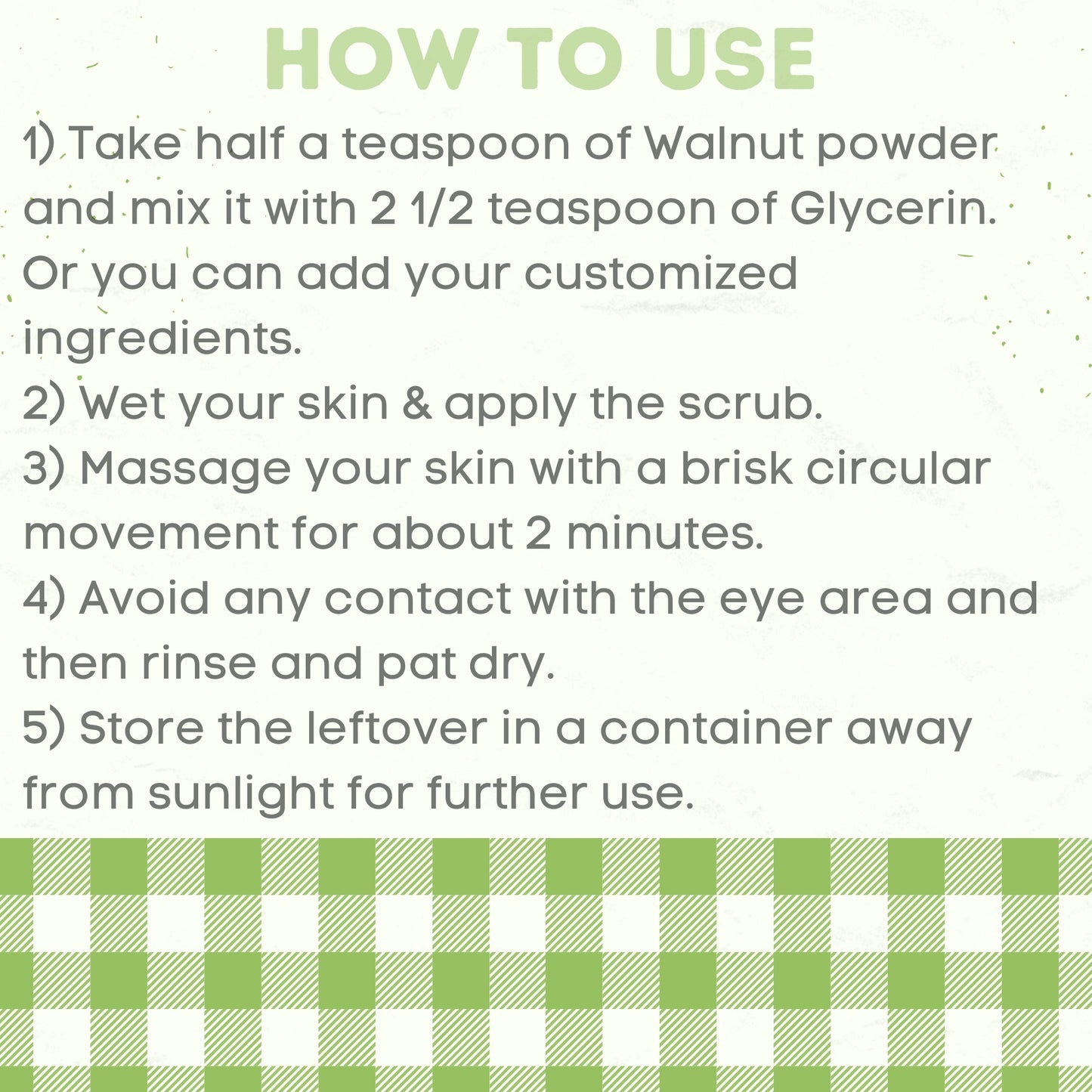 PRODUCT DETAILS
Product Details

1.Ingredients: The primary ingredient in walnut scrub powder is finely ground walnut shells or walnut powder. Additional ingredients may vary depending on the specific product and brand but commonly include binding agents, emollients, preservatives, and fragrance.

2.Particle Size: The walnut shells are ground to create fine particles that are suitable for exfoliating the skin. The particle size can vary between different products, but typically it ranges from 100 to 300 micrometers.

3.Abrasive Properties: Walnut scrub powder is considered a physical exfoliant, meaning it physically removes dead skin cells through friction. The abrasive properties of the walnut particles help to slough off the top layer of the skin, revealing smoother, more radiant skin beneath.

4.Skincare Benefits: Walnut scrub powder can help improve the texture and appearance of the skin by removing dead skin cells, unclogging pores, and promoting cell turnover. It can also enhance blood circulation and provide a rejuvenating effect on the skin.

5.Usage: To use walnut scrub powder, typically a small amount is mixed with water or a suitable liquid to create a paste. The paste is then gently massaged onto damp skin in circular motions, avoiding the delicate eye area. Afterward, it is rinsed off with water, leaving the skin feeling refreshed and revitalized.

6.Precautions: While walnut scrub powder can be beneficial for most skin types, it is important to use it with caution. The abrasive nature of the particles can be too harsh for sensitive or irritated skin, so individuals with such skin conditions should avoid using it or opt for gentler alternatives.

7.Alternatives: If you prefer to avoid using walnut scrub powder, there are alternative exfoliating options available, such as products containing synthetic microbeads, sugar, salt, or other natural exfoliants like oatmeal or jojoba beads.
How to use (Formulation Guide)

Suggestive usage: 

1) Take half a teaspoon of Walnut powder and mix it with 2 1/2 teaspoon of Glycerin.
Or you can add your customized ingredients.
2) Wet your skin & apply the scrub.
3) Massage your skin with a brisk circular movement for about 2 minutes.
4) Avoid any contact with the eye area and then rinse and pat dry.
5) Store the leftover in a container away from sunlight for further use.

Do a patch test: 

Do a patch test first. Before you start to use this product, place a small amount on the inside of your elbow. If you notice no redness, swelling, itching, or burning on that spot, it's OK for you to use.