Hollywood Secrets
Regular price
Rs. 400.00
Sale price
Rs. 180.00
Unit price
per
Deal of the Day
Sold out
Benefits

 of Rose Clay Powder



[GOOD FOR SKIN]:- Rose Clay is fabulous for most skin types, including sensitive skin. Rose clay draw's out toxins from the skin, helps to increase skin circulation, reduces skin irritation, and helps to reduce inflammation.
[PROPERTIES]:- Rose Clay has a fine texture like kaolin and is suitable for dry skin. The Rose clay is a light pink shade, which comes from a naturally occurring iron oxide.
[USED FOR]:- Rose Clay makes a fantastic soap additive for both color and gentle oil-absorbing properties.
[QUALITY COUNTS]:- Hollywood Secrets 100% Raw Rose Clay is extracted from the Earth. MADE IN INDIA!
[100% MONEY BACK GUARANTEE]: - The clinically-proven Rose Clay speaks for itself. If you are not satisfied for whatever reason, we offer a no-question asked money-back guarantee.
Why Us

Customization: Our DIY cosmetic brand empowers you to personalize your beauty products according to your preferences.
Quality Control: By choosing a DIY cosmetic brand, you have complete control over the quality of the ingredients used in your beauty products.
Creativity and Expression: Our DIY cosmetic brand encourages your creativity and allows you to express your unique style.
Sustainable and Eco-friendly: Many mass-produced cosmetic brands generate significant amounts of waste and contribute to environmental pollution. By choosing a DIY cosmetic brand, you can actively reduce your ecological footprint.
Education and Empowerment: Our DIY cosmetic brand aims to educate and empower individuals about the ingredients, formulation techniques, and the science behind cosmetic products.
Cost-effective: Creating your own cosmetics can be a cost-effective alternative to buying high-end branded products.
Features of the product

Premium product. 
100% original & quality assured.
Non-contaminated & non-mixed.
Non-Gmo.
Doctor & dermatologist approved.
No preservatives.
Easy to use.
Payment Method

Payment India: 

Credit card: Available

Debit card: Available

Razorpay (Cards, UPI, Net Banking, Wallets): Available

Cash on Delivery (COD): Available

We accept all forms of payment.

Payment United States: 

Credit card: Available
Shipping

Prepaid & COD order: Both available.

Standard Shipping: 1-7 days (Free)

Expediated: 1-3 days ( Rs. 90)

Ultra high speed delivery using our selected couriers.
Processing Time

Product ordered before 11am: Shipped on the same day

Product ordered after 11am: Shipped on the next day
Return Policy

1-7 days. Call our customer care for returns.
Contact us

WhatsApp & Call : +91-9921645094

Email: info@hollywoodsecrets.in
Share
View full details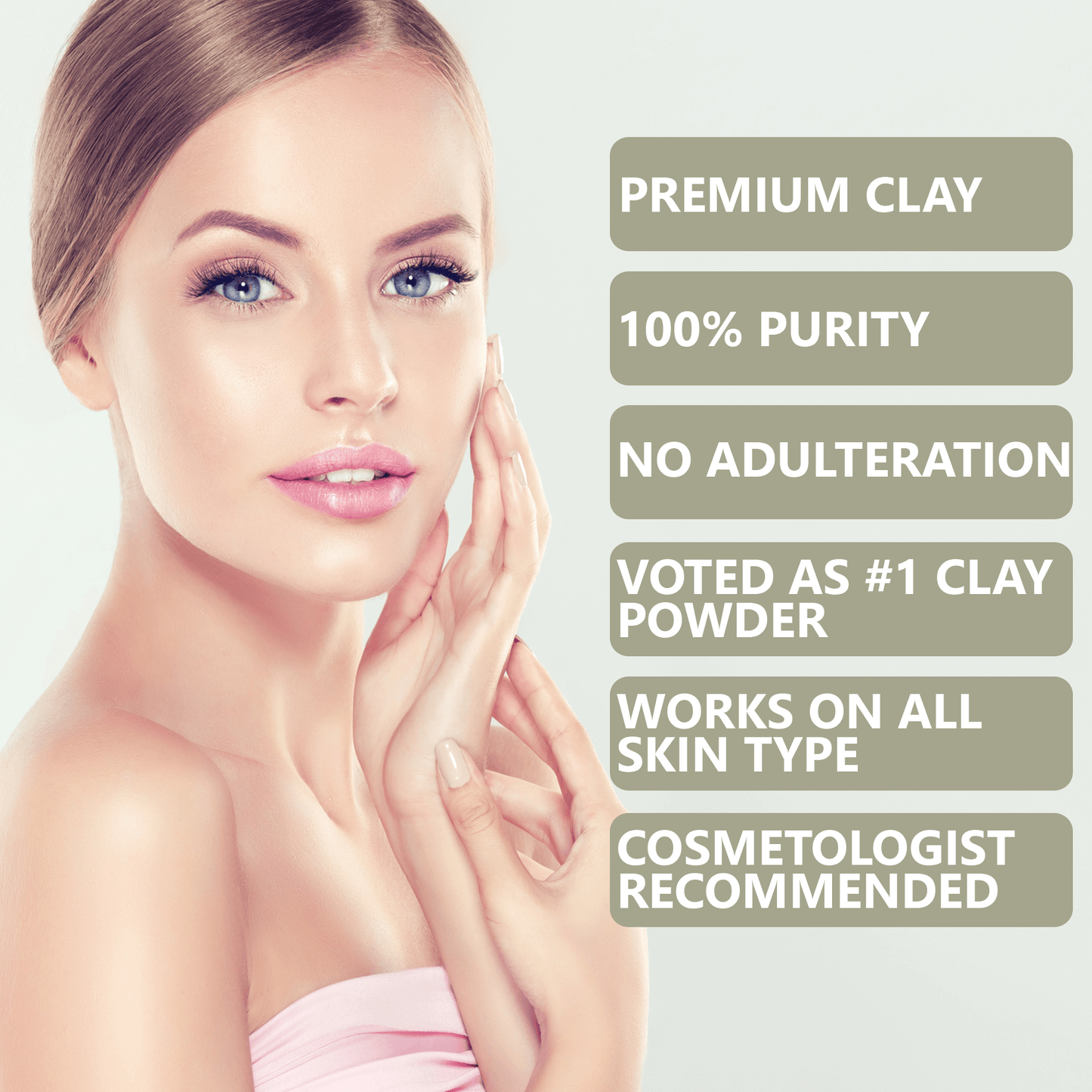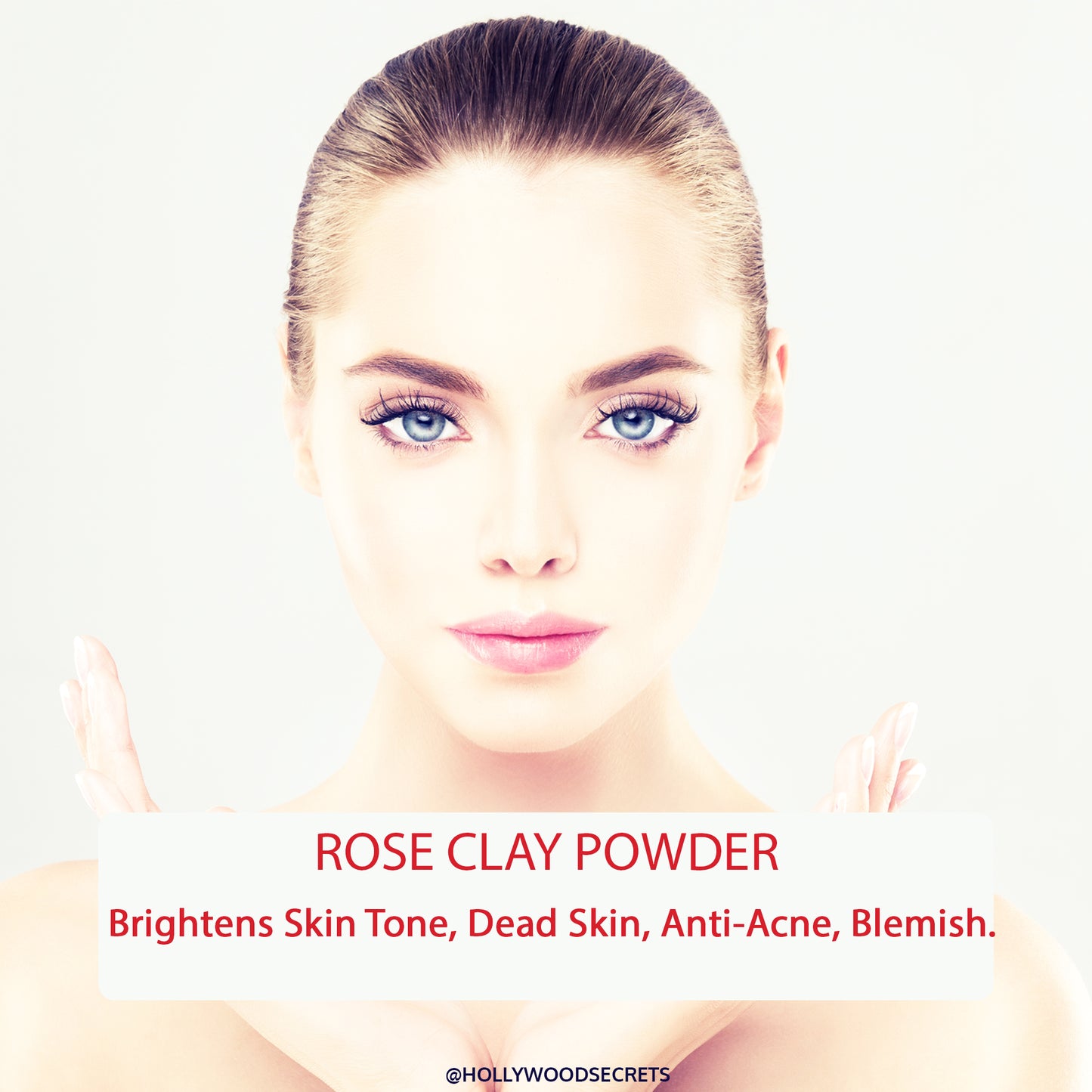 PRODUCT DETAILS
Product Details

Applications:
Facial or body muds, face/hair masks, cleansing products (liquid soaps, cleansers), emulsions (creams, lotions), makeup.

How to use (Formulation Guide)

1) Choose the right clay:

-There are different types of facial clays available, such as bentonite clay, kaolin clay, or French green clay. Each clay has unique properties and benefits, so choose the one that suits your skin type and concerns. For example, bentonite clay is great for oily and acne-prone skin, while kaolin clay is gentle and suitable for sensitive skin.

2)Gather the ingredients and tools:

-Facial clay: Choose the desired clay powder.
-Liquid: You will need a liquid to mix with the clay powder. Options include water, floral waters (like rose water or witch hazel), aloe vera gel, or diluted apple cider vinegar. Choose a liquid based on your skin's needs and sensitivities.
-Mixing bowl: Use a non-metallic bowl to avoid any reactions with the clay.
-Mixing utensil: Use a wooden or plastic spoon to mix the clay.

3) Prepare your skin:

-Cleanse your face thoroughly to remove any dirt, oil, or makeup.
-Gently exfoliate your skin if desired, to help the clay mask penetrate better.

4)Mix the clay mask:

-Measure the desired amount of clay powder based on the instructions or your preference.
-Gradually add the liquid of your choice to the clay powder while stirring with a spoon. Add enough liquid to create a smooth paste. The consistency should be spreadable but not too runny.
-Make sure there are no lumps in the mixture. If needed, use the back of the spoon to break up any clumps and achieve a smooth consistency.

5)Apply the clay mask:

-Using clean fingers or a clean brush, apply an even layer of the clay mask to your face, avoiding the sensitive areas around the eyes and lips.
-You can apply the mask to your neck and chest as well, if desired.
-Allow the mask to dry for about 10-15 minutes or as per the clay's instructions. Avoid leaving the mask on for too long, as it can cause dryness or irritation.

6)Rinse off the clay mask:

-Once the clay mask has dried or after the recommended time, rinse it off with lukewarm water.
-Gently massage your skin in circular motions to enhance the exfoliation effect as you remove the mask.
-Make sure to remove all traces of the clay from your skin.

7)Moisturize:

-After rinsing off the mask, pat your skin dry with a clean towel.
-Apply a moisturizer suitable for your skin type to hydrate and nourish your skin.