Hollywood Secrets
Regular price
Rs. 400.00
Sale price
Rs. 300.00
Unit price
per
Deal of the Day
Sold out
Benefits of Rosemary Hydrosol

FOR FACE AND SKIN:  Rosemary Hydrosol is used for the skin for moisturization, and to treat acne and dry skin. 
FOR HAIR- Rosemary Hydrosol Can be used as a hydrator and a hair spray.
Rosemary Hydrosol contains ANTI-BACTERIAL properties and SKIN CLEANSER.

Rosemary Hydrosol is of 

PREMIUM QUALITY.

Rosemary Hydrosol

 is OIL

 and WATER SOLUBLE. 
Why Us

Customization: Our DIY cosmetic brand empowers you to personalize your beauty products according to your preferences.
Quality Control: By choosing a DIY cosmetic brand, you have complete control over the quality of the ingredients used in your beauty products.
Creativity and Expression: Our DIY cosmetic brand encourages your creativity and allows you to express your unique style.
Sustainable and Eco-friendly: Many mass-produced cosmetic brands generate significant amounts of waste and contribute to environmental pollution. By choosing a DIY cosmetic brand, you can actively reduce your ecological footprint.
Education and Empowerment: Our DIY cosmetic brand aims to educate and empower individuals about the ingredients, formulation techniques, and the science behind cosmetic products.
Cost-effective: Creating your own cosmetics can be a cost-effective alternative to buying high-end branded products.
Features of the product

Premium product. 
100% original & quality assured.
Non-contaminated & non-mixed.
Non-Gmo.
Doctor & dermatologist approved.
No preservatives.
Easy to use.
Payment Method

Payment India: 

Credit card: Available

Debit card: Available

Razorpay (Cards, UPI, Net Banking, Wallets): Available

Cash on Delivery (COD): Available

We accept all forms of payment.

Payment United States: 

Credit card: Available
Shipping

Prepaid & COD order: Both available.

Standard Shipping: 1-7 days (Free)

Expediated: 1-3 days ( Rs. 90)

Ultra high speed delivery using our selected couriers.
Processing Time

Product ordered before 11am: Shipped on the same day

Product ordered after 11am: Shipped on the next day
Return Policy

1-7 days. Call our customer care for returns.
Contact us

WhatsApp & Call : +91-9921645094

Email: info@hollywoodsecrets.in
Share
View full details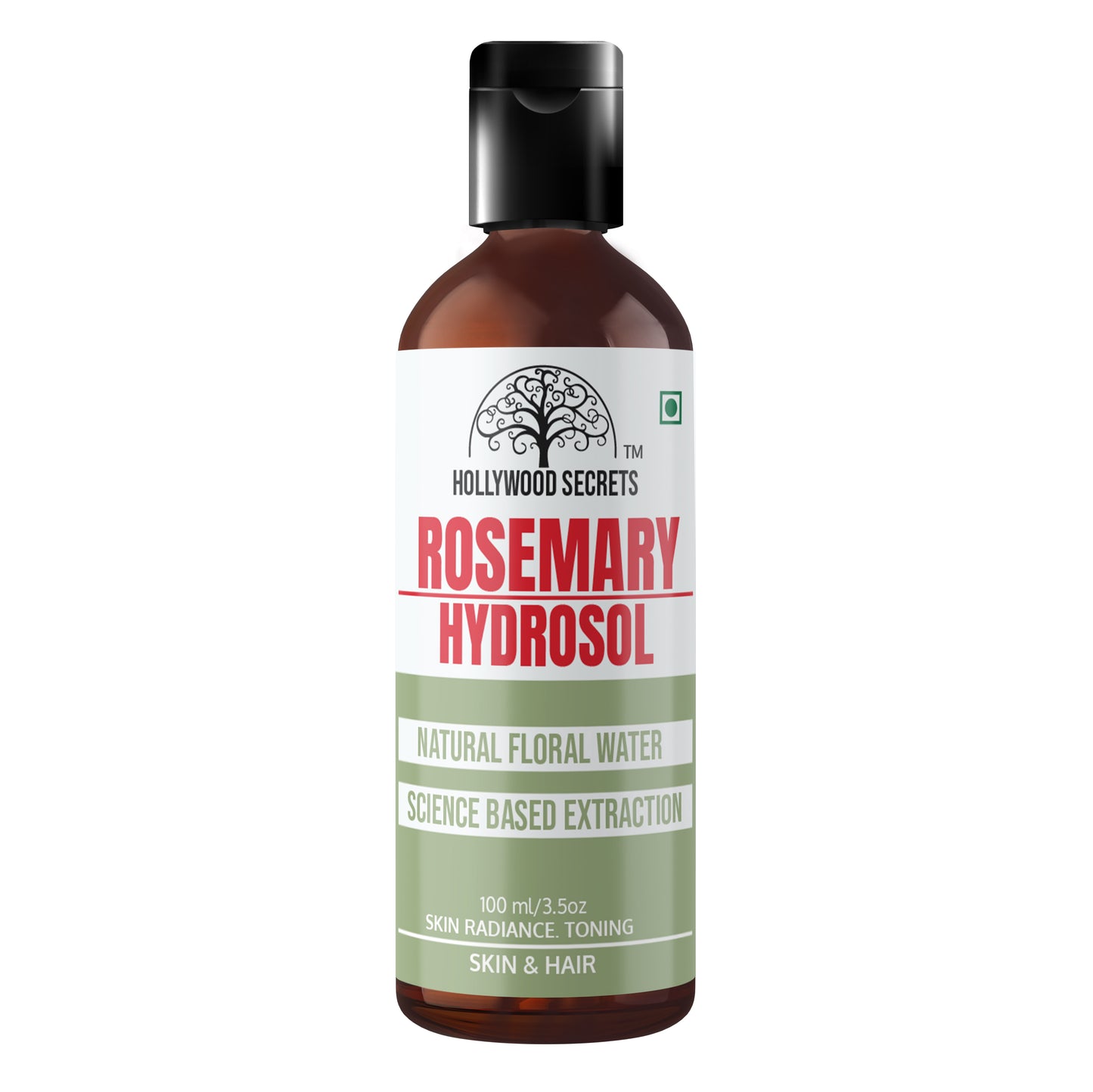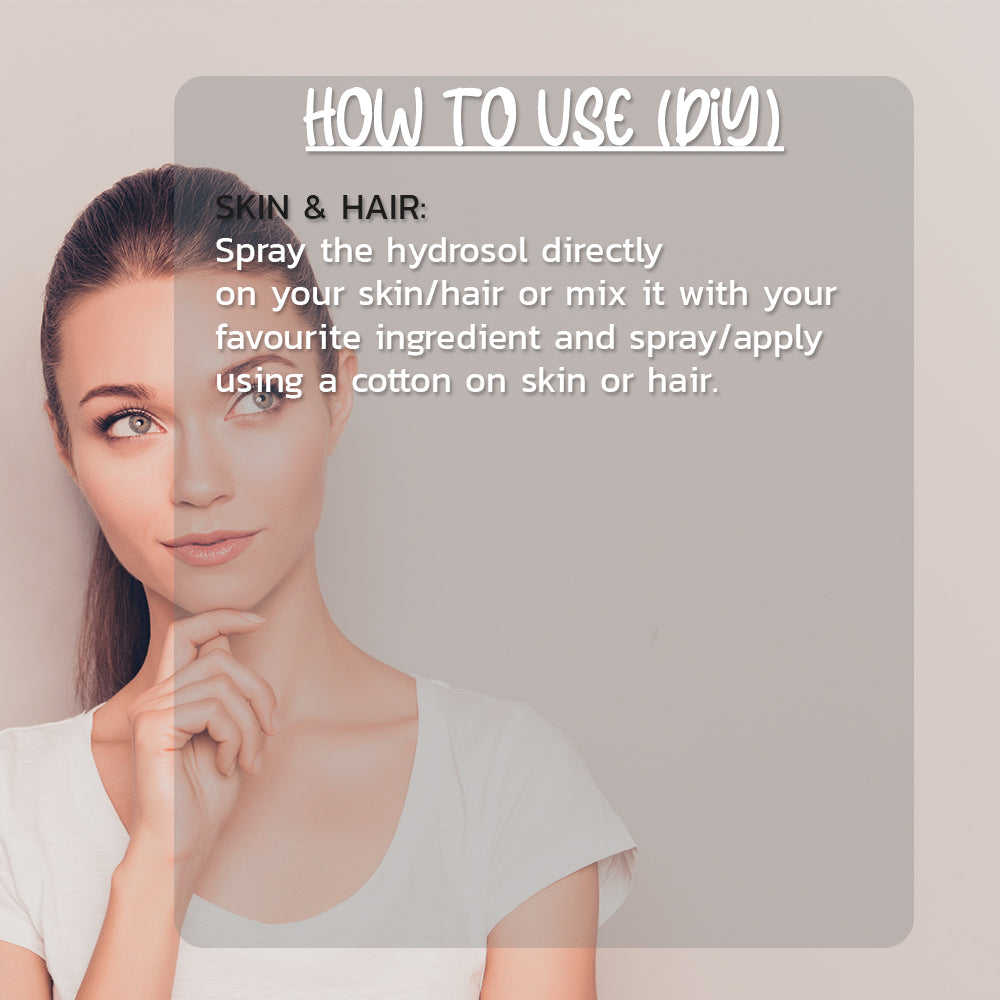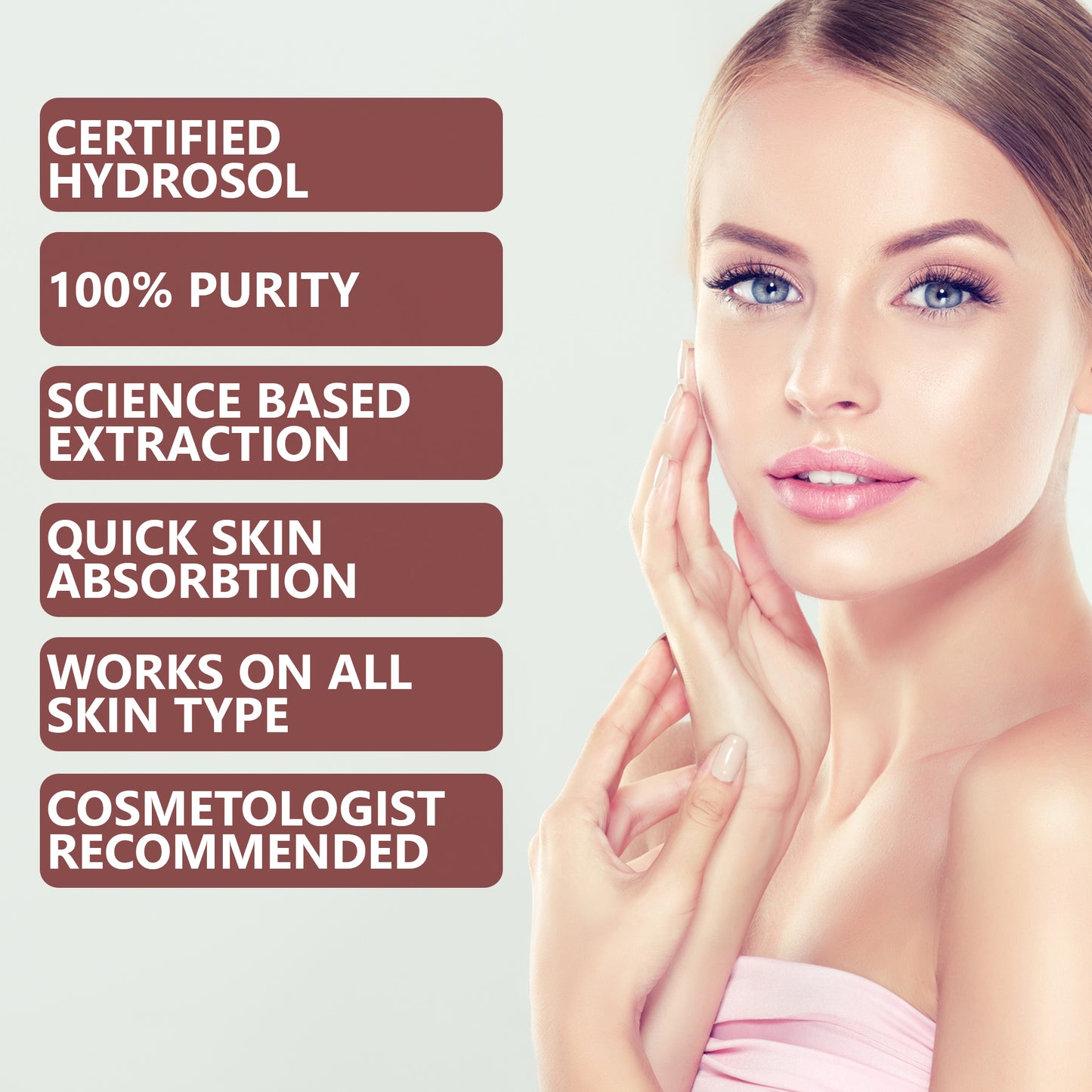 PRODUCT DETAILS
Product Details

Rosemary hydrosol, also known as rosemary floral water, is a product obtained during the steam distillation of rosemary (Rosmarinus officinalis) leaves and flowering tops. It is a byproduct of essential oil production and is valued for its aromatic and therapeutic properties. Here are some technical details about rosemary hydrosol:

1.Extraction Process: Rosemary hydrosol is produced through steam distillation. Fresh rosemary leaves and flowering tops are subjected to steam, and the steam carries the volatile compounds of rosemary, including essential oils and other water-soluble components. The steam is then condensed to produce rosemary hydrosol and essential oil separately.

2.Aroma and Appearance: Rosemary hydrosol has a characteristic herbaceous and refreshing aroma, similar to the scent of rosemary essential oil. It typically has a clear to slightly cloudy appearance, depending on the extraction method and filtration process.

3.Chemical Composition: Rosemary hydrosol contains various water-soluble compounds present in rosemary leaves and flowers. These include phenolic acids, rosmarinic acid, flavonoids, terpenes, and other volatile constituents. However, the concentration of these compounds in hydrosol is generally lower compared to rosemary essential oil.

4.pH and Stability: The pH of rosemary hydrosol usually ranges between 4.0 and 6.0, making it slightly acidic. The stability of hydrosols can vary depending on factors such as storage conditions, exposure to light and air, and the presence of preservatives. It is recommended to store rosemary hydrosol in a cool, dark place to prolong its shelf life.

5.Uses and Benefits: Rosemary hydrosol is used in various applications, including skincare, haircare, aromatherapy, and culinary purposes. It is believed to have toning, purifying, and stimulating properties for the skin. It can be used as a facial toner, mist, or ingredient in skincare formulations. In haircare, it is often used to promote hair growth, improve scalp health, and add shine to the hair. Additionally, rosemary hydrosol can be used as a natural fragrance, in homemade cleaning products, and as a flavoring agent in culinary preparations.

It's important to note that while rosemary hydrosol is generally considered safe, individuals with known allergies or sensitivities to rosemary or its constituents should exercise caution and perform a patch test before using it topically.
Calculations

Use 1-100% of Rosemary Hydrosol
How to use (Formulation Guide)

Use: Add to water phase of formulas, typical use level 1 - 100%. For external use only.

Applications: Serums, creams & lotions, toners, skin cleansers, sun- and after-sun care, sunscreens.